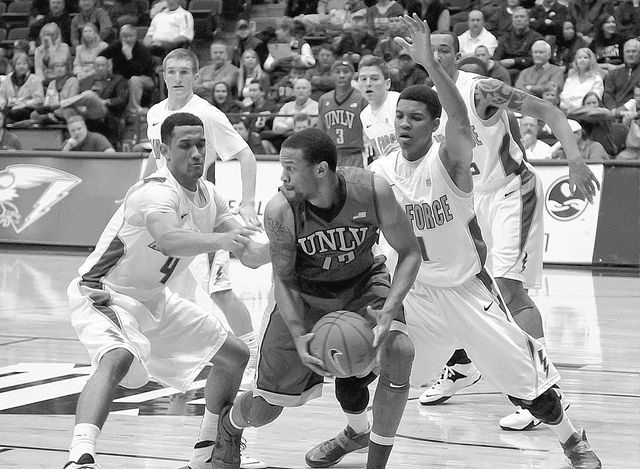 AIR FORCE ACADEMY, Colo. — A big part of UNLV's game plan was for junior forward Khem Birch to man the middle of a 2-3 zone defense and, on the other end, to run the offense through him. The plan came together perfectly.
In fact, it worked better than Birch ever imagined.
"It went really well. I didn't expect it to go this well," he said. "I thought we were going to struggle."
The Rebels never struggled and never trailed, because on the perimeter, they had six shooters in the zone.
Birch dominated in the paint, finishing with 15 points, 14 rebounds and four blocks, and UNLV put on a rare 3-point shooting clinic en route to a 93-67 victory over Air Force on Saturday afternoon.
The Rebels hit 12 of 18 3s and shot 61.8 percent from the field to convincingly avenge a Jan. 4 loss to the Falcons.
Deville Smith and Kevin Olekaibe each connected three times from 3-point range. Smith scored 15 points and Olekaibe 11 as UNLV (19-10, 10-6) held onto sole possession of third place in the Mountain West.
"I attribute it to being contagious," Olekaibe said of the hot shooting. "We started off inside. The idea was to go into Khem and let him go to work down there."
Seven players scored in double figures for the Rebels, including Kendall Smith with 12 points and Bryce Dejean-Jones, Jelan Kendrick and Roscoe Smith with 10 apiece. Kendall Smith and Dejean-Jones each hit two 3s.
"One of the reasons we played the zone like we did was to free our guys' minds up offensively," UNLV coach Dave Rice said. "I made the decision, with the help of the staff, that we were going to come in here and zone them for 40 minutes."
Rice said he did not want his players thinking too much about defending Air Force's backdoor cuts in its Princeton-style offense. Birch and Roscoe Smith controlled the defensive boards and triggered offensive transition.
The Falcons had won two of the teams' three previous meetings and held the Rebels to 56 points in a lopsided game at Clune Arena last season. That's why Birch expected a struggle.
But this time, it was a far different story. Birch had 12 points to propel UNLV to a 51-34 halftime lead. The Rebels shot 20-for-33 (60.6 percent) from the field, including 7-for-11 from 3-point range, in the first half.
"They hit us early. We just didn't have an answer," Air Force coach Dave Pilipovich said. "We're not shooting the ball very well right now. We were outmatched inside. They went zone the whole game. When's the last time you saw a UNLV team do that?
"They played a 2-3 zone, and that hurt us. We usually exploit them in our man offense, and it was a great coaching move by them."
After the Falcons (11-16, 5-11) trimmed their deficit to 56-45 five minutes into the second half, Birch dunked off an assist by Olekaibe, who buried a 3-pointer to stretch the Rebels' lead to 61-45 with 12:26 remaining.
Daquan Cook and Dejean-Jones each followed with a 3 to help inflate the cushion to 24. UNLV's largest lead was 31.
Tre' Coggins, who scored 20 in Air Force's upset at the Thomas &Mack Center, was held to 14 points on 5-for-16 shooting. The Falcons shot 52 percent from the field in the January meeting but 36 percent in the rematch.
"The only way to stop the Princeton offense is with a zone," said Birch, who hit 6 of 7 shots and 3 of 8 free throws. "I penetrated and I passed out, and everyone hit 3s."
The Rebels were the Mountain West's worst 3-point shooting team (27.9 percent) through 15 conference games.
"I don't think we're a 67 percent 3-point shooting team, but I don't think we're a 28 percent 3-point shooting team," Rice said. "We played extremely well on the offensive end."
Rice used 11 players, and 10 scored. Freshman forward Chris Wood was vomiting the night before the game and did not play. Roscoe Smith left with seven minutes remaining after also vomiting.
Two sick players aside, UNLV walked away from this Air Force encounter feeling better than ever.
"I've said this all year, when they play like today's game, they are capable of doing damage. They are a great team," Pilipovich said. "When they inserted Deville Smith into the starting lineup, they have been a better team."
Contact reporter Matt Youmans at myoumans@reviewjournal.com or 702-387-2907. Follow him on Twitter: @mattyoumans247.