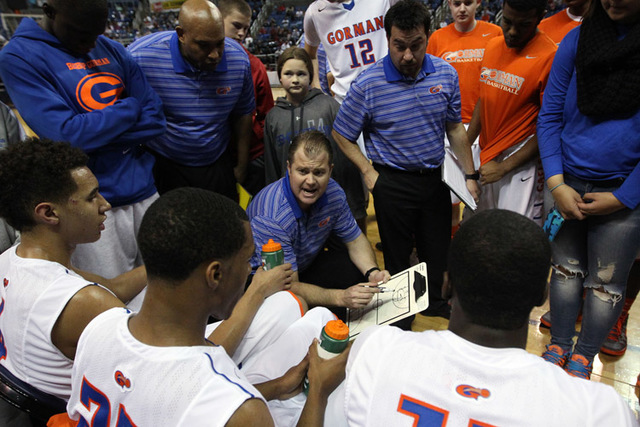 Bishop Gorman boys basketball coach Grant Rice doesn't want the annual Tarkanian Classic basketball tournament to expand anymore.
Guess 150 teams will have to do.
The sixth annual Tarkanian Classic began Tuesday, and boys and girls basketball teams from across the country are congregating in Las Vegas to try to win what has become one of high school basketball's preeminent events.
The No. 2 Gaels boys, who host the event, and No. 1 Clark are both playing in the tournament's Platinum bracket — reserved for elite teams — and several other local programs are participating across seven competitive brackets that feature schools from 11 states.
Games will be played at high schools and YMCA gymnasiums in Vegas, as well as the Orleans Arena. The Platinum Bracket championship game is scheduled for Saturday at Gorman.
"Our goal wasn't really to be a huge tournament, or to get this big," Rice said. "We just wanted to run a quality pre-Christmas tournament in Las Vegas. It just spread a little bit, each year. And obviously, people love to come to Las Vegas."
Gorman's boys basketball team hosted the Bishop Gorman Holiday Classic in 2008 and 2009 before taking a hiatus to travel to other tournaments scheduled during winter break.
Rice wanted to reboot the local holiday tournament, and teamed with AAU and recruiting guru Dinos Trigonis and created the Tarkanian Classic to honor the legendary UNLV men's basketball coach.
"We're actually maybe thinking about (limiting the teams)," Rice said. "It's just about quality and giving teams a chance to play in a setting where they can have a good experience as a high school team, and then we want to get college coaches and scouting services involved where they can come and see the kids play.
"Hopefully they can earn college scholarships."
Clark boys coach Chad Beeten said the event has helped "the landscape of traditional high school basketball" in Las Vegas, and does an excellent job showcasing the wealth of talent on the West Coast.
"You'd be hard pressed to find a better tournament," Beeten said. "(Our players) definitely get up for it … It gives them an opportunity to create a name for themselves and their team, nationally, and build upon that."
The tournament banners hang in the Gaels' gym throughout the year, serving as a reminder of the event's prestige and importance.
They've never won the tournament, though, and Rice is hoping this is the year they break through.
"We kind of use that as motivation for the kids," Rice said. "It's nice to play in our own gym, and obviously to play in a good event honoring coach Tark."
Early signing period
The first early signing period for NCAA Division-I football programs opens Wednesday. Prospective scholarship athletes can sign national letters of intent until Friday.
The traditional signing period, which used to be the only allotted time to sign aid agreements, is set to begin Feb. 7 and run until April 1.
Centennial in Nike event
Centennial's girls basketball team, ranked No. 5 nationally in USA Today's Super 25, is competing beside six of the nation's other top 25 teams at the Nike Tournament of Champions in Windward, California.
The defending Class 4A state champion Bulldogs were unbeaten entering Tuesday, the first day of tournament play, and have defeated all three of their local opponents by at least 41 points.
More preps: Follow all of our Nevada Preps coverage online at nevadapreps.com and @NevadaPreps on Twitter.
Contact reporter Sam Gordon at sgordon@reviewjournal.com. Follow @BySamGordon on Twitter.