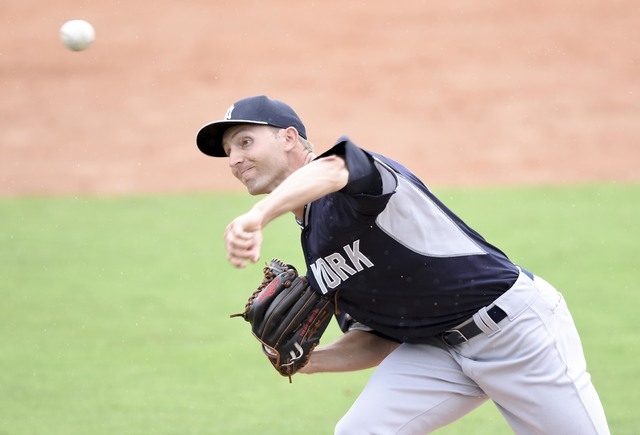 What is it with Las Vegas major league baseball players and silly major league baseball rules?
First, Kris Bryant knocks the cover off the ball during spring training in the manner of Roy Hobbs in "The Natural," only to be sent back down to the minors. Because if he started for Chicago on opening day, or even sat on the bench spitting sunflower seeds and watching the ivy try to grow, it meant Bryant could have become a free agent one year sooner.
That became a huge story, at least until Bryant was called up last week and inserted into the cleanup spot in the Cubs' batting order, where he is still knocking the cover off the ball.
On a lesser note, another Bonanza High product named Chasen Shreve broke in with the Yankees, and threw 56 pitches during New York's 19-inning loss to the Red Sox on April 10. Shreve pitched well, throwing 3 1/3 innings without allowing a run while striking out four.
But the Yankees sent him down anyway.
Because he had thrown 56 pitches and would have to rest, and because New York needed relief pitching, the Bombers sent him to Triple A Scranton/Wilkes-Barre to recuperate and called up somebody else.
Per baseball rules, Shreve, who also pitched for College of Southern Nevada, had to remain down on the farm for at least 10 days.
I noticed some pictures on the Internet where the Scranton/Wilkes-Barre team was wearing uniforms with pinstripes. But I'll bet if you asked Chasen Shreve, he'll tell you it still seemed like a big letdown.
Anyway, Shreve, a 24-year-old left-handed pitcher who broke in with the Braves last season, was recalled by the Yanks before Tuesday night's game against the Tigers.
Welcome back, kid.
Las Vegas Review-Journal sports columnist Ron Kantowski can be reached at rkantowski@reviewjournal.com or 702-383-0352. Follow him on Twitter: @ronkantowski.