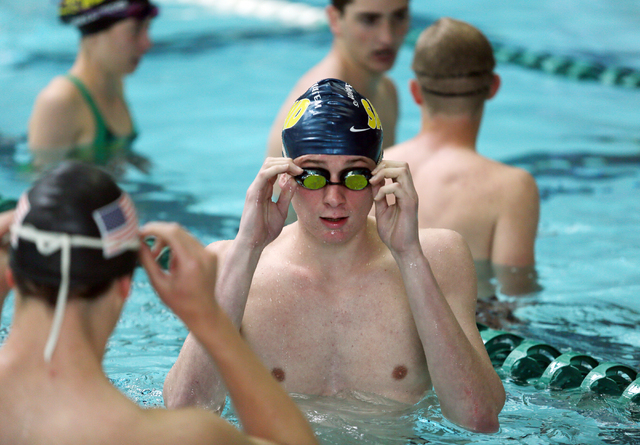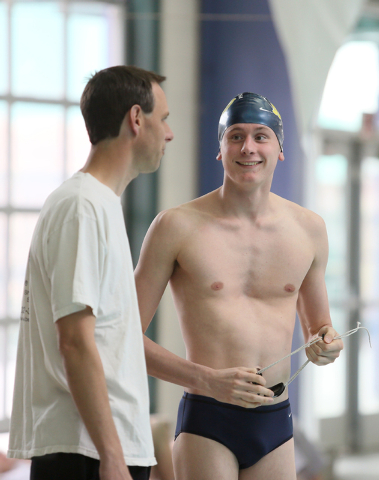 Bowen Becker's short-term goals are like many swimmers'. Drop time, win races, take down a few records in the process. The usual stuff.
Ultimately, though, the Faith Lutheran senior has a larger ambition.
"My long-term goal is not to go somewhere far and swim but to be remembered in the sport," Becker said. "I want to be remembered to where people will say my name and actually know who you're talking about."
Becker could be remembered as the fastest swimmer in Nevada Interscholastic Activities Association history by the end of the season.
The defending Division I-A state champion in the boys 50- and 100-yard freestyle, Becker is set to challenge the state records in those events before heading off to Minnesota in the fall. Should he accomplish the feat, it would be a lasting achievement for someone who couldn't even qualify for the state meet in the 100 freestyle two years ago.
"Elite swimmers inevitably hit a ceiling in their speed and they can easily become discouraged in believing they can continue to improve and drop time," Faith Lutheran coach Stephen Blank said. "With the entire credit going to his Sandpipers coaches, Bowe has steadily improved and has gained effortless balance and form and is still able to drop time yet."
Becker, who played lacrosse as a youngster, started swimming competitively with the Sandpipers of Nevada club program after he injured his knee in a sixth-grade P.E. class and was restricted from participating in other sports. As a freshman for Faith Lutheran, Becker finished fourth at the Class 4A Sunset Region meet in the 100 freestyle (50.78 seconds) and was sixth in the 50 free (23.12).
Becker swam the 100 and 200 freestyle at the Division I-A Southern Region meet as a sophomore and only qualified for state in the latter event, finishing fourth. He admitted that earning a scholarship to a Big Ten Conference school "was not a realistic goal" at the time, but last season, the 6-foot-3-inch standout made a dramatic improvement.
Becker swept the sprint-freestyle events at the I-A state meet, taking the 50 free in 21.37 seconds and the 100 free in 47.14. His time in the 50 free is the sixth best in state history, according to the NIAA record book.
"I've always seen improvement throughout my years," Becker said. "I've never hit a plateau yet, which I hope I don't. It's always been a gradual improvement until the last two years, and then I've really stepped it up."
Becker took another big step forward in December, which put him on course to rewrite the NIAA record book. While competing with the Sandpipers at the California-Nevada Winter Sectional Championship in Los Angeles, Becker went 20.49 in the prelims of the 50 freestyle and posted a time of 45.40 in the final of the 100 free.
The NIAA record in the 50 free is 20.81 set by Scott Evans of Bishop Manogue in 1989, while Palo Verde's Gianni Sesto owns the 100 free record at 45.54.
"That one meet kind of showed me, 'Wow, I can do this,' " Becker said.
Becker is aiming to break the 20-second barrier in the 50-yard freestyle this season and also hopes to qualify for the 2016 Olympic Trials. At Minnesota, he plans to major in criminal justice with an eye on working for the FBI or the National Security Agency after graduation.
"It took a lot of hard work to get to where I am," Becker said, "and I still have so much further to go. So much further."
Contact reporter David Schoen at dschoen@reviewjournal.com or 702-387-5203. Follow him on Twitter: @DavidSchoenLVRJ.