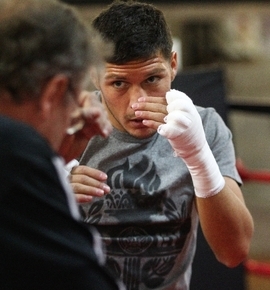 About a month after suffering his first professional loss, Las Vegas boxer Diego Magdaleno has decided to part ways with his longtime trainer and manager, Pat Barry.
"It's a business decision for my career," Magdaleno, 26, said Monday night from Miami. "I'm not getting any younger, and if I'm going to make a change, now is the time to do it."
On April 6 in Macau, Magdaleno (23-1, nine knockouts) lost a 12-round split decision to Roman "Rocky" Martinez in his attempt to wrest away Martinez's WBO super featherweight title. It was Magdaleno's first world championship fight, and in the aftermath, he thought about whether to renew his deal with Barry and his wife, Dawn, who had been working with him since he was 9 years old.
The contract is set to expire Sunday.
"Pat and Dawn and I have a family relationship," Magdaleno said. "I had been thinking about it for a while, and it was nerve-wracking. But I made the call. It was strictly a business decision for my career, and my family totally supports it.
"I'm fighting for world titles now. I feel at this point, I need someone with more experience at handling fighters at this level. There's still room for me to improve, and I need to find someone who can help me get better."
In a statement, the Barrys said they also were moving on.
"We feel the separation is the right decision for everyone involved," Pat Barry said.
Through intermediaries, Magdaleno reached out two weeks ago to Eddie Mustafa Muhammad, who trains fellow Las Vegan and reigning IBF junior middleweight champ Ishe Smith, to gauge his interest. Magdaleno and his father, Jesus, met with Muhammad on Saturday in Las Vegas, and while no deal was struck, Muhammad said he would be interested.
"I told him what I could do for him, and we had a great conversation," Muhammad said. "But I told Diego to let Pat know first about his intentions and then get back to me if he was still interested in having me work with him. I'm waiting to hear back from him."
Magdaleno, who is vacationing in the Caribbean this week, said he will continue his search for a new trainer and manager after he returns to Las Vegas on Sunday.
"I'm looking to move forward," said Magdaleno, who still is under contract to Top Rank, his promoter since he turned pro in 2007.
Top Rank president Todd duBoef said Magdaleno's decision didn't surprise him.
"It happens all the time," duBoef said. "They had a successful run together, and I hope it was amicable. But we'll sit down with Diego in the next few weeks and figure out what's next. He just fought a month ago, so there's no rush."
Magdaleno's younger brother Jessie will continue to be trained and managed by the Barrys and assistant trainer Augie Sanchez. Jessie Magdaleno, a promising super bantamweight prospect who also is promoted by Top Rank, is 14-0 with 10 KOs. He has 18 months remaining on his contract with the Barrys.
"Jessie's got his own deal, and I don't believe what I'm doing will affect him," Diego Magdaleno said. "This is something that I did on my own. But I obviously will continue to support Jessie and be at all his fights."
Pat Barry said in a statement: "We look forward to our continued work with the next megastar of boxing — Jessie Magdaleno. We have great plans for Jessie's future and are very happy to be working with him on several new ventures."
Jessie Magdaleno will fight June 8 at the Hard Rock Hotel against Nicaragua's Henry Maldonado (16-1, 11 KOs) in an eight-round bout.
Contact reporter Steve Carp at scarp@reviewjournal.com or 702-387-2913. Follow him on Twitter: @stevecarprj.