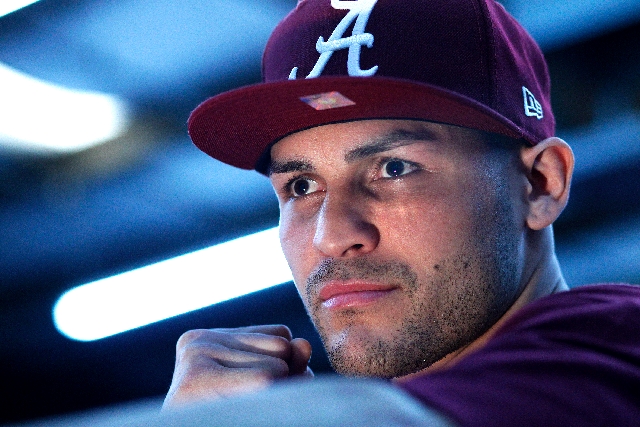 Mike Alvarado admits he made a mistake. The question is, can he correct it so Brandon Rios doesn't beat him to a pulp again?
Alvarado, a 32-year-old junior welterweight from Denver, is by nature ultra-aggressive. He doesn't like to do things the safe way. The idea of moving any other way but forward goes against his basic instincts.
But that warrior mentality got him beat the first time he faced Rios, on Oct. 14 at the Home Depot Center in Carson, Calif. Rios battered Alvarado before referee Pat Russell stopped the fight 1:57 into the seventh round.
The two will meet again Saturday at Mandalay Bay Events Center for the WBO interim junior welterweight title, a 12-round bout that will be televised live on HBO. And while Alvarado says he'll make some adjustments, don't expect a complete makeover.
"I'm going to be myself; that's never going to change," Alvarado said. "But fighting smarter, that's something I have to do this time around. The skills were there, but I didn't stick to the game plan. I'm going to do the same things in the fight that I've been doing in the gym.
"I'm going to frustrate him. He's going to keep coming forward, and I'm going to keep setting traps for him. He's going to be shocked at how I've changed, how creative I've become. He's used to seeing the warrior in me, so he's going to see something different this time around."
Rios, 26, laughed at that notion.
"Really?" he said when told of Alvarado's plan to fight him differently. "The first time he gets hit, I guarantee you he'll go back to the way he's always fought, because that's who Mike is. He's a warrior. I'm a warrior. And when you have two warriors, they're going to fight."
Alvarado (33-1, 23 knockouts) said even though he had some success landing punches against Rios (31-0-1, 23 KOs) in their first fight, he has no choice but to adjust after his straight-ahead tactics didn't work.
"The first time I fought Brandon, I didn't have a game plan, I just went out and fought," Alvarado said. "I didn't use my boxing skills enough. For this fight, I plan on being smarter, use my boxing ability and take advantage of my openings when they're there. The skills were there, I just didn't use them because I'm a warrior and I love to fight."
Alvarado also is motivated to change because the aftertaste of defeat still lingers inside him.
"I'm a winner. I'm used to winning," he said. "I never thought I'd be defeated like that. The ref stopped it prematurely, in my opinion. But now I have another chance to redeem myself against the same fighter in a different place, a different atmosphere. More of my fans will be able to come watch me, and I guarantee it will be a different outcome this time."
Alvarado said it's about more than winning a belt. It's about avenging his only loss, and it's also about maturing as a fighter. Nobody questions his courage. But his ability to control a fight with his skills against a big-time opponent remains an unanswered question.
"When I have to dig deep and show my heart, that's when I fight my best," he said. "But these last couple of fights, even my last fight with Brandon, my skills have been superb. My movement is better; I've developed more tactics to add to my arsenal."
Alvarado has watched the first fight with Rios and seen the mistakes that cost him the fight. He thinks he has taken the necessary steps to correct the errors. But what if Rios is right? What if the first time Alvarado gets hit he resorts back to his instinctive ways and goes toe-to-toe with Rios?
"Not gonna happen," Alvarado said. "Everyone thinks that it's going be that way, but I'm telling you, you're going to see a different Mike Alvarado this time around."
■ NOTES — Today's 3 p.m. weigh-in at Mandalay Bay is open to the public. … Saturday's televised portion of the card on HBO begins at 7:20 p.m. with Terence Crawford meeting Breidis Prescott in a 10-round junior welterweight bout, followed by Rios-Alvarado. … Tickets, priced at $50, $100, $150 and $250, are available through Ticketmaster, ticketmaster.com or the Mandalay Bay Events Center box office.
Contact reporter Steve Carp at scarp@reviewjournal.com or 702-387-2913. Follow him on Twitter: @stevecarprj.