Andre Ward chasing the right rival, not Floyd Mayweather fame
November 17, 2016 - 11:03 pm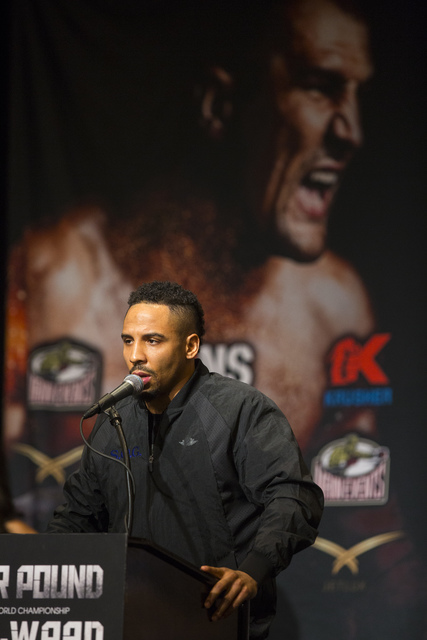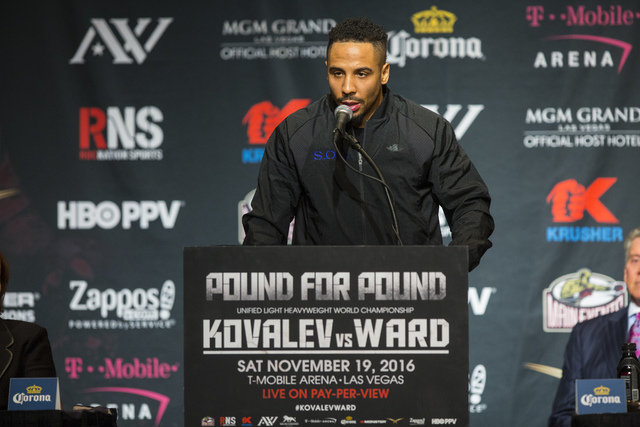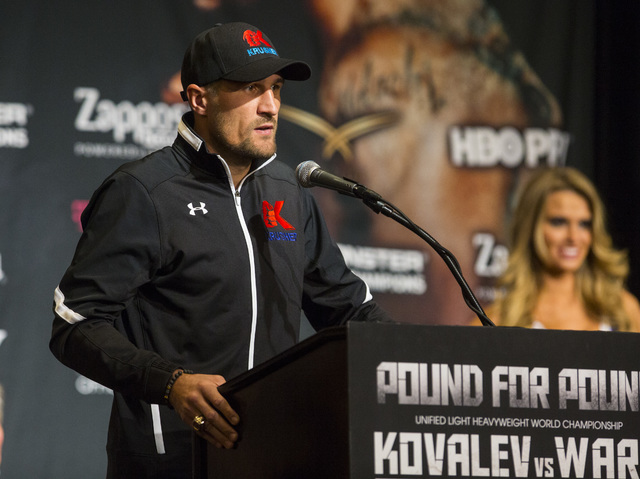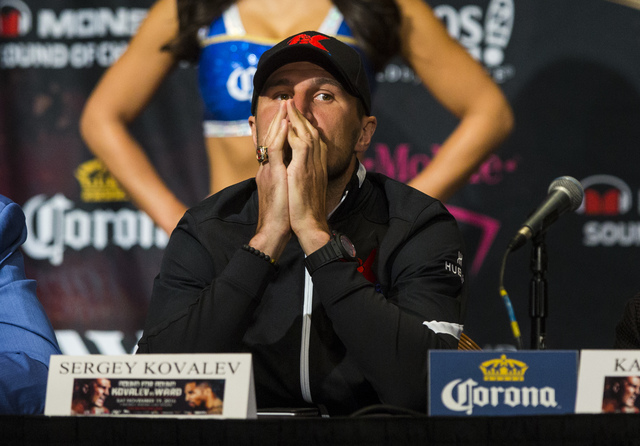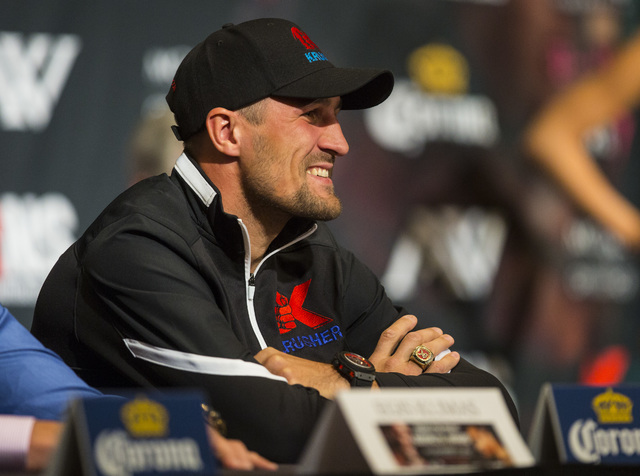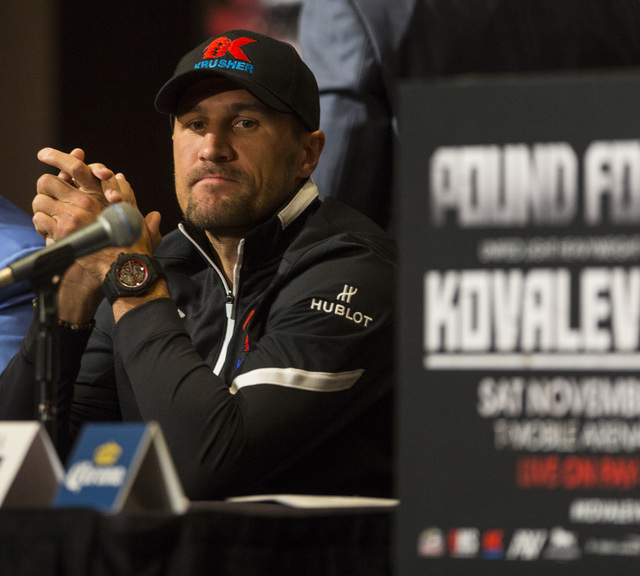 It's been 12 years since Andre Ward won gold in Athens and had promoters drooling for his services.
Ward was expected to follow in the footsteps of other American Olympic champions who went on to become stars in the professional ranks. Ward was being compared to Muhammad Ali, Sugar Ray Leonard and Oscar De La Hoya.
It wasn't fair for Ward to receive that type of pressure at age 20, but like the great ones do, he handled it like a champion.
Ward has delivered in the ring with a 30-0 record, wiped out the super middleweight division, and at one point was regarded as the second best fighter on the planet behind Floyd Mayweather Jr.
But all the success Ward has achieved in his decorated career hasn't translated to high tickets sales, the most important category for promoters.
Ward has failed to become a household name like Ali, Leonard and De La Hoya, and it remains a mystery as to why.
He has the looks, speaks eloquently, had a movie role in the film "Creed," his promoter is rapper Jay-Z, and he's sponsored by Jordan, arguably the most popular sports brand behind Nike.
Let's not forget Ward's picturesque boxing skills that would make the grumpiest trainer shed a tear in appreciation every time he's in the ring.
Ward put his gold Air Jordan 6 shoes up on the coffee table and gave reporters an explanation Tuesday on why he's hasn't reached superstardom.
"You need to find the right opponent," Ward said. "That right opponent where people want to come to Las Vegas to pay to see the fight."
Ward wants what Ali had with Joe Frazier and what Leonard had with Roberto Duran. The right dance partner wasn't at the 168-pound division. Ward had his eye on the Russian crushing the light heavyweight division.
Ward moved up a weight class to challenge unified champion Sergey Kovalev (30-0-1, 26 knockouts) on Saturday at T-Mobile Arena for the WBO/IBF/WBA belts. Ward finally got his dream Las Vegas matchup.
"Physically it was time to move up, but also Kovalev being there," Ward said. "Seeing an opportunity, and I'm after greatness. … I want to be known as the best fighter of my era."
Ward doesn't know why he hasn't fought in Las Vegas before, but he's been relishing the moment this week. He recently rewatched the first two fights in the Leonard-Duran trilogy.
"I just wanted the buildup and saw things that were said leading up to the fights," Ward said. "They put their records on the line, and they basically said, 'I'm better than you,' and they settled it in front of the whole world, and that's what boxing is all about."
Ward wants to be known as the best pound-for-pound fighter, but he's not after fame outside the ring.
"I'm not chasing fame," Ward said. "I get enough of it. I'm fine going to places and not everybody knowing who I am, but there's not many places where I go throughout the country where I'm not recognized."
The 32-year-old Oakland, California, native is fine with his celebrity status and doesn't understand why people want him to be a bigger star.
"How big is big? Ward asked. "How far are we talking? Amount of followers on Instagram? And is Floyd and Pacquiao the barometer?
"In terms of pay-per-view numbers, you need the right dance partner."
Ward said Manny Pacquiao became a star because of his early battles with Erik Morales and Marco Antonio Barrera, and Mayweather had Arturo Gatti and Oscar De La Hoya.
Kovalev wasn't Ward's first opponent he targeted to build a rivalry. The former super middleweight champion wanted to fight middleweight terror Gennady Golovkin. The fight never came close to fruition, and Golovkin set his sights on dancing with another superstar, Saul "Canelo" Alvarez.
"I went out of my way to create this situation with Kovalev to create a pay per view," Ward said. "I tried with Golovkin, and that fight should have happened before the Kovalev fight."
Sides from the Ward and Kovalev camps have exchanged oral jabs throughout the week. Some might say the back-and-forth banter seems forced, an attempt to sell a fight lacking star power.
Ward prefers to leave the trash talking in the ring and hopefully create the next great boxing rivalry with Kovalev.
"The ones not in the ring are doing the most talking," Ward said. "(Kovalev) can just see me on Saturday."
Contact Gilbert Manzano at gmanzano@reviewjournal.com or 702-383-0492. Follow @gmanzano24 on Twitter.
SERGEY KOVALEV-ANDRE WARD
Sergey Kovalev-Andre Ward
Weigh-ins: 2:30 p.m. Friday, MGM Grand Garden Arena
Fight night: 3:15 p.m. Saturday, T-Mobile Arena
TV: HBO PPV
Tickets: Axs.com, T-Mobile Arena box office