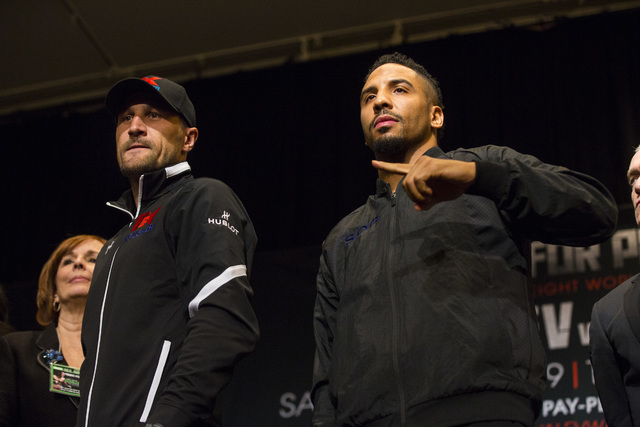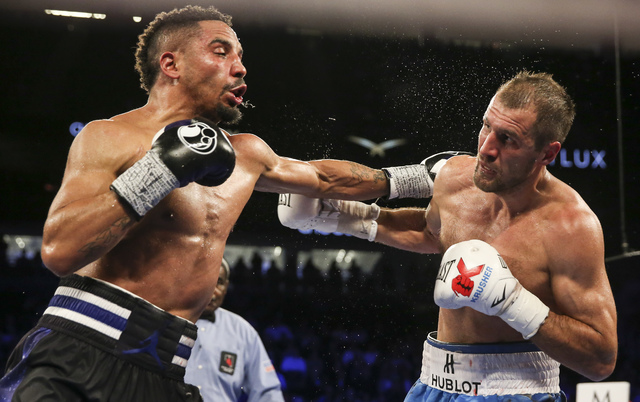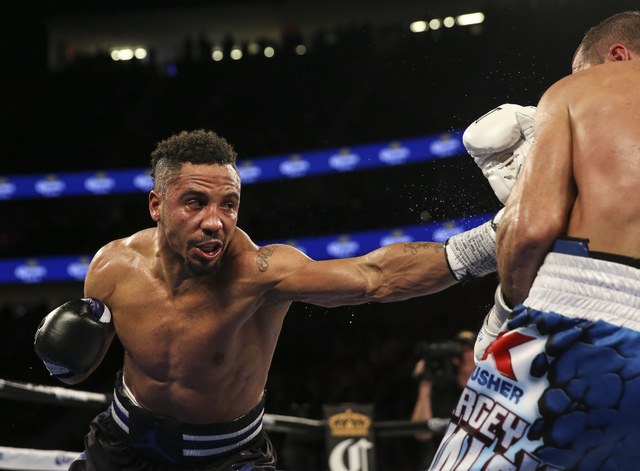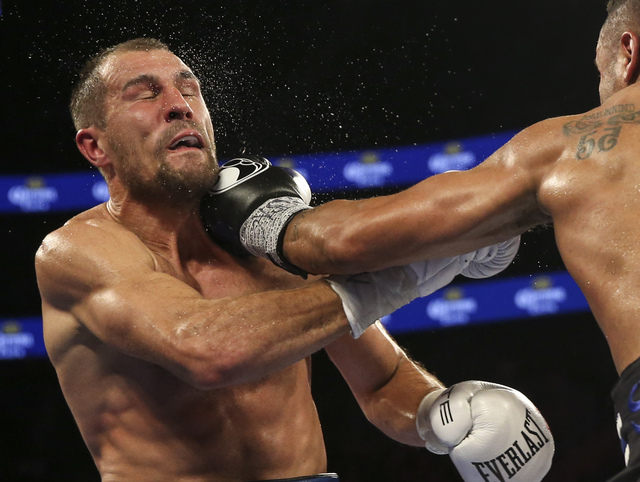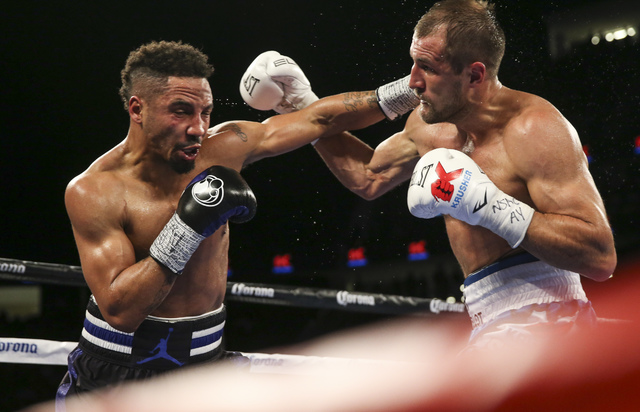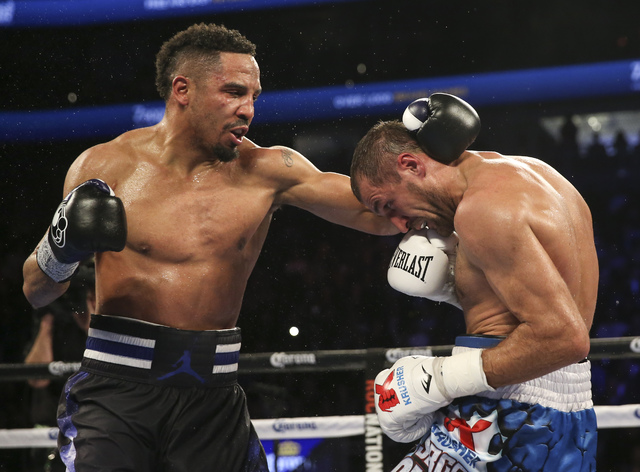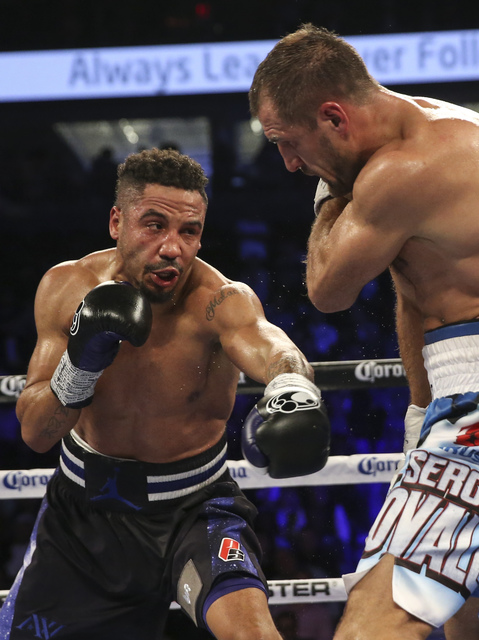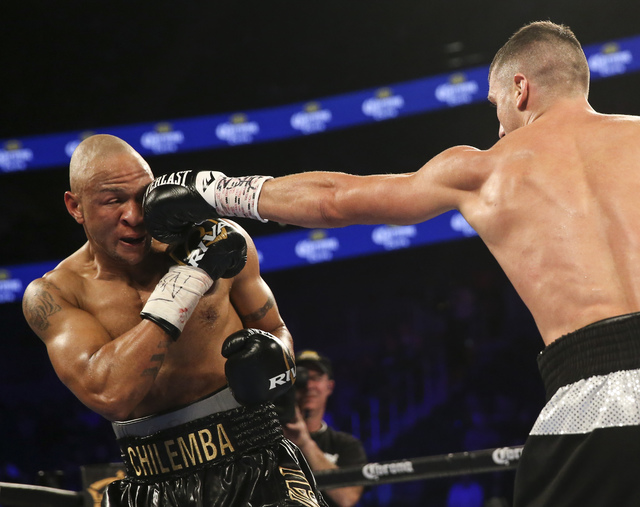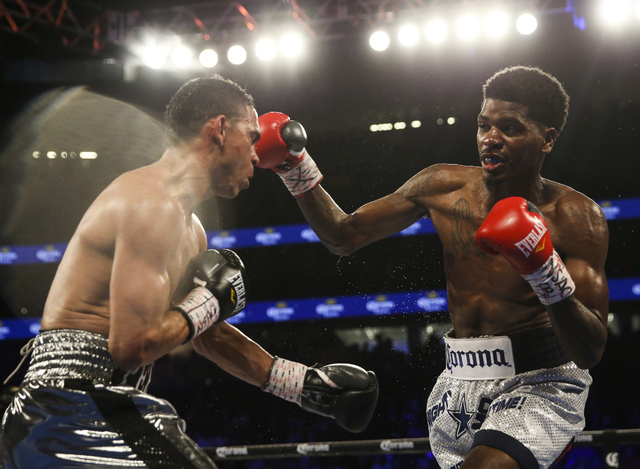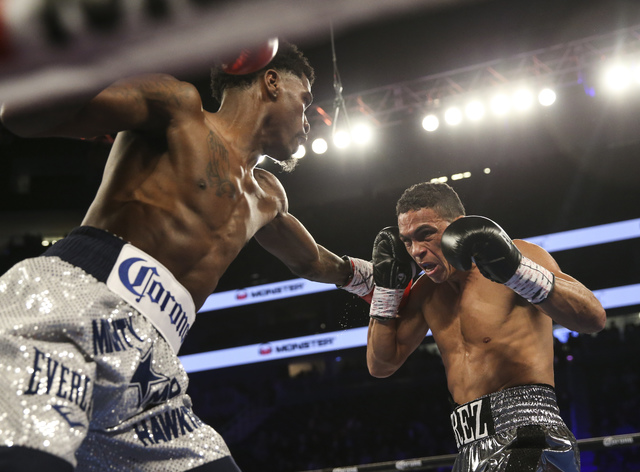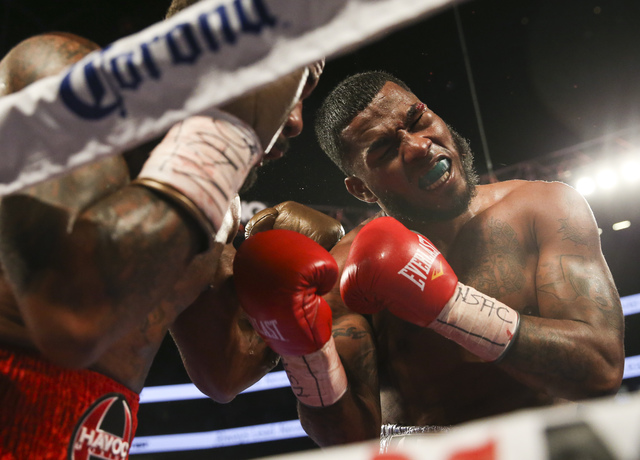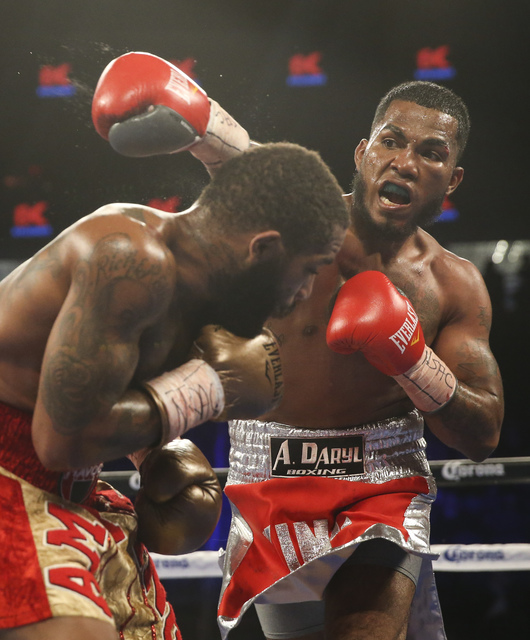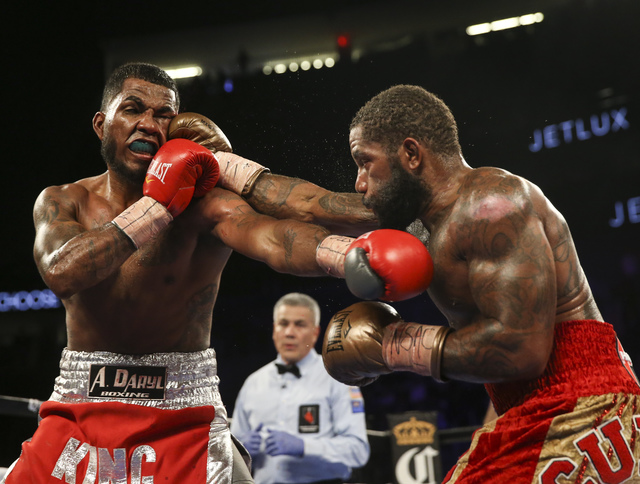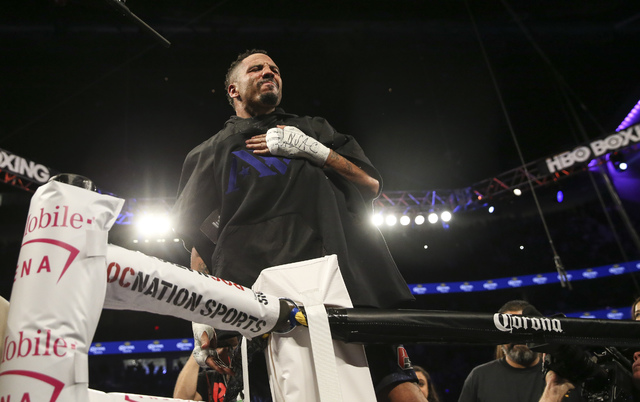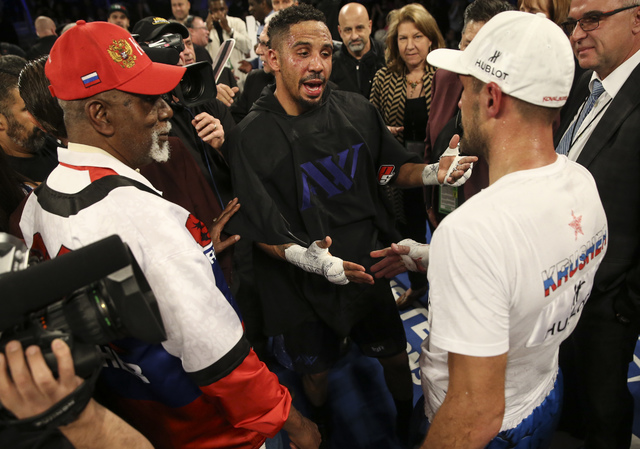 Any boxer has a shot of winning if the fight gets to the scorecards.
Andre Ward needed to survive a second-round knockdown by Sergey Kovalev to leave Saturday's bout in the hands of the Las Vegas judges, who are known for surprises.
An announced crowd of 13,310 at T-Mobile Arena waited in suspense and erupted in cheers when Ward was crowned the new WBO/WBA/IBF light heavyweight champion by unanimous decision, 114-113 on all three cards. The Review-Journal scored it 116-112 in favor of Kovalev.
"No, I was not surprised when I heard the decision," Ward said when HBO analyst Max Kellerman asked him about the results. "I don't know where you got that from. I know it was a close fight. The crowd, you can hear, they thought I won."
Kovalev (30-1-1, 26 knockouts) set the tone early with a devastating left jab to deliver his power right hand. The Russian's trademark right landed in the second round to drop Ward (31-0, 15 KOs) for only the second time in his career.
"It's the wrong decision," Kovalev said. "I don't want to say my opinion. Of course, I want a rematch and I will kick his (butt)."
Judges John McKaie and Glenn Trowbridge had the match in a tie entering the final round, while Burt Clements had Ward ahead 105-103.
Ward, favored by the crowd, held on to Kovalev any time he got momentum. The hugging probably gave Ward enough time to recover and make a second-half rally.
"It was like a wrestling match out there," said Kathy Duva, Kovalev's promoter. "This was like watching a UFC fight."
Ward made a furious rally in the final rounds with clean body shots when the fighters were tangled. Ward, known for playing it safe, traded shots with the bigger Kovalev and showboated a little with spinning punches.
The Oakland, California, native handed Kovalev his first defeat and kept his own record spotless. The 32-year-old Ward hasn't lost a fight since age 12.
"Of course, I would do a rematch," Ward said. "I am not going to negotiate a fight right now. I will go home and relax and see what's next."
Hooker vs. Perez
Darleys Perez thought he had a victory against top prospect Maurice Hooker. The judges didn't agree.
The judges scored the junior welterweight matchup a split draw (97-93 Perez, 97-93 Hooker, 95-95).
Many reporters on press row felt Perez was the clear winner.
Chilemba vs. Gvozdyk
Oleksandr Gvozdyk did something Kovalev couldn't do — knock out Isaac Chilemba.
Gvozdyk recorded an eighth-round technical knockout when Chilemba's trainer, Roy Jones Jr., stopped the bout. Chilemba (24-5-2, 10 KOs) injured his right arm during the match.
The Ukrainian Olympic bronze medalist summed up his night.
"Left jab, left hook, straight right to the body. I was able to break him down," said Gvozdyk (12-0, 10 KOs). "People think I don't have a lot of experience, but I had over 250 amateur fights."
The rising light heavyweight prospect made a statement with his victory. Kovalev needed 12 rounds to defeat Chilemba in July.
Stevens vs. De La Rosa
Middleweight contender Curtis Stevens showed signs of recording an early knockout against James De La Rosa, but settled for a 98-90, 96-92, 96-92 unanimous decision.
Stevens (29-5, 21 KOs) had early barrages and knocked down the Texan De La Rosa (23-5, 13 KOs) in the third round with a left to the ear.
A drained Stevens struggled to get anything going in the final seven rounds as the crowd booed.
"I give myself a C-minus," Stevens said. "Could have thrown my jab a little more. I am glad I got the W but I am a little disappointed in myself.
"Hurt my left hand in the fourth round. He's got a hard head."
Shields vs. Crews
U.S. Olympic champion Claressa Shields made a splash in her professional debut. She overpowered Franchon Crews to win by unanimous decision (40-36, 40-36, 40-36) as the super middleweights traded haymakers for four rounds.
Crews jumped on Shields early and had the two-time gold medalist on the ropes in the first round. Shields quickly recovered and landed the bigger shots to the head and body.
"It feels so good to have just made my pro debut," Shields said. "This is what I've been training for. I'm faster and I hit harder and I'm the better fighter. But Crews brought 100 percent and I respect her for that."
Contact Gilbert Manzano at gmanzano@reviewjournal.com or 702-383-0492. Follow @gmanzano24 on Twitter.