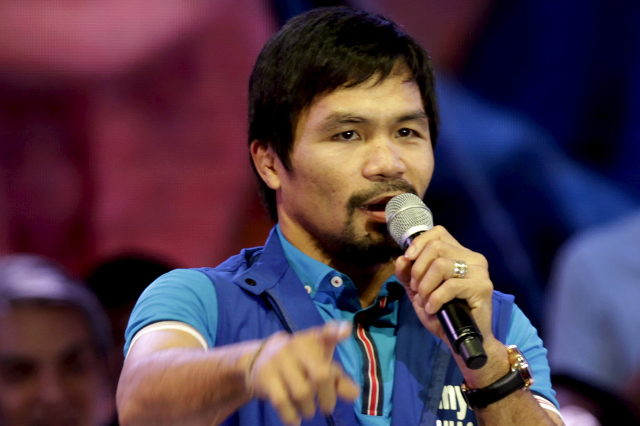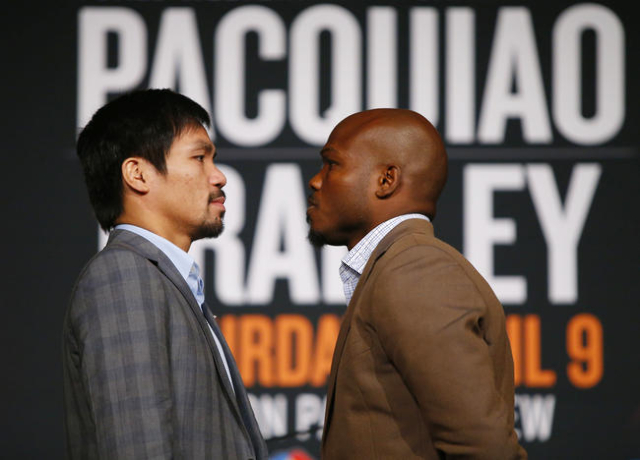 As far as Bob Arum is concerned, the show will go on.
The Top Rank chairman who is Manny Pacquiao's longtime promoter said Monday there's no chance Pacquiao's April 9 fight against Timothy Bradley Jr. at the MGM Grand Garden will be postponed after some of Pacquiao's opponents claimed he has an unfair advantage in campaigning because of the free publicity the fighter receives from media throughout the world that are covering the upcoming fight, the third between he and Bradley.
Reuters reported Monday that the Philippine Election Commission plans to discuss the situation when it meets Tuesday in Manila after one of Pacquiao's opponents lodged an official complaint.
"This is like the Donald Trump birther issue (with Ted Cruz)," Arum said. "There's no chance the (election) commission will force him to postpone the fight. Our attorneys looked into this very carefully before we made the fight (with Bradley) and there was nothing there to suggest Manny's fighting constitutes a conflict of interest in terms of campaigning.
Pacquiao is one of 48 candidates vying for 12 vacant seats in the Philippine Senate with the election scheduled for May 9. He is currently eighth in the most recent polls, even after his anti-gay comments last week claiming those who engage in same-sex activities are worse than animals.
Arum said there is precedent for Pacquiao running for office while actively engaging in his boxing career. In April 2007, Pacquiao was running for congress and he fought Jorge Solis in San Antonio. The issue came up then and the commission did not prevent the fight from taking place.
"The rule is plain — you can't publicize that you're running for office," Arum said. "We're not going to be holding any (political) rallies for Manny while he's here in the States preparing to fight Bradley. But he still has to be very careful what he says."
Arum said the simple solution is to have a moritorium on politics whenever Pacquiao does a media session regarding the April 9 fight. But he said that won't be so easy given Pacquiao's penchant for saying what's in his heart.
"Manny is such an open person," Arum said. "He'll talk to anybody about anything. If you ask him a question about the election, he's probably going to want to answer you. That's the way he is. And as we saw last week, his honesty sometimes gets him into trouble."
Contact reporter Steve Carp at scarp@reviewjournal.com or 702-387-2913. Follow him on Twitter: @stevecarprj
Like Sports News on Facebook: