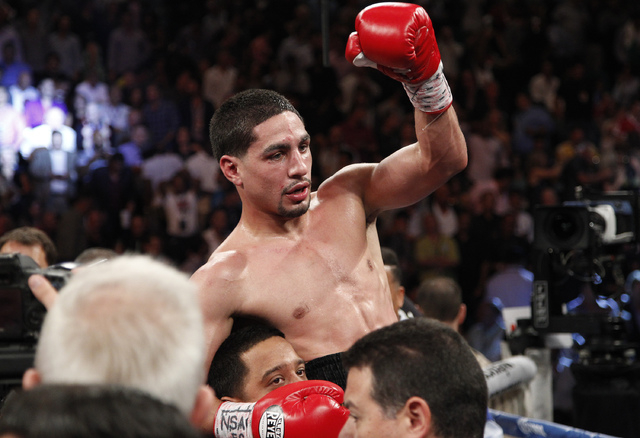 He hasn't been able to get Floyd Mayweather Jr. to fight in his building, but Barclays Center CEO Brett Yormark is happy doing business with Mayweather's manager, Al Haymon.
Barclays, home of the NBA's Brooklyn Nets, will play host to the next installment of Haymon's Premier Boxing Champions on NBC on April 11. Junior welterweight champion Danny Garcia will defend his World Boxing Association title against Lamont Peterson, and Andy Lee will risk his World Boxing Organization middleweight belt against Peter "Kid Chocolate" Quillan.
"When we opened the building (in 2012), it was about volume and variety," said Yormark, who attended the PBC debut March 7 at the MGM Grand Garden. "For boxing, to work with these guys four times a year is great for our fans. It becomes appointment viewing. Every quarter, you know you're going to have an event."
Yormark spent time with Mayweather at last month's NBA All-Star Weekend, which was held at the Barclays Center and Madison Square Garden. He's still hoping Mayweather will fight in Brooklyn before he retires.
"He's very comfortable at the MGM, and he's very loyal to the people at the MGM, and I can appreciate that," Yormark said. "You always want the best to compete in your building. But I enjoyed visiting with Floyd, and perhaps we'll be able to do business at some point."
Yormark, who had an exclusive deal with Golden Boy Promotions to host fights at the Barclays Center the first two years it was open, said he'll do business with anyone.
"We're an open company," he said. "We'll work with anyone who wants to work with us."
■ FREDDIE FINED — Hall of Fame trainer Freddie Roach isn't afraid to speak his mind. In doing so, he has been known to utter a profane word or two.
But Roach's top fighter, Manny Pacquiao, would prefer that his trainer watch his mouth. So the two made a deal in which Roach is fined $5 every time he curses.
During Wednesday's news conference in Los Angeles to promote the May 2 megafight between Pacquiao and Mayweather at the MGM Grand Garden, Roach dropped a few F-bombs, and by the time he was through, he had rung up $30 in fines.
"If this keeps up, I'll lose my entire purse," Roach said, laughing.
A couple of reporters offered to pay Roach's fines, but he politely refused.
"Keep your money," he said. "You guys need it more than I do."
■ PORTER WINS — Welterweight Shawn Porter knocked out Erick Bone during the fifth round Friday on the Premier Boxing Champions card at Ontario, Calif., before a national audience on Spike Television.
Bone was a last-minute replacement for Roberto Garcia, who was well over the 147-pound limit and didn't even attend Thursday's weigh-in.
"I thought I gave a great performance," said Porter, a Las Vegas resident who was fighting for the first time since losing his International Boxing Federation title to Kell Brook in August. "But I could have done a better job listening to what my corner was asking of me. I could have been a lot sharper."
Porter (25-1-1) knocked down Bone (16-2) twice during the fifth round, the second time for good with a right-left combination to the head. Bone was counted out at 2:30.
"I don't know what happened to Garcia," Porter said. "I think it's unprofessional not making weight."
In the main event, Andre Berto (30-3) stopped Josesito Lopez (33-7) during the sixth round of their welterweight bout. Lopez was knocked down twice during the round when referee Raul Caiz Jr. stopped the fight at the 1:08 mark.
■ AMATEUR CARD — The North Las Vegas Center Ring boxing club will host an amateur card beginning at 6 p.m. March 28 at the Silver Nugget. Twenty bouts are scheduled.
Contact reporter Steve Carp at scarp@reviewjournal.com or 702-387-2913. Follow him on Twitter: @stevecarprj.