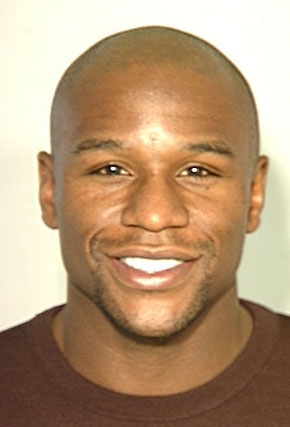 Maybe it's time Floyd Mayweather Jr. read the Southern Highlands homeowner association's parking policy.
The district attorney's office has slapped the champion boxer with a new criminal case, again involving a confrontation with Southern Highlands security guards over parking.
A criminal complaint filed Thursday charges Mayweather with two counts of misdemeanor harassment in the Oct. 4 obscenity-laced confrontation with guards Aaron Ryan and Miguel Burgos.
Mayweather threatened them, saying "my homies have guns. If you want me to call them, they'd come over here and take care of you," according to a Las Vegas police report.
The confrontation occurred after Mayweather found the guards had ticketed two of his vehicles parked in the street, in violation of the ritzy homeowner association's rules.
"Mayweather saw the citations on his vehicles and became upset, telling Burgos and Ryan not to touch his vehicles. … Mayweather told them, 'You want to see something funny?' Mayweather then walked over to one of the vehicles Ryan and Burgos had cited, removed the green citation and slapped it onto the front windshield of their vehicle, rubbing it in while laughing," the report said.
Mayweather told the guards that he had 29 vehicles and that they weren't allowed to touch them.
"These are my (expletive) cars, don't touch my (expletive) cars," the boxer told the guards, according the report.
The guards told police that during the confrontation, Mayweather also alluded to a pending gun charge he claimed to be facing.
"I already have a pending gun charge, and I don't want any problems," the boxer told the guards, according to the report.
Mayweather doesn't have a pending gun charge in Clark County, but he is facing a laundry list of legal troubles.
Mayweather faces a misdemeanor battery charge in connection with a Nov. 15 incident involving guard Shayne Smith.
Las Vegas police said in a report that Smith cited two Mayweather vehicles for parking violations.
A confrontation ensued, and the boxer was verbally abusive and jabbed his finger into Smith's cheek, resulting in redness and discoloration on the left side of Smith's face, police said. A bench trial in that case is set for Sept. 1.
Then in January, the Estates at Southern Highlands Golf Club Community asked a district judge to order the 33-year-old to abide by the community vehicular and parking rules and to stop threatening and harassing security guards, a complaint filed Tuesday said.
The association sought compensation of more than $10,000 from Mayweather, who lives in a $9.5 million, 12,000-square-foot mansion.
According to court records, that case was voluntarily dismissed without prejudice on March 31.
Mayweather also faces a July 29 preliminary hearing on felony charges, including coercion, grand larceny and robbery, in connection with the Sept. 9 incident with his three children and their mother, Josie Harris.
Mayweather is free on $31,000 bail in that case.
Mayweather has had at least three other incidents, including two convictions, involving violence toward women.
The boxer has been linked to, but not charged in, a shooting in August 2009 outside the Crystal Palace Skating Center on Boulder Highway near Flamingo Road.
Authorities allege that around 10 p.m. that day, Ocie Harris, a Mayweather bodyguard, shot at a BMW containing Quincey Williams and Damein Bland as the car left the skating rink. The car was hit six times.
The victims allege the shooting occurred after Mayweather threatened Williams' life over insulting text messages. No one was injured.
Harris faces six felonies, including attempted murder with use of a deadly weapon. A trial is set for July 5.
Meanwhile, no court date in the harassment case has been set yet.
Mayweather's defense attorney, Karen Winckler, could not be reached for comment.
Contact reporter Francis McCabe at fmccabe@review journal.com or 702-380-1039.