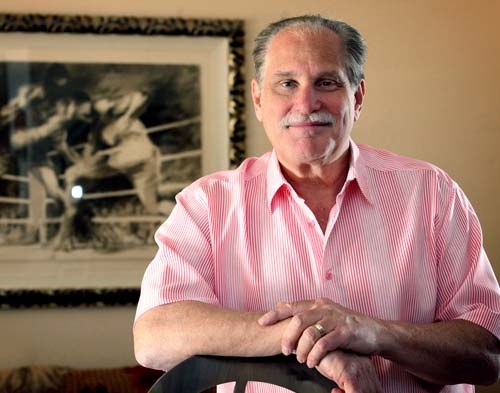 Al Bernstein never forgot his journalistic roots or his lifelong love for boxing. Together, those traits helped him build a remarkable announcing career and landed the 60-year-old Henderson resident a cherished spot in the International Boxing Hall of Fame.
Bernstein will be inducted Sunday at Canastota, N.Y., with former world champions Thomas Hearns and Mark Johnson, trainer Freddie Roach, ring announcer Michael Buffer and writer Michael Katz.
"I love the history of the sport, and I love keeping that history alive," said Bernstein, who remains active behind the mike for Showtime. "But I'm not lost in the past. I appreciate today's fighters and what they're accomplishing."
Bernstein has called more than 2,500 fights, including 68 pay-per-view telecasts since getting into broadcasting in 1980. ESPN was still in its infancy then, and boxing was a goldmine of affordable programming. Bernstein, a former newspaper editor who had been writing for Ring Magazine and authored a book, "Boxing For Beginners," was contacted by the fledgling network.
"There was no template per se," Bernstein said of ESPN's early days. "I went through a stretch where in eight weeks I had eight different partners. But ESPN did something very important for boxing – it kept the sport visible – and as ESPN got into more and more homes, boxing got some great exposure."
It wasn't quite at the level of the "Friday Night Fights" of Bernstein's youth growing up in the 1950s in Chicago, where he was exposed to the sport. The program gave him the opportunity every son craved, the chance to bond with his father.
"My dad would be down in the basement watching the fights and I would be on the stairway, trying to sneak a peek at the TV," he said. "One night, he finally called to me to come down and join him. Those were some of the happiest moments of my life."
Bernstein was 11 years old when his dad died. But his love of boxing had been established, and though he fought a bit as an amateur, the notion of getting beaten up didn't appeal to him as much as the idea of writing about guys beating each other up.
"My dream was to be a sports writer," Bernstein said. "I loved sports, and this was my entry into that world."
He realized his love, and his career has been chronicled in a new book he authored entitled, "30 Years, 30 Undeniable Truths about Boxing, Sports and TV" that will be released this week.
Despite his age, Bernstein never has worked harder. There was no Internet, Facebook or Twitter when he began calling fights in 1980, and he finds that his research has to be more thorough in 2012 because fight fans have access to more information than ever.
"You better be prepared or you'll be called on it," he said. "That's always been true, but it's even more so now. I feel more responsible to make sure I do it the right way."
Bernstein prefers not to be controversial on the air, leaving that to others. He believes it's important to offer a strong opinion based on fact, not personal prejudice. He doesn't use his broadcast position as a bully pulpit. As a result, he has earned the trust of most, if not everyone, in the boxing world.
"That might be the most important part of this honor for me, that I'm being recognized by my peers," Bernstein said. "It's interesting that I'm going in while I'm still active."
He's also grateful that his wife, Connie, will be there to watch him be inducted. Connie Bernstein has waged a battle to beat stage 4 breast cancer, and in 2008 the Bernsteins opened "The Caring Place" in Las Vegas, where cancer patients and their families can receive counseling and information to cope with cancer.
"She's the real fighter in the family," Bernstein said. "Thank God she is doing well."
When you're in a real-life fight – as Bernstein has been alongside Connie – questions such as whether Manny Pacquiao and Floyd Mayweather Jr. are going to fight seem trivial. Yet Bernstein gets asked about it almost daily and has come to the realization that it probably won't happen.
"I used to be optimistic that it will happen, but I'm not so sure now," he said. "The conditions seem to be changing, and I don't see it happening."
If they do fight, it would be tough to measure up to the best fight Bernstein ever saw, which was the first meeting between Diego Corrales and Jose Luis Castillo in May 2005. Corrales scored a 10th-round technical knockout to win the WBC lightweight title.
"It was nonstop action," Bernstein said. "It was Hagler-Hearns times three."
But whether Bernstein is calling a world title fight or a four-round undercard bout featuring a pair of unknowns, he refuses to compromise his high standards.
"If there's one thing I hope is true about my work, it's my consistency," he said. "When (boxing announcer) Don Dunphy, who was my role model, died, The New York Times wrote in his obituary, 'He was an objective voice in a subjective sport.' I hope I can be thought of in the same way."
Contact reporter Steve Carp at scarp@reviewjournal.com or 702-387-2913. Follow him on Twitter: @stevecarprj.