Bradley is still the enemy as far as Pacquiao's fans are concerned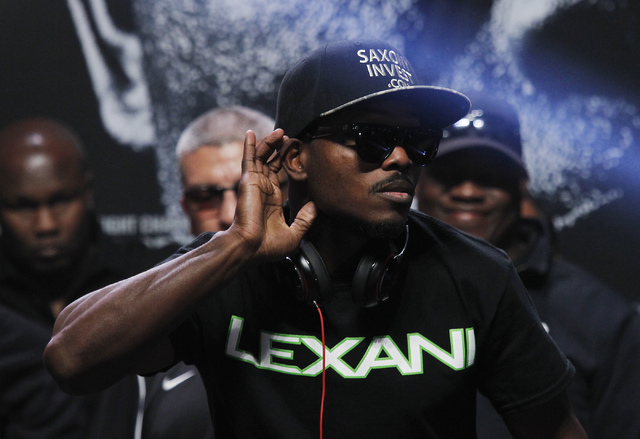 Timothy Bradley may have won over some new fans with his recent victories over Ruslan Provodnikov and Juan Manuel Marquez but if Friday's weigh-in at the MGM Grand Garden was any indication, Bradley's popularity has a ways to go if he wants to be comparable to Manny Pacquiao.
The crowd of 5,000 booed Bradley, the World Boxing Organization welterweight champion, lustily when he arrived for the weigh-in while showering Pacquiao with nothing but love.
Bradley talks about being accepted by the boxing public and maybe he is. But when it comes to Pacquiao, his popularity runs a distant second.
UPDATED ODDS
The MGM Resorts race and sports books have Pacquiao at minus-270 with Bradley a plus 220 underdog after the weigh-in which saw Pacquiao weigh 145 pounds and Bradley come in at 145½. Pacquiao had opened at minus-180 when the fight was announced a couple of months ago.
FORD TALKS
Duane Ford, who along with C.J. Ross scored the first Pacquiao-Bradley fight 115-113 in favor of Bradley, was a popular person at the MGM media center as TV crews were lined up to get a word with him.
Ford, who retired from judging in 2012 to become president of the North American Boxing Federation, has stuck to his guns, saying Pacquiao did not do enough to win the fight.
As for Ross, she remains low-key and you won't find her within 100 miles of the media center. Technically, she still is on an indefinite leave of absence from judging since September. She has not reapplied for her judge's license in Nevada and it's unlikely her application would be approved if she submitted a request for license.
NO SELLOUT YET
Maybe Bob Arum was right. Maybe more Pacquiao-Bradley signs were needed around the MGM. As of Friday afternoon, several hundred tickets remained available at $800, $600, $400 and $200.
It's a good bet those remaining seats will be sold by the time the Pay Per View portion of the card gets under way at 6 p.m. Still, for a Pacquiao fight not to sell out in advance is a bit strange. Maybe the fans don't won't to get burned again by questionable judging.
VARGAS MAKES WEIGHT
Las Vegas' Jessie Vargas made the 140-pound limit right on the nose for the WBA regular junior welterweight title fight against champion Khabib Allakhverdiev, who weighed in at 139½ pounds. Vargas-Allakhverdiev will be the second PPV fight on the card.
Contact reporter Steve Carp at scarp@reviewjournal.com or 702-387-2913. Follow him on Twitter @stevecarprj.