Bradley learned more from Pacquiao fight than from 31 wins
December 12, 2014 - 8:57 pm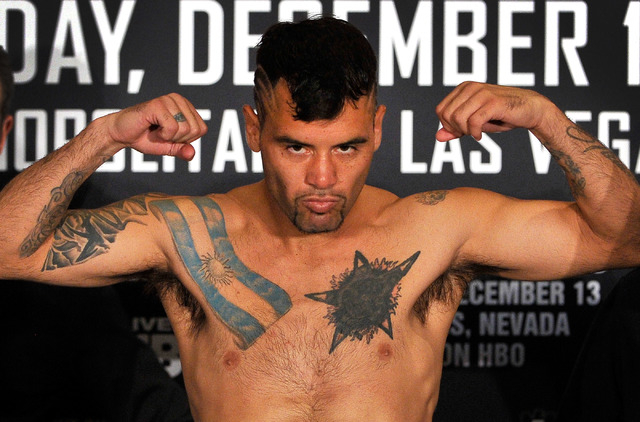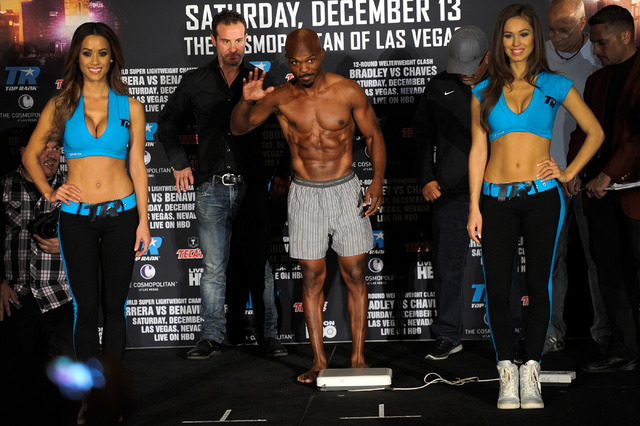 He didn't know what it was like to lose until Manny Pacquiao beat him April 12 in the rematch of their 2012 fight. But Timothy Bradley has no plans to make losing a habit.
He'll get back into the ring tonight to meet Diego Chaves of Argentina in the 12-round welterweight nontitle main event at The Cosmopolitan of Las Vegas.
"I learned more from losing that fight than the 31 I've won," Bradley said. "I learned not to beat myself in the ring and not be someone that I am not in there.
"When I fought Pacquiao the second time, I went in there with the mindset that I had to knock him out in order to win. And having that kind of mindset threw me off my game. The plan was to outbox Pacquiao, and I didn't do that. If I had stayed true to my form and my abilities, and did what got me to the top, I would have been all right.
"For this fight, I went back to the drawing board, to what got me to the top. I'm going to use my boxing ability, my speed and use my thinking cap in the ring. I even came off the usual vegan diet for this fight. I'm eating fish and meat, and I feel fantastic."
Bradley (31-1, 12 knockouts) should have little trouble winning this fight, which will be on HBO. He is the superior boxer and has more experience against better fighters. He's not thinking about his future (i.e. Floyd Mayweather) and is determined to put the Pacquiao loss behind him.
"I don't think about losing," Bradley said. "A two-fight losing streak doesn't even enter my mind. I take things day-by-day. I live in the present. I don't live in the future."
Bradley weighed in at 145.8 pounds Friday, while Chaves was 146½. It's the first step in Bradley's attempt to become a world champion again.
Bradley's trainer, Joel Diaz, said he can only hope Bradley follows the game plan for Chaves (23-2, 19 KOs). But he knows if Chaves tries anything underhanded, Bradley will respond in kind.
"Tim can be stubborn at times," Diaz said. "We plan for Plan A and Plan B. He will box. But at some point, you are going to see the stubborn Tim Bradley exchanging, and if they spark it up, you are going to see a war. Tim's not afraid to fight fire with fire, and if Chaves fights dirty, we're ready for it."
Bradley said he never has fought anyone that he would categorize as dirty.
"I just keep my composure most of the time. I'll bring it up to the referee and let him know what he's doing. But I'm an eye-for-an-eye type of guy, and if the referee isn't doing his job, then I have to do my thing."
Bradley was recently honored by his hometown of Palm Springs, Calif., with a star on its Walk of Stars. He was honored for his work as a humanitarian (he does considerable charity work in his hometown) as well as his boxing accomplishments. His star now shares the sidewalk with the likes of Frank Sinatra, Bob Hope, Marilyn Monroe, Elvis Presley and Ronald Reagan
"It's amazing and unbelievable," Bradley said. "I'm like, 'You sure you want to put me down there with those people?' But we have tourists from around the world who visit Palm Springs, and they're actually going to be walking on Tim Bradley."
Which is different from walking over Tim Bradley. And Bradley, a minus-850 betting favorite at the Wynn Las Vegas race and sports book, promises Chaves won't do that.
"The dark cloud has blown over, and I am clear-minded and happy to be back," Bradley said.
Contact reporter Steve Carp at scarp@reviewjournal.com or 702-387-2913. Follow him on Twitter: @stevecarprj.
BRADLEY VS. CHAVES
■ WHAT: Welterweight nontitle fight, 12 rounds
■ WHEN: 7 p.m. today
■ WHERE: The Chelsea at The Cosmopolitan of Las Vegas
■ RECORDS: Bradley 31-1, 12 KOs; Chaves 23-2, 19 KOs
■ WEIGHTS: Bradley 145.8 pounds; Chaves 146.5
■ PURSES: Bradley $2 million; Chaves $35,000
■ OFFICIALS: Referee — Tony Weeks. Judges — Burt Clements, Julie Lederman, Craig Metcalfe.
■ TV: HBO (210)
■ LINE: Bradley minus-850; Chaves plus-575
■ TICKETS: Sold out