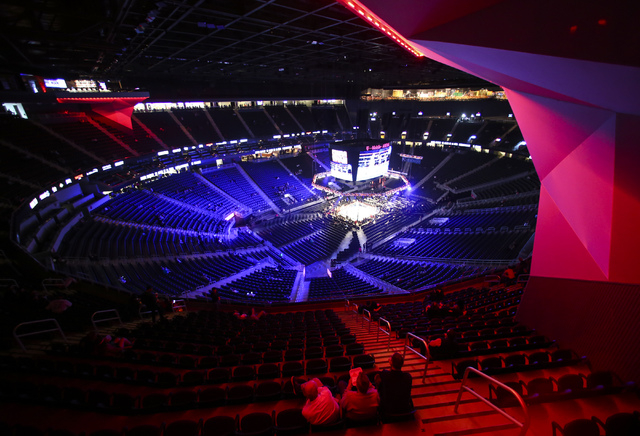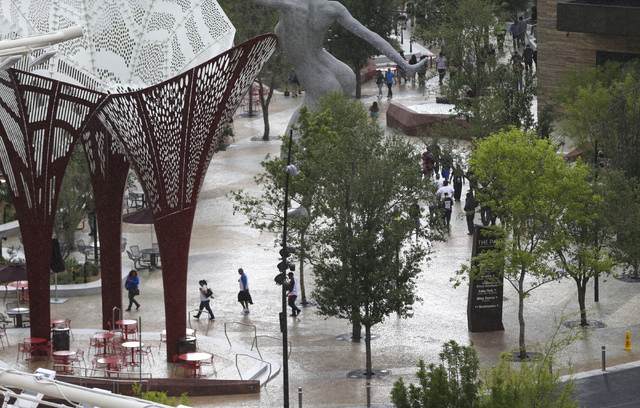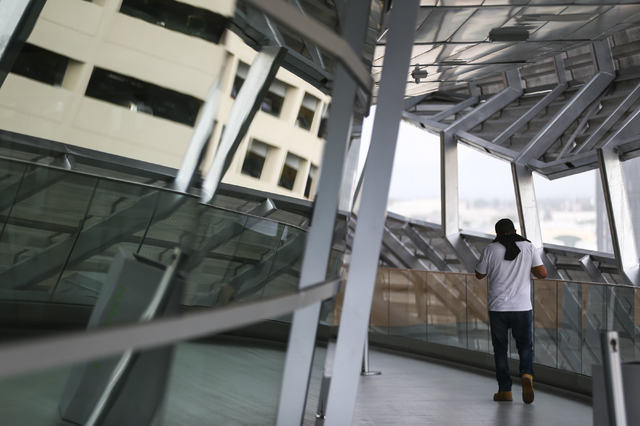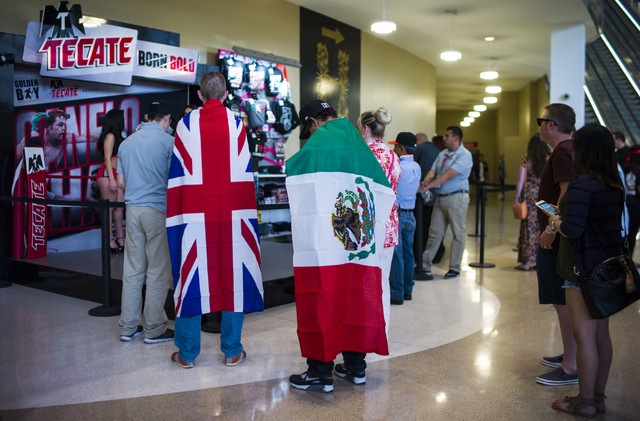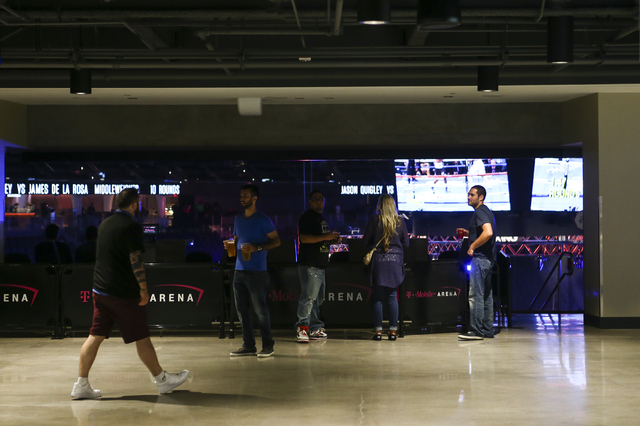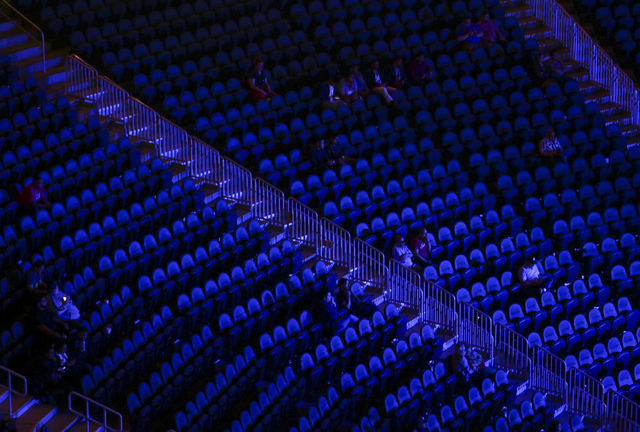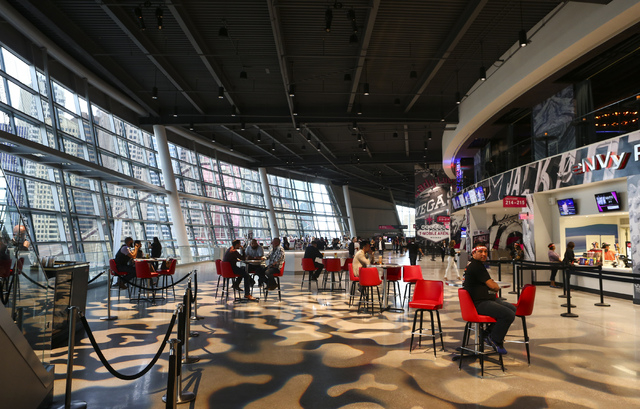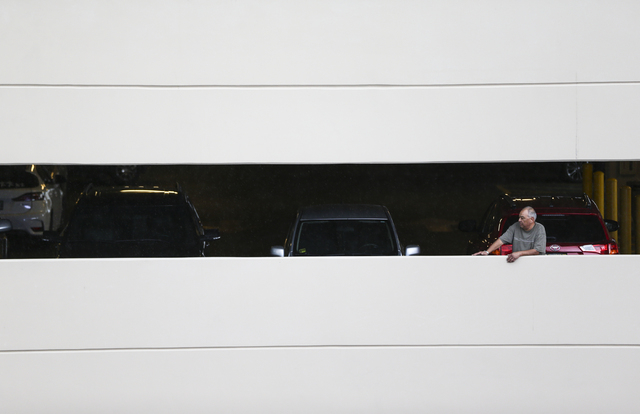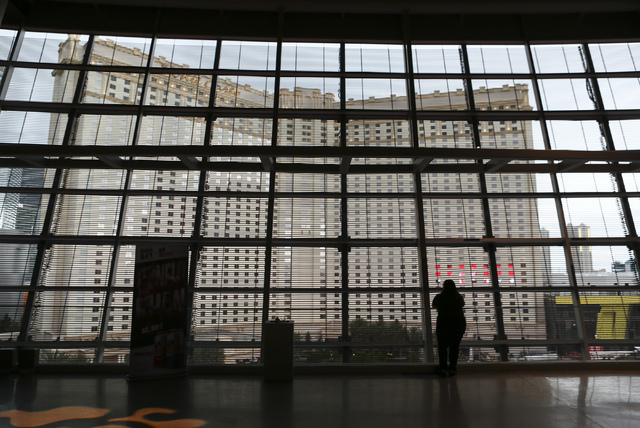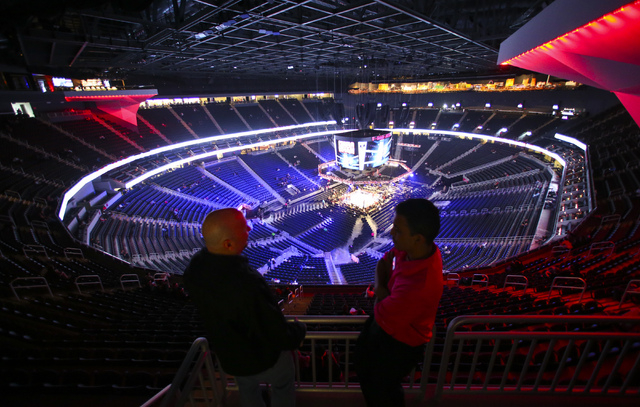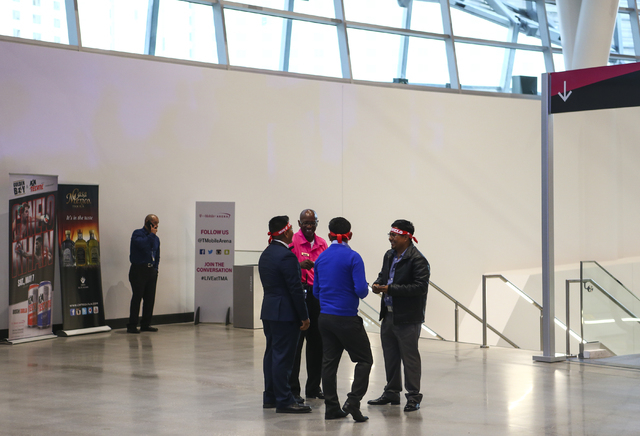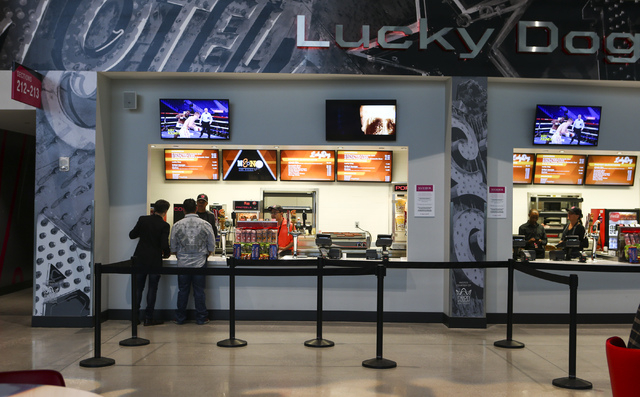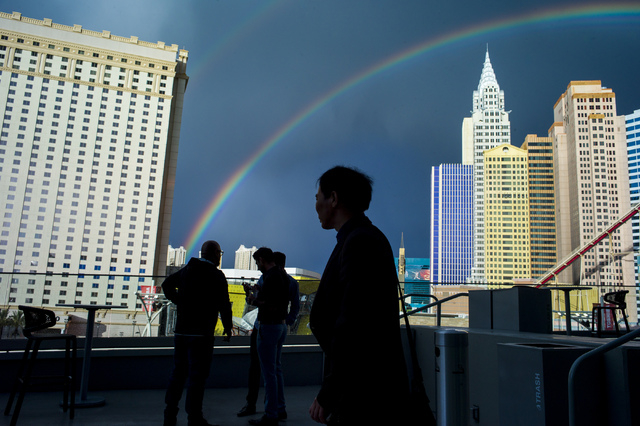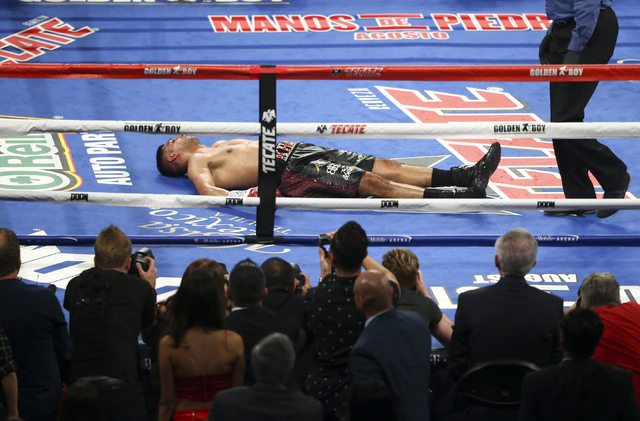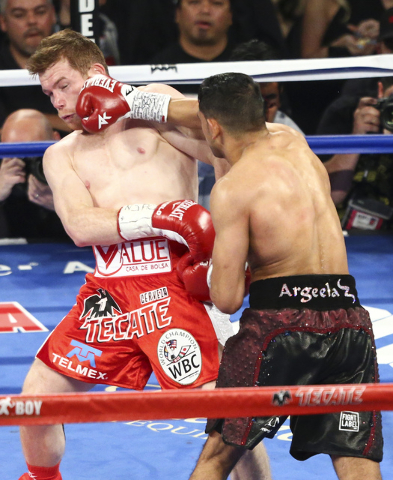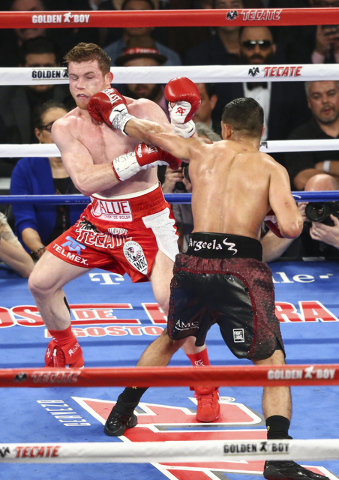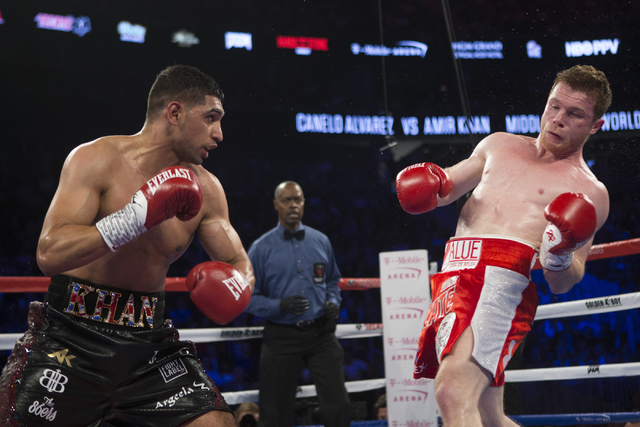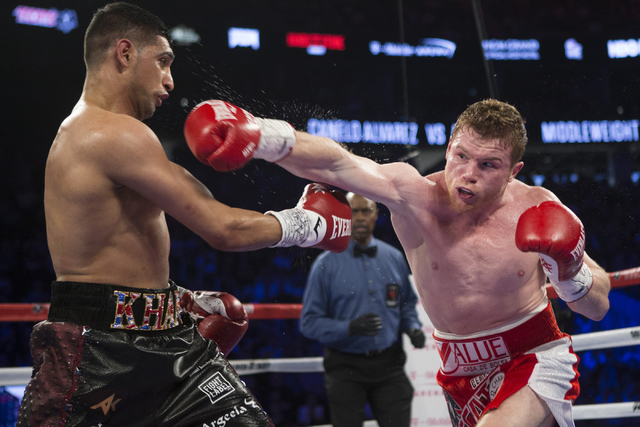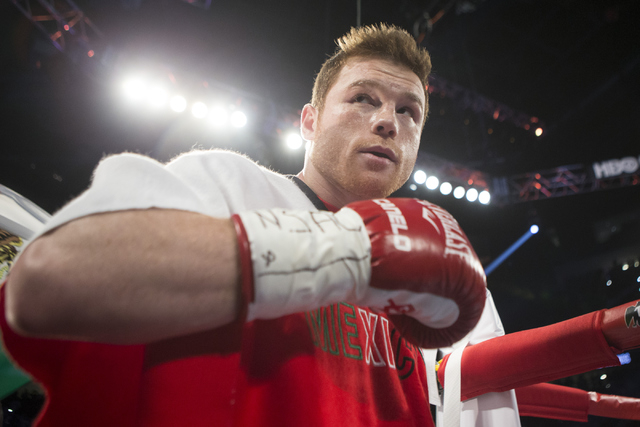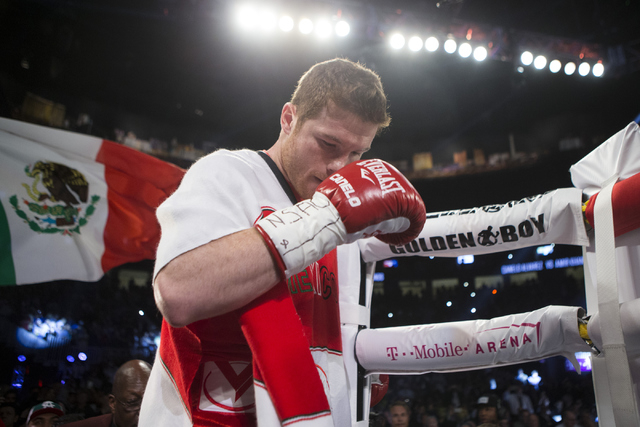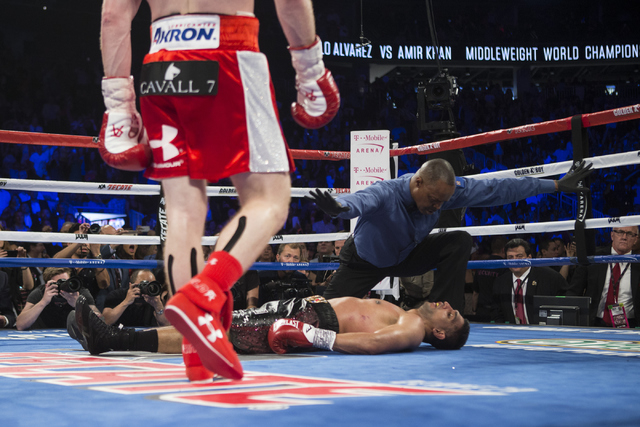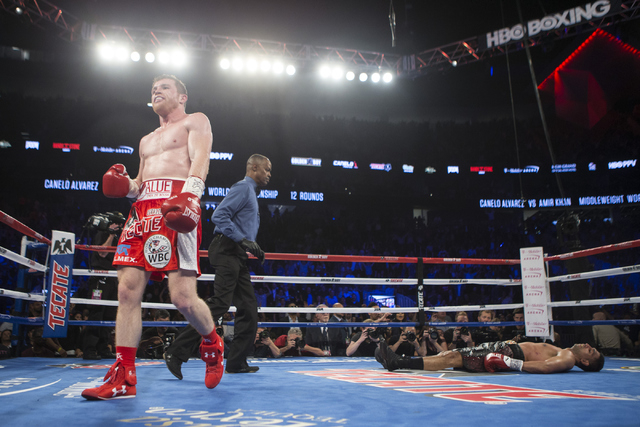 One punch. That's all it took for Canelo Alvarez to show how a good big man can beat a good smaller man.
An overhand right late in Round 6 caught Amir Khan flush on the chin, sent him off his feet and onto his back, as Alvarez christened T-Mobile Arena on Saturday with a sensational knockout that will be remembered for as long as the building does business with boxing.
With fellow middleweight champion Gennady Golovkin sitting ringside among the announced crowd of 16,540, Alvarez (47-1-1, 33 knockouts) retained his World Boxing Council middleweight title by dropping Khan at 2:37 of the sixth. The punch was devastating, reminiscent of the one Juan Manuel Marquez used to put Manny Pacquiao to sleep when they fought for the fourth time in December 2012 at the MGM Grand Garden.
Khan remained down for several minutes after referee Kenny Bayless counted him out. Doctors from the Nevada Athletic Commission rushed the ring to attend to the Englishman, who eventually got to his feet. He was taken to University Medical Center for observation and did not attend the postfight news conference.
Alvarez went right to Khan as soon as he saw him in distress and kneeled down beside him to see if he was OK before giving way to the NAC doctors and inspectors.
"People know me only for my power," Alvarez said. "I have many more qualities in the ring, and I showed that. I think people saw more of me."
Alvarez closed as a 7-1 betting favorite at the MGM Resorts sports books, and he probably should have been a bigger favorite in the catchweight fight of 155 pounds.
But it was Khan who looked as if he was on a possible path to victory through the first five rounds. He had a simple game plan — get in and get out, and with his hand speed and footwork, he appeared to be outboxing Alvarez.
Yet for all his apparent good work, Khan was behind on the scorecards entering the sixth round. Judges Glenn Trowbridge and Glenn Feldman had Alvarez ahead 49-46 and 48-47, and Adalaide Byrd had Khan winning 48-47.
Alvarez, who has a great poker face and never shows frustration during his fights, seemed to be biding his time, as if he knew being patient would eventually pay off.
"I knew things would be complicated in the beginning," Alvarez said. "But I knew they would come to my favor as the fight went on."
Sure enough, his patience was rewarded. The sixth round began with a big left from Alvarez to Khan's chin that stunned Khan. Alvarez hit him with another left, not as hard as the first shot, but one that was an attention-getter nonetheless.
Another left hand backed up Khan, and he was well on his way to losing the round. As it turned out, he would lose much more.
As the seconds ticked away, Khan dropped his left hand, looking to maybe use it to jab his way out of trouble. But Alvarez had him measured, and in a split second, Alvarez had unleashed the final blow of the night, the vicious right to the head that put Khan on his back and to sleep.
"I'm one of those fighters who will step in the ring with whoever," Khan said after regaining his senses. "I was getting in the ring with a big guy. Unfortunately, I didn't make it to the end."
Afterward, Alvarez said he would accept Golovkin's challenge and fight him.
"Like we say in Mexico, 'We don't (expletive) around,' " Alvarez said. "I don't fear anyone. We don't come to play in this sport."
Contact Steve Carp at scarp@reviewjournal.com or 702-387-2913. Follow on Twitter: @stevecarprj