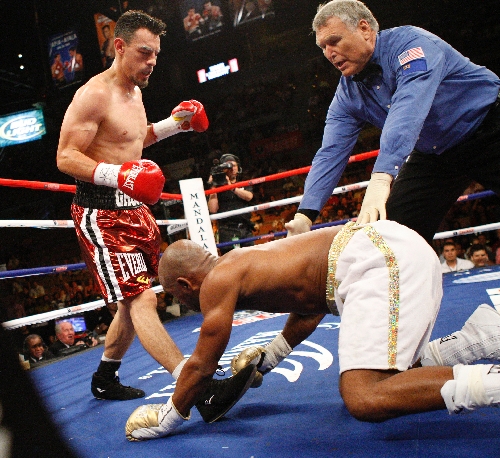 Robert Guerrero looked like a fighter who was going places Saturday.
So did Joel Casamayor. But they appear to be headed in opposite directions after Guerrero's dominating performance at Mandalay Bay Events Center, as he took a 10-round unanimous decision in their junior welterweight bout that was one of the featured undercard fights in support of the Juan Manuel Marquez-Juan Diaz lightweight rematch.
In the vacant WBO middleweight title fight, Dmitry Pirog upset Daniel Jacobs, knocking out the formerly unbeaten Golden Boy protege 57 seconds into the fifth round.
Guerrero, a former three-time world champion, used an effective left hand to control the fight. He knocked Casamayor down in the second round after referee Jay Nady penalized the former Cuban Olympian a point for holding.
With his right jab landing and setting up the big left hand, Guerrero (27-1-1) never was in serious trouble. His lone hiccup came in the final round when Casamayor tagged him with a right hand to the chin that sent Guerrero to the canvas. It was the first time in his career Guerrero had been knocked down.
"I felt I had a dominant performance," Guerrero said. "He kept using his head and holding me and grabbing me down. He's a veteran, and he knows how to survive. He was like a ram the way he kept coming at me headfirst."
As for the first time he had been knocked down, Guerrero said, "I just shook my head and said I got caught with a good punch."
Judges Robert Hoyle and Dick Houck scored the fight 98-89, and Lisa Giampa had it 97-90 for Guerrero. The win puts him in position to perhaps get a world title shot at 135 or 140 pounds this year or early in 2011, depending how things shake out in both weight classes.
"Hopefully I get the winner of the Marquez-Diaz fight and go back to 135," Guerrero said.
The 39-year-old Casamayor (37-5-1) looked every bit his age. But he figures to continue fighting.
"I was a little confused the first two or three rounds," Casamayor said. "Robert is tall, and he was a little awkward. I was a little rusty and got my rhythm too late.
"… But I plan to continue boxing. I'll still fight anybody."
Pirog started quickly and had Jacobs on the defensive. But Jacobs began to find the range starting in the third round. He appeared to have won the fourth round as well.
But nearly a minute into the fifth, Pirog caught Jacobs on the chin with an overhand right that sent him down and out, as referee Robert Byrd ended the fight.
Pirog set up the big blow with a couple of right jabs, followed by a left that didn't have a lot behind it. Jacobs never saw the next right that led to his first loss after 20 straight wins to begin his pro career.
"I'm very happy," said Pirog (17-0). "I knew I was good. I got him with the right, and I knew I had hurt him."
Jacobs, who was not in the best shape mentally after his grandmother died a week ago, said: "Everything happened so fast. I got caught with a shot, and I never saw it. But I know I can come back and become a champion."
Jorge Linares (29-1) took an easy 10-round victory over Rocky Juarez (28-7-1) in their lightweight fight.
Contact reporter Steve Carp at scarp@reviewjournal.com or 702-387-2913.
View the slide show