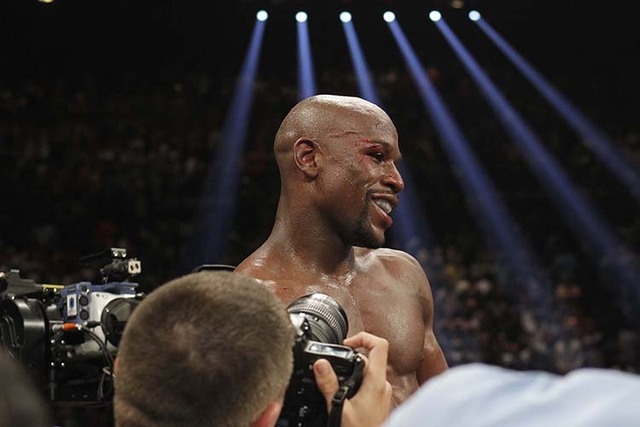 Brett Yormark is a guy who doesn't take no for an answer. Even from Floyd Mayweather Jr.
Yormark, the CEO of the Barclays Center, wants to have Mayweather fight in Brooklyn. He made a strong run at boxing's pound-for-pound king in the spring when Mayweather had agreed to face Marcos Maidana. But ultimately, Mayweather elected to fight Maidana at the MGM Grand Garden.
Yormark also tried to convince Mayweather to hold his Sept. 13 rematch with Maidana at the home of the Brooklyn Nets. But once again, he was rebuffed as the MGM will host the rematch, which will be televised on Showtime Pay Per View.
"I dream big," Yormark said last week at Wynn Las Vegas while he was attending the NBA summer meetings. "People thought we'd never build the Nets brand, that we'd never move to Brooklyn and that we'd never open the Barclays Center. But we've proven everyone wrong."
Yormark is a big boxing fan, and one of his goals beyond the Nets was to bring big-time boxing back to the borough. The Barclays Center has a deal with Golden Boy Promotions and has had some excellent fights since opening in 2012. Bernard Hopkins, Danny Garcia, Zab Judah, Adrien Broner, Paulie Malignaggi and Luis Collazo have all fought in the Nets' new home. Last month, Chris Algieri won a 12-round split decision over Ruslan Provodnikov and has parlayed that into a big-money fight with Manny Pacquiao in Macau on Nov. 22.
"We're thrilled with what we've been able to do in 21 months," Yormark said. "The response from the boxing community has been tremendous. The crowds keep growing. It's everything I could have dreamed of."
But Yormark said getting Mayweather would be the ultimate booking for the Barclays Center, which is in direct competition with Madison Square Garden when it comes to boxing.
"It would be the Super Bowl of boxing to Brooklyn if we got Floyd," Yormark said. "We want to do the big events, and in boxing there's no bigger event than a Floyd Mayweather fight."
Mayweather said Thursday in Los Angeles that he is receptive to fighting one of his last fights in Brooklyn.
"I've always said one of my ultimate goals is to fight in New York City," Mayweather said. "But everything takes time. You can't predict the future. The MGM has been very loyal to me and I've been very loyal to them. We have a special relationship."
The one hurdle for Mayweather fighting outside of Nevada is taxes. Were Mayweather to agree to fight in Brooklyn, he'd be subject to state taxes, city taxes and taxes on visiting athletes and performers. But Yormark believes he can still convince Mayweather to fight at the Barclays Center.
"When I look at Floyd, I look at that as a true validation of what we've been trying to do in terms of bringing big fights to Brooklyn," Yormark said. "We're committed to boxing, and I believe we'll eventually get Floyd to fight in Brooklyn."
■ BKB A GO — Big Knockout Boxing, the hybrid developed by DirecTV, will hold its first card in Nevada on Aug. 16 at Mandalay Bay Events Center and will be televised on pay-per-view. The sport will have two-minute rounds and have the competitors fight in a 17-foot space known as "The Pit" that has no ropes.
"We aim to bring back the glory of the knockout," said Alex Kaplan, the co-commissioner of BKB. "And as much as we love and respect the sweet science of conventional boxing, we believe that legions of fans will appreciate the nonstop level of intensity, aggression and action that BKB offers."
The main event will have a couple of names familiar to mainstream boxing fans as Gabe Rosado and Bryan Vera will meet for the BKB middleweight world championship scheduled for seven rounds. The remainder of the card will be announced in the upcoming weeks.
■ REMEMBERING MANAGER — Longtime boxing manager Garnik Khachikian died Tuesday in Las Vegas after a brief illness. He was 65.
Among the notable fighters Khachikian managed were former featherweight champion Freddie Norwood, featherweight William Abelyan and lightweight Almazbek Raiymkulov.
Contact reporter Steve Carp at scarp@reviewjournal.com or 702-387-2913. Follow him on Twitter: @stevecarprj.