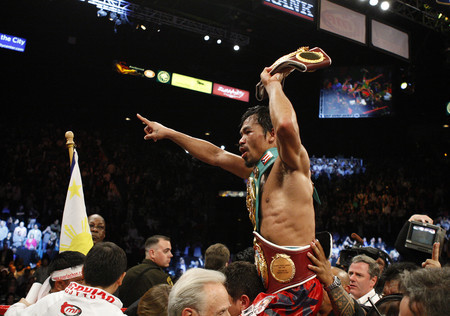 Bob Arum wants to announce a site for the Manny Pacquiao-Floyd Mayweather Jr. megafight before Christmas. But with a week to go, there's still a lot of work to do before any official announcement for the March 13 welterweight title fight can be made.
"Nothing's signed yet," Arum, the chairman of Top Rank and Pacquiao's promoter, said Wednesday from Youngstown, Ohio, where he is promoting Saturday's WBC and WBO middleweight title fight between Kelly Pavlik and Miguel Espino. "We still have some loose ends to tie up, but we're talking to a lot of people, and we'll get this done.
"We need to get it done by next week."
Arum said Las Vegas, Arlington, Texas, and Atlanta are the three possible locations to play host to Pacquiao-Mayweather. The Dallas Cowboys' stadium, which a week ago appeared to be out of the picture when Golden Boy Promotions chief executive officer Richard Schaefer canceled a trip to Dallas at the last minute, is very much in play, according to Arum.
Cowboys owner Jerry Jones reportedly made an initial offer of $25 million to host the fight. But that was before Dallas Mavericks owner Mark Cuban decided to get involved; with Cuban partnering with Jones, reports are circulating that Jones' initial offer could increase to as much as $35 million to $40 million.
Arum could not confirm such figures but said as Pacquiao's promoter he has a responsibility to get the most money possible for his fighter. Meanwhile, Top Rank president Todd duBoef has been talking to Schaefer while Arum works the Pavlik-Espino promotion, and duBoef might have convinced Schaefer to take a second look at Texas.
"Todd and Richard have been talking, and (Schaefer) may be willing to accept having the fight in Dallas," Arum said of Cowboys Stadium, which could seat as many as 100,000 for the fight.
As for Las Vegas, Arum said duBoef has talked to Richard Sturm, the MGM's president of entertainment and sports. However, Arum added that it might take getting CEO Jim Murren involved for the fight to come to the MGM Grand Garden, which seats only 16,200.
"I think that's critical," Arum said of Murren's involvement. Murren has been busy with the opening of his company's $8.5 billion CityCenter. Aria, the complex's hotel-casino, opened late Wednesday. MGM officials had no comment.
Arum said the Georgia Dome has made a big offer, though he wouldn't reveal how big. He also said New Orleans no longer is in the running to host the fight, and the proposed 30,000-seat temporary stadium on the Las Vegas Strip also is out.
"New Orleans has several conventions going on at that time, so they can't host it," Arum said. "The outdoor stadium on the Strip, there's not enough time to build it, and with the fight in March, you can't chance the weather. It's too risky at that time of the year."
Contact reporter Steve Carp at scarp@reviewjournal.com or 702-387-2913.