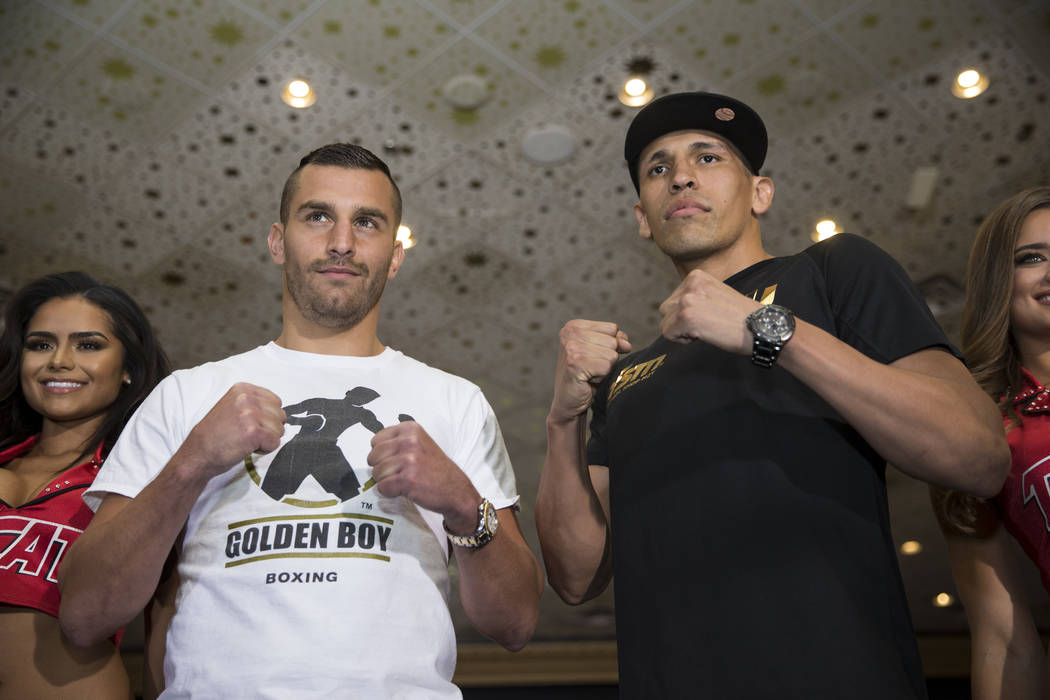 Most fight fans are hoping to see Saul "Canelo" Alvarez fight Gennady "GGG" Golovkin in September if Alvarez defeats Julio Cesar Chavez Jr. on Saturday at T-Mobile Arena.
It would be the biggest fight that could be made in boxing today, but David Lemieux doesn't want to see the blockbuster showdown this year.
The Canadian middleweight contender would rather have the Canelo-GGG bout put on hold for 2018, and he'll try his best to make that happen.
Lemieux wants to fight Alvarez during Mexican Independence weekend in September for possibly the biggest payday of his career. Lemieux also would gladly accept option No. 2: Fight Golovkin in a rematch and win back the belt he lost to the middleweight kingpin in 2015.
"Canelo-Golovkin is not my problem," Lemieux said. "My kids gotta eat, so I want Canelo first. I want to fight the best, and those two guys are at the top right now. I'm always looking for a challenge."
Lemieux (37-3, 33 knockouts) could make a case for himself to fight Alvarez next with a strong performance versus Marcos Reyes (35-4, 26 KOs) during Saturday's co-main event.
"Everybody knows they want to see me in good fights," Lemieux said. "We wanted to stay active, and this opportunity came up to be on the show (Saturday), and we took it. Making another strong statement on the Canelo-Chavez undercard will only bring me the best fights."
The 28-year-old Montreal native has made a name for himself since being embarrassed by Golovkin in an eighth-round knockout loss almost two years ago.
Fighting Golovkin might have been the best thing that could have happened to Lemieux's career. With the HBO spotlight on him, Lemieux proved that he's a fan friendly fighter, and that led to Golden Boy Promotions putting the Canadian on more televised bouts.
Going toe-to-toe with Golovkin probably wasn't the best idea, but Lemieux has plenty of power to knock out most 160-pounders in the division.
Lemieux is coming off his best performance when he destroyed Curtis Stevens in March with a vicious left hook that is in contention for Knockout of the Year.
"Stevens had it coming," Lemieux said with a chuckle. "All that talk he did. It felt good to have a performance like that. I'm always a fan-friendly fighter, and I always go out there and give fans a great show.
"Taking the fight (Saturday) was close from my last fight, but I'm not injured. I want to give fans in Las Vegas another great performance."
Lemieux knocked out Glen Tapia in his Las Vegas debut in May 2016 during the Alvarez-Amir Khan undercard at T-Mobile Arena.
Golden Boy officials have often flirted with the idea of having Alvarez face Lemieux. It would be an easy fight to make since both fighters are signed to Oscar De La Hoya's promotional company.
The groans from the public, however, would be loud if De La Hoya decides to put the Alvarez-Golovkin showdown on pause again, but like Lemieux said, that's not his problem.
"It was a learning experience fighting Golovkin, and I have no regrets," Lemieux said. "I want that fight again, and I'll make my adjustments. My goal is to prove I'm the best middleweight, and I won't let anyone stop me from doing that."
Follow all of our boxing coverage online at reviewjournal.com/boxing and @RJ_Sports on Twitter.
Contact Gilbert Manzano at gmanzano@reviewjournal.com or 702-383-0492. Follow @gmanzano24 on Twitter.