Doctors scoff at Mayweather's claim of harm from jail stay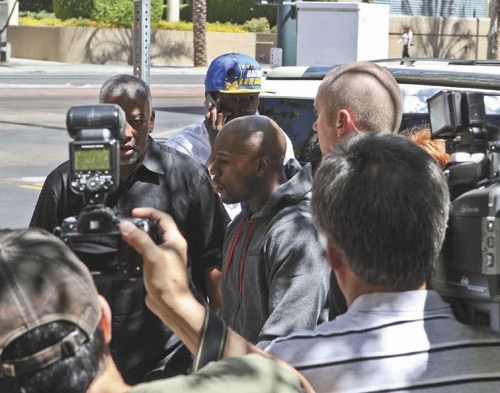 When Dr. Dale Carrison, chief of staff at University Medical Center, learned that another physician had claimed that a 90-day jail stay would place boxer Floyd Mayweather Jr.'s health in jeopardy, he said he felt embarrassment for the medical profession.
"For me," said Carrison, who was a jail guard and FBI agent before becoming a physician, "it was very disappointing. From the facts that were put forward, I could never do that."
Carrison said Thursday that "at least sanity prevailed" when Las Vegas Justice of the Peace Melissa Saragosa on Wednesday denied Mayweather's attempt to be placed under house arrest because of "inhumane" conditions at the Clark County Detention Center.
Mayweather is serving three months in jail for domestic battery, beating his ex-girlfriend in front of their children.
Carrison, who stressed that he had not examined Mayweather, had read that Mayweather's personal physician, Dr. Robert Voy, had found that the boxer's health was deteriorating from dehydration and a lack of calories. Instead of eating jail food, he was consuming just 800 calories a day through fruit, nuts and energy bars bought at the commissary.
"If he chooses not to drink water or eat the food, that's not the jail's fault, that's his choice, and the judge obviously realized that," Carrison said. "What we're dealing with here is a spoiled child, someone who wants bottled water and a personal chef all the time, not someone suffering from inhumane conditions."
Attempts to reach Voy on Thursday were unsuccessful.
Like many local doctors, Carrison has closely followed Mayweather's attempt to be freed from jail and placed under house arrest because his attorneys used a medical diagnosis as the centerpiece of their legal argument.
"When I was a jail guard for the Orange County Sheriff's Department (in California), I ate the same food and drank the same water as the inmates, and I was fine," Carrison said. "This is supposed to be a tough guy, but he whacks women and then doesn't want to do the time for the crime."
Dr. Jay Coates, a trauma surgeon and colleague of Carrison at UMC, found the medical claims used by Mayweather's attorneys outrageous.
"What a crock," he said. "It's just crap. If he's dehydrated, drink water for God's sake."
That Voy said in legal documents that Mayweather could suffer "irreversible damage" to his physique from a 90-day jail stay made Coates laugh out loud.
"It's pure (expletive)," he said. "Plenty of boxers and athletes go to jail and resume their careers."
Dr. Mitchell Forman, dean of the Touro University Nevada College of Osteopathic Medicine in Henderson, said that a world-class athlete can get out of shape in a 90-day jail stay, but "there is no doubt that he can come back to what he was before."
Forman, a former consultant for the Federal Bureau of Prisons, said the diet that convicts receive behind bars is nutritionally "adequate."
And he stressed that although Mayweather is confined to his cell for his own safety, he can still do exercises that can keep him in decent shape so he is not starting at ground zero when he enters the gym again.
"It won't be the same as a gymnasium, of course, but he can do push-ups, lunges, sit-ups and shadow boxing."
Dr. Kevin Petersen, a surgeon, said it is probably true, as Mayweather's physician has said, that the boxer finds being in jail depressing.
"I would, too," he said, "but he should have thought about that before he did what he did."
To Dr. Marietta Nelson, an eye doctor and former head of the Nevada State Medical Association, if Mayweather's career did end because of the effects of the incarceration, as his doctor suggests, it would be a blessing in disguise.
"I'm against boxing because of the permanent brain damage it does," she said. "Every boxer would be better off if he stopped boxing, not just this young man."
Contact reporter Paul Harasim at pharasim@reviewjournal.com or 702-387-2908.