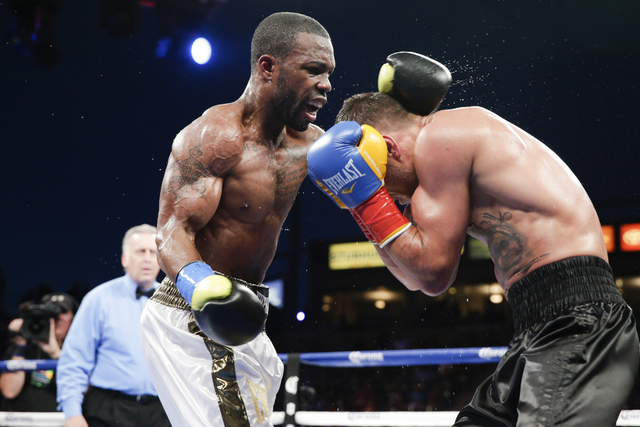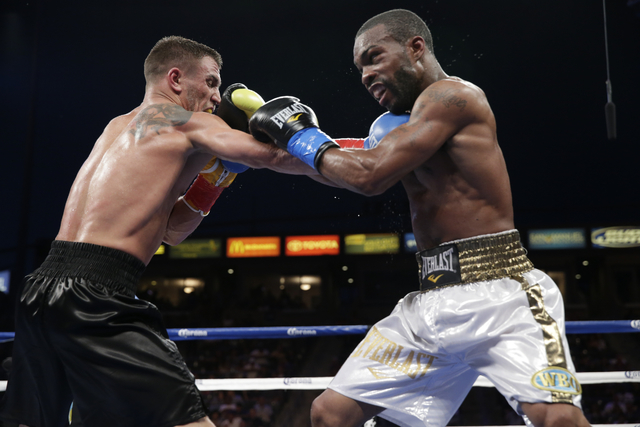 No matter what Gary Russell Jr. does Saturday in his quest to win a world title, it won't erase the bad taste in his mouth that he continues to carry from June 21.
On that night, Russell's perfect record was marred when he lost a unanimous decision to Vasyl Lomachenko at the StubHub Center in Carson, Calif. Not only did Russell lose for the first time in 25 fights, he also squandered an opportunity to win a world championship belt, as Lomachenko captured the vacant World Boxing Organization featherweight title.
On Saturday, Russell gets a second chance to become a world champion. The 26-year-old faces World Boxing Council featherweight champ Jhonny Gonzalez at 7 p.m. in the Palms' Pearl Concert Theater and in front of a national audience on Showtime.
And while he insists he's focused on Gonzalez, Russell admits he isn't over the Lomachenko loss.
"The best way to put it to rest is to beat Lomachenko," Russell said Thursday. "But beating Jhonny Gonzalez on Saturday won't change that. You never get over a loss like that. Even if I face Lomachenko again and I knocked him out, I still won't get over it. You never forget that first loss."
Russell, who was born in Washington, D.C., and lives in Capitol Heights, Md., admits he wasn't at his best the night Lomachenko beat him. He'd gotten some bad advice and spent three days before the fight sitting in a sauna, which sapped much of his strength and endurance.
The conditioning coach, whom Russell wouldn't identify, no longer is with his team.
"I didn't feel like myself," Russell said. "But one of the things we took from the Lomachenko fight is, 'If it ain't broke, don't fix it.' We did a lot of things different than we normally do. Now we've got the old team back. We're drilling, and we're focused. There won't be any excuses."
Russell (25-1, 14 knockouts) said his plan is to use his superior hand speed to beat the 33-year-old Gonzalez (57-8, 48 KOs) to the punch.
"I don't think he can deal with my speed," Russell said. "He lacks the footwork, the ring generalship and the ability that I have."
Russell said that if Gonzalez looks to counter punch, he has a plan for that, too.
"He tends to throw his punches wide," Russell said. "When he does that, I think I can effectively counter those shots and land my own."
Both fighters are coming off victories. Gonzalez stopped Jorge Arce in the 11th round Oct. 4 in his native Mexico to retain his title, and Russell won a 10-round unanimous decision over Chris Martin on Dec. 20 in Shelton, Wash. But the only stock he's putting into that victory is that the old routine in preparing for a fight still worked.
Whether the original team's preparation and game planning will work Saturday remains to be seen. Russell acknowledges that Gonzalez is a much different fighter than Lomachenko.
"Lomachenko has more speed, and he's more of a technical fighter," Russell said. "Jhonny Gonzalez is the bigger puncher. He has more power and more experience than Lomachenko had. It's two completely different styles."
Russell said while Gonzalez has more fights, he's not without experience himself. And he doesn't believe the moment will be too big for him.
"I've fought on Showtime many times," Russell said. "I've fought in the main event. I've fought for a world championship. I'm very comfortable in that environment.
"Does it make a difference when it's a big fight? Absolutely. Everything is different when you're fighting for a world title. But unlike the last time when I fought for the title, it's going to have a different ending on Saturday for me."
Contact reporter Steve Carp at scarp@reviewjournal.com or 702-387-2913. Follow him on Twitter: @stevecarprj.