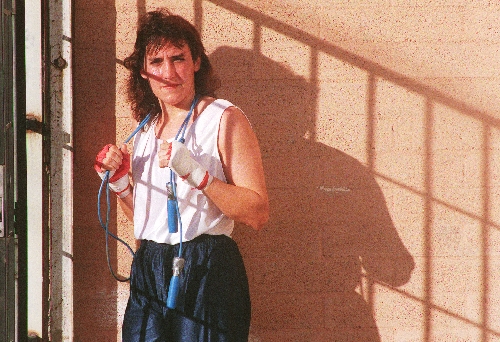 While recuperating in an Orlando, Fla., hospital on Nov. 23 after being shot and stabbed in her home, Christy Martin promised herself that if she survived the attack she would return to the ring.
Martin, 42, last fought in 2009, but has healed from her wounds and will resume her acclaimed boxing career March 12 at the MGM Grand Garden on the undercard of the Miguel Cotto-Ricardo Mayorga WBA super welterweight title fight.
Martin will square off against Dakota Stone in a six-round fight at 150 pounds.
"I know this is going to sound strange, but after everything that happened that night, I feel reborn," Martin said Thursday at Top Rank Gym, where she has enlisted veteran local trainer Miguel Diaz. "I asked God to save me, and he heard my prayers."
Martin has retained celebrity attorney Gloria Allred to handle her legal matters and has been advised not to discuss the case involving her husband, Jim Martin, 67. He faces charges of attempted first-degree murder and aggravated battery and has been in jail in Florida since Nov. 30. The case could go to trial in May.
Christy Martin suffered a gunshot wound to her chest and multiple stab wounds to her arm and leg in the Nov. 23 incident that occurred in the bedroom of the couple's Apopka, Fla., home. Barely two months later, she's healthy and excited.
"I feel great," Martin said. "I had been thinking about coming back before the attack. Now, I'm totally determined."
Martin, who grew up in West Virginia and is nicknamed "The Coal Miner's Daughter," has fought professionally for 21 years. In 1996, she became the first women's professional boxer to fight on national television. Later that year, she fought on the Mike Tyson-Frank Bruno undercard at the MGM Grand, becoming the first female fighter to appear on a televised portion of a pay-per-view card. A month later, she appeared on the cover of Sports Illustrated, signaling the unofficial arrival of women's boxing.
Martin (49-5-3, 32 knockouts) phoned Top Rank chairman Bob Arum during her recuperation and they quickly agreed to have her fight Stone, who Martin defeated in her last ring appearance Sept. 2, 2009, when she won the vacant WBC Female Super Welterweight title.
Martin's return has created a buzz in the boxing world largely because of her recovery from domestic violence. But she is trying to prove she can still fight.
"If I've got it, I'll have it," she said. "If not, (Diaz) will tell me it's time to go. I trust him to be honest with me. But if I didn't think I could still fight, I wouldn't be doing this."
The fight will be aired on pay per view by Showtime on a card that features the return of former super welterweight champ Yuri Foreman against Pawel Wolak. Tickets go on sale at 10 a.m. Monday at the MGM Grand and Ticketmaster.
■ WOMEN'S BOXING BOOK — Boxing photojournalist Mary Ann Owen of Henderson has released a 270-page book entitled "Extraordinary Women of Boxing."
The book highlights most of the great female fighters, from Martin, Laila Ali, Mia St. John and Hannah Fox to Layla McCarter, Melinda Cooper, Lucia Rijker and Jelena Mrdjenovich.
"Women's boxing has been around for a long time, and it's my tribute to them," said Owen, who has covered women's boxing since 1998. "I think photography is history, and anything you shoot is part of the historical record."
The book, published by Kirographaires Editions of France, is available through amazon.com.
■ GUZMAN FLUNKS TEST — Dominican junior welterweight Joan Guzman tested positive for Furosemide, a diuretic banned in Nevada, after his second-round technical knockout over Jason Davis on Dec. 11 at the MGM Grand.
His status will be addressed by the Nevada Athletic Commission this month.
Guzman did not make the 140-pound limit for the fight, coming in 4½ pounds too heavy. In his previous fight in Las Vegas, March 27 against Ali Funeka for the vacant IBF lightweight title, he came in 9 pounds over the 135-pound limit.
Coincidentally, Funeka tested positive for Furosemide after that fight, drawing a nine-month suspension by the NAC.
Contact reporter Steve Carp at scarp@reviewjournal.com or 702-387-2913.