Floyd Jr. cherishes working with uncle
September 14, 2011 - 11:06 pm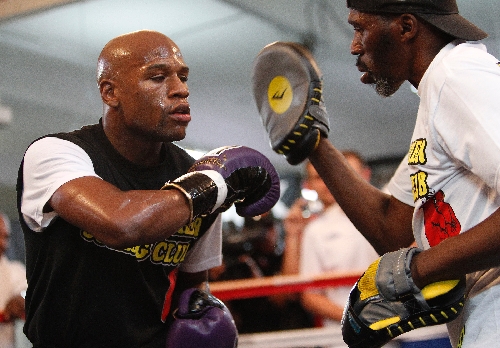 As Floyd Mayweather Jr. held court at his gym recently for about 100 members of the media to promote Saturday's title fight with WBC welterweight champion Victor Ortiz at the MGM Grand Garden, Mayweather's uncle and trainer, Roger, sat off to the side and watched the circus unfold.
He shook his head and smiled a weak smile.
"Same old (expletive)," he said softly.
He was glad to be there to see it. The time since his nephew last fought 16 months ago has not been kind to Roger Mayweather, the "Black Mamba" and former world junior welterweight and welterweight champion. He has diabetes. He had legal issues stemming from a confrontation with a former female boxer in 2009 that was resolved this spring and kept him out of prison. Despite being just 50 years old, he moves slowly.
But he insists he's OK.
"I take my shot every day and my medicine," he said. "I'm listening to my doctors."
And his nephew makes sure Roger eats right, gets his rest and has the best medical care.
"He means everything to me," said Mayweather Jr. (41-0, 25 knockouts). "Sometimes he doesn't eat correctly. He's not supposed to have sweets, stuff like that. He loves soda, but he's not supposed to drink it. So I tell my chef to make sure he has a meal ready for him so he eats properly."
Mayweather's training camps tend to be exhausting. And this one tested the trainer. But he has managed to hold up, working with his nephew in the ring and helping formulate the game plan to keep Floyd Jr. undefeated.
"This has been one of the best camps," Roger Mayweather said. "I've been able to do my job. I don't worry about it. Whatever is going to be is going to be."
His nephew said he wasn't cutting his uncle any slack when they trained.
"I've been pushing him," Floyd Jr said. "I've been really pushing him. He's had to take a couple of water breaks this time because I've been pushing him hard in this camp.
"But I love my Uncle Roger. I love him. He's one of my best friends. When I go to the gym, I might say, 'I'm not going to give it 100 percent because I'm not really comfortable.' So he'll say, 'Go home.' I don't want to be forced to do something that I don't want to do. He understands me. That's why he's such a great trainer."
Because his energy level was sometimes low, Roger Mayweather admitted it was tough at times to get through some sessions. But he always did.
"You're going to have some good days and some bad days," he said. "But that's how life is. It's all part of it."
The trainer said despite the apparent distractions his nephew might be having in his personal life, once he enters the gym, he blocks everything else out.
"Boxing is his distraction," Roger Mayweather said of his nephew, who is involved in six pending legal actions. "He's been boxing his whole life. That's what he knows best, so he focuses on that."
Roger Mayweather has watched enough of Ortiz to formulate what he considers a sound game plan. And while he has followed Ortiz's career, he's not quite sure how good Ortiz (29-2-2, 22 KOs) truly is.
"I've watched tapes of Ortiz," he said. "He's a good fighter. But good is one thing. The best is another. And Ortiz is fighting the best in my nephew."
Floyd Jr. said he's going to continue to stay on top of his uncle's health and make sure he sticks around for a long time.
"I'm going to get him together," he said. "I'm going to take him to the dentist and get his teeth fixed. He's not as sharp as he used to be, but my better half, Ms. (Chantel) Jackson, she told me the other day, 'Your uncle may not know about a lot of stuff, but he will never forget that boxing.' "
■ NOTES — Mayweather is a minus-650 favorite at the MGM's sports book, with Ortiz at plus-450. … Friday's weigh-in at the Grand Garden is open to the public. Doors will open at 1 p.m., with the main event fighters expected on the scales at 2:45.
Contact reporter Steve Carp at scarp@reviewjournal.com or 702-387-2913. Follow him on Twitter: @stevecarprj.