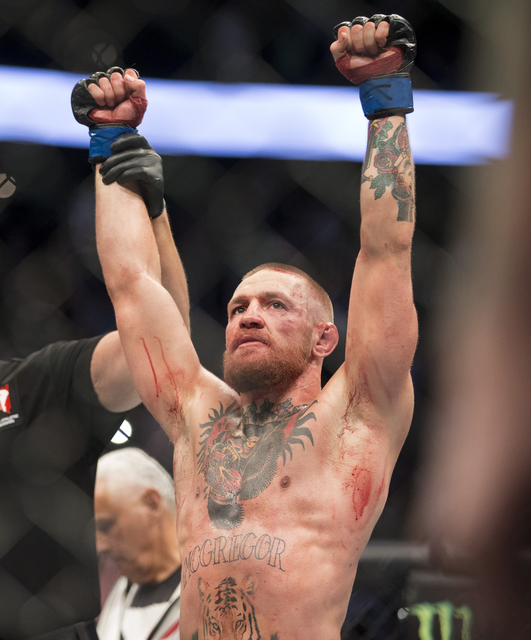 In danger of losing the news cycle to college basketball and NFL free agency, retired boxer Floyd Mayweather Jr. decided to generate headlines for himself Friday.
The undefeated Las Vegan said he will only come out of retirement for a long-rumored boxing match against Conor McGregor and that it's on the UFC star to make the next move.
"For Conor McGregor, I'm coming out of retirement — just to fight Conor McGregor," Mayweather said during a public appearance in England. "I don't want to hear no more excuses about the money (or) about the UFC. Sign the paper with the UFC, so you can fight me in June. Simple and plain. Let's fight in June."
McGregor's contract with the UFC has been a major sticking point.
It is believed the UFC would have to be involved in any deal between Mayweather and McGregor because McGregor is under an exclusive contract with the mixed martial arts organization.
McGregor, who has never boxed professionally, has indicated that he could challenge the contract to book a boxing match against Mayweather. But that could require an extensive legal battle.
UFC president Dana White made a public offer to each fighter for $25 million plus a percentage of pay-per-view sales. Both fighters have discussed a starting point of closer to $100 million.
Although there has been a great deal of public posturing, there doesn't appear to be much progress on a deal.
McGregor, 28, last fought in MMA in November when he defeated Eddie Alvarez to become the lightweight champion. He is on a hiatus because his girlfriend is expecting the couple's first child.
Mayweather, 40, retired from boxing in September 2015 with a 49-0 record.
Contact Adam Hill at ahill@reviewjournal.com or 702-277-8028. Follow @adamhilllvrj on Twitter.
RELATED
Floyd Mayweather Jr. makes counter offer to Conor McGregor for boxing bout