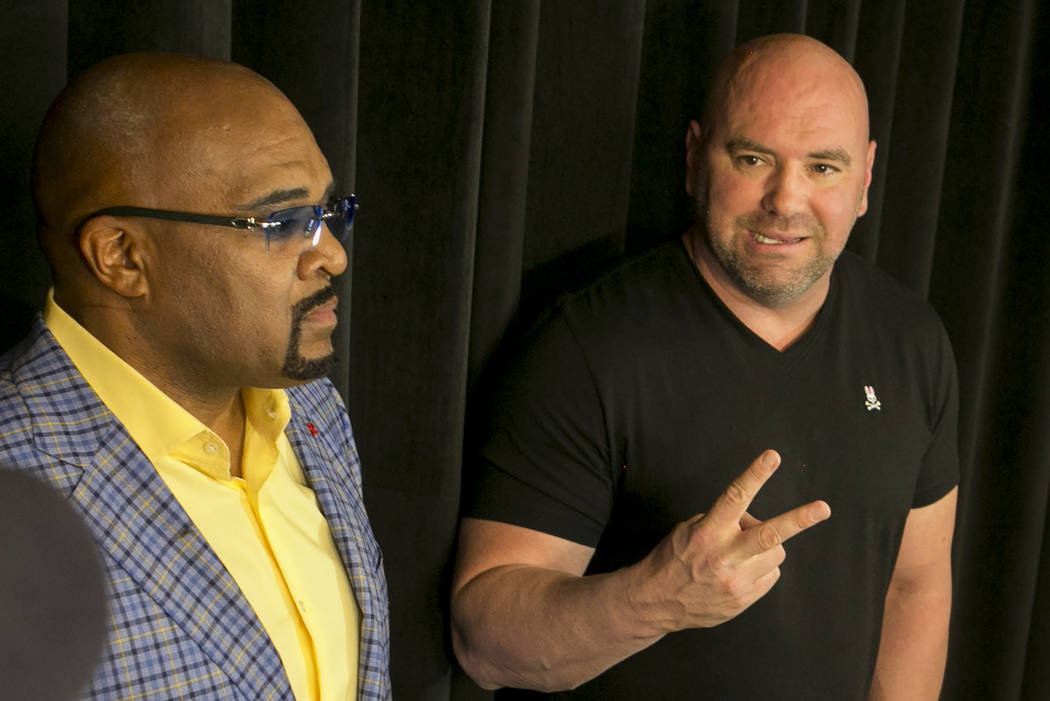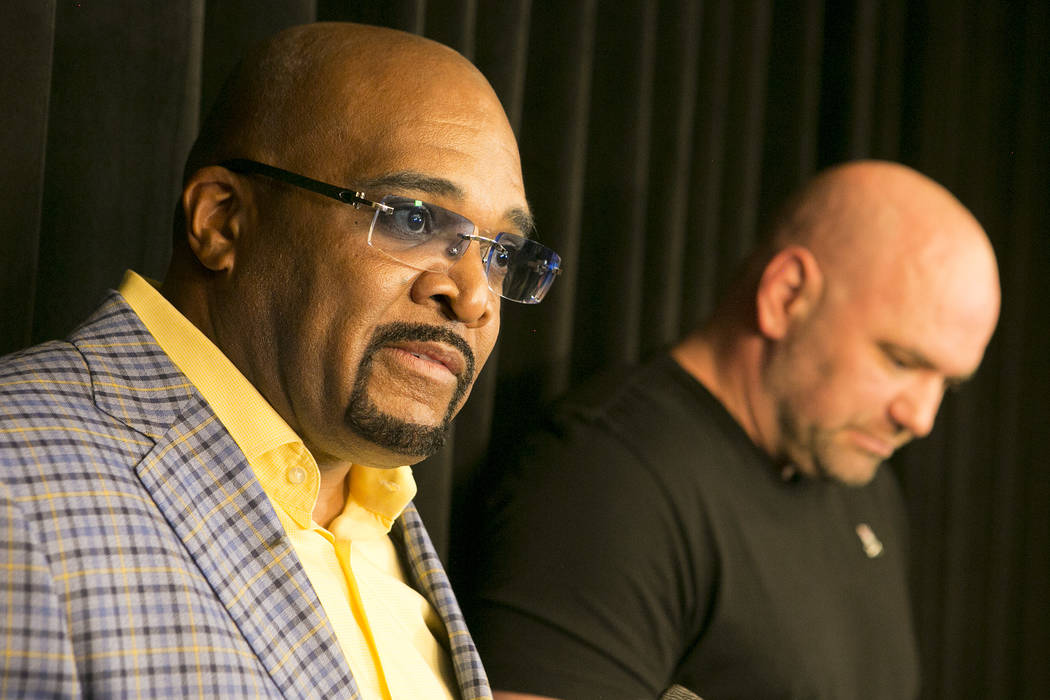 A mega cross-sport fight between Floyd Mayweather Jr. and Conor McGregor will take place Aug. 26 in Las Vegas.
The legendary boxer and the UFC superstar made the once improbable boxing match come to fruition Wednesday when they announced their 154-pound blockbuster bout for T-Mobile Arena and on Showtime pay per view.
Now that the monster match is a done deal, many fight fans were left with plenty of questions.
Here are the answers UFC president Dana White, Mayweather Promotions CEO Leonard Ellerbe and Showtime Sports executive vice president Stephen Espinoza provided during a wild Wednesday:
IT'S OFFICIAL!!! https://t.co/ND07Ixugs2 pic.twitter.com/JpqFW5WbcB

— Floyd Mayweather (@FloydMayweather) June 14, 2017
Money matters
Cash will be a heavily discussed topic leading up to the bout being dubbed as "The Money Fight" on social media.
White, Ellerbe and Espinoza didn't announce the PPV price for the fight. Boxing fans are still feeling the sting of forking over $100 for the Mayweather-Manny Pacquiao bout in 2015 at the MGM Grand Garden that was a huge disappointment. Most PPV boxing events cost $60 to $70.
"There's a public sentiment we have got to pay attention to, but we also got to recognize this is a premium level event and a once in a lifetime event," Espinoza said. "I think our goal is to produce an event that will make people feel satisfied at the price point."
Fans weren't happy with the Mayweather-Pacquiao outcome, but it still produced the most lucrative fight ever. Mayweather and Pacquiao each made upward of $200 million.
"Yes, of course, why not?," Ellerbe said when asked if the fight with McGregor can generate more money than the Pacquiao match. "This is a very, very hot fight. It's the fight the fans have wanted. Everywhere I go, I was getting asked about McGregor fighting Mayweather."
White and Ellerbe said they won't be disclosing the money split between the sides.
"Nobody is bummed out about this deal," White said. "I promise you that."
"Everybody is happy," Ellerbe added.
Venue and date
Mayweather making his debut at T-Mobile Arena isn't set in stone yet, according to an MGM official.
MGM officials are hoping to move the The BIG3 title game, a professional 3-on-3 basketball league founded by Ice Cube, to the MGM Grand Garden to clear the year-old arena for the boxing event. The BIG3 is currently booked for T-Mobile Arena on Aug. 26.
"We plan to announce additional details, including venue and ticket info, as soon as possible," said Richard Sturm, president of entertainment and sports for MGM Resorts International.
As a backup plan, Mayweather Promotions received permission to promote an event Aug. 26 at the MGM Grand Garden during the Nevada Athletic Commission's monthly meeting Wednesday. The item was pulled from the agenda earlier this week, but Mayweather's promotional company added the request again Tuesday night.
The late August day also creates a mess for Golden Boy Promotions, which is producing two events during the Mayweather-McGregor window. Oscar De La Hoya's company probably will take a hit financially with his former foe jumping in front of his HBO pay-per-view showdown between Saul "Canelo" Alvarez and Gennady Golovkin on Sept. 16 at T-Mobile Arena.
Fans might be less likely to make the Las Vegas trip or to pay the asking price to watch on TV after opening up their wallets for Mayweather and McGregor three weeks earlier. And Golden Boy also is hosting Miguel Cotto's comeback Aug. 26 on HBO.
Ellerbe said using the August date was a "no brainer."
"We were working on a couple different dates," White said. "The August date just ended up working the best for everybody. Aug. 26 traditionally has been a great pay-per-view date for us. It's a home run. It works for everybody."
Showtime runs the show
Showtime will be the exclusive TV producer for the 12-round bout between the combat sport stars.
The undercard will be strictly boxing matches. Mayweather Promotions boxers Gervonta Davis and Badou Jack, a Las Vegas resident, are expected to fight on the undercard.
"There will be no UFC that day," White said. "This is a boxing day."
Espinoza could add a UFC touch after teasing a possible prelim before the PPV undercard.
"UFC has an interesting model with what they do with their prelims, and how they spread it around, and make a portion of the event available to everyone," Espinoza said.
The UFC still will promote the boxing match on its programs and cards, and plans on doing the popular Embedded series.
Mayweather's comeback
Ellerbe didn't say if Mayweather, who will end a near two-year layoff, plans to continue fighting after the McGregor bout.
"All Floyd is thinking about is fighting Conor McGregor and whopping his ass," Ellerbe said.
Mayweather retired from boxing with a 49-0 record after winning a unanimous decision over Andre Berto in September 2015.
The Las Vegas resident and the Irishman agreed to USADA drug testing.
Missing paperwork
Neither Mayweather nor McGregor is licensed as a boxer in Nevada, and NAC executive director Bob Bennett said nothing official has been submitted to the commission from either side regarding the proposed megafight.
"I have not received a completed application for a boxing license from Conor McGregor or Floyd Mayweather or any documentation from any promoter whether it be the UFC, Mayweather Promotions regarding an event between Conor McGregor and Floyd Mayweather," Bennett said Wednesday morning. "As a regulator, once we receive those documents, we move forward."
The licensing process can be done within a week for most fighters, provided their medicals are in order.
Social media battle
McGregor and Mayweather have been teasing a bout through various public appearances and on social media for more than a year.
The Irishman took a shot at Mayweather, 40, by posting on Twitter a side-by-side photo of him and Floyd Mayweather Sr. with the caption "The fight is on."
THE FIGHT IS ON. pic.twitter.com/KhW0u3jRft

— Conor McGregor (@TheNotoriousMMA) June 14, 2017
McGregor, 28, who never has competed in a professional boxing match, last fought at UFC 205 at Madison Square Garden in New York when he won the lightweight title with a second-round knockout of Eddie Alvarez in November.
William Hill sports books made Mayweather a minus-1,100 favorite on Wednesday, with McGregor at plus-700.
Contact Gilbert Manzano at gmanzano@reviewjournal.com. Follow @gmanzano24 on Twitter. Contact Adam Hill at ahill@reviewjournal.com or 702-277-8028. Follow @adamhilllvrj on Twitter.