Huge underdog Bradley stuns champ Pacquiao by split decision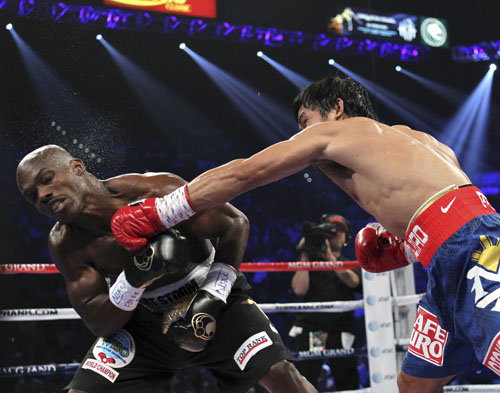 Can you say rematch?
Timothy Bradley overcame a sprained left ankle and managed to take Manny Pacquiao's WBO welterweight title by winning a controversial 12-round split decision Saturday in front of a stunned crowd of 14,206 at the MGM Grand Garden.
Judges CJ Ross and Duane Ford had Bradley winning by 115-113 scores while Jerry Roth had Pacquiao winning 115-113. It was Pacquiao's first defeat since 2005 when Erik Morales beat him.
"I thought I won the fight," said Bradley, who entered as a plus-350 underdog but left with a 29-0 record. "(Pacquiao) is not as good as everyone says he is. I didn't feel a lot of power from him."
Pacquiao was at a loss to explain the upset loss. Virtually every media member at ringside had him comfortably ahead at the final bell, and the outcome created a feeling of disbelief throughout the arena.
"I don't know what happened," Pacquiao said. "I had no doubt that I won. I did my best, but my best wasn't good enough."
Top Rank promoter Bob Arum fumed about the decision.
"I've never been as ashamed of the sport of boxing as I am tonight," said Arum, who handles both fighters.
"I'm going to make a lot of money on the rematch, but this was outrageous."
Arum also said: "Can you believe that? Unbelievable. I went over to Bradley before the decision, and he said, 'I tried hard, but I couldn't beat the guy.' "
Both Las Vegas Review-Journal cards and The Associated Press scored the fight in favor of Pacquiao, all 117-111.
Elsewhere, Twitter exploded with criticism of the judges' decision.
LVH sports book director Jay Kornegay tweeted: "I know it won't happen but I feel this should be the last boxing match we'll ever book."
Bradley won the last three rounds on Ross' and Roth's scorecards and two of the last three on Ford's card. That might have been the difference.
"My corner said if I won the last round, I would win the fight," Bradley said.
Pacquiao started a bit slowly, but from the second through seventh rounds, he appeared to dominate Bradley, having him in trouble on several occasions, but was unable to put him away.
Bradley turned his left ankle in the second round and despite throbbing pain, he continued to fight.
"My trainer (Joel Diaz) told me he could stop the fight or I could be a warrior," Bradley said. "I decided to be a warrior."
In the fourth round, a flurry of Pacquiao punches had Bradley reeling. But he managed to stay on his feet as the bell sounded. However, Pacquiao was in the process of pulling away to victory.
He consistently landed the more effective blows and with the pro-Pacquiao crowd pleading with him to knock out Bradley, he did his best to oblige But Bradley hung tough and was rewarded for his tenacity with the biggest win of his life.
The final punch stats showed Bradley throwing more punches (839-751) but Pacquiao landing more (253-159) and at a higher percentage (34 percent to 19). Pacquiao landed more jabs (63-51) and more power punches (190-108).
The rematch, if it comes to pass, has already been set for Nov. 10 at the Grand Garden. But this time, Bradley will make more than the $5 million he earned Saturday (Pacquiao made $26 million).
Bradley might still be the underdog that night but he'll come into the ring wearing the belt and Pacquiao won't.
The Associated Press contributed to this report. Contact reporter Steve Carp at scarp@reviewjournal.com or 702-387-2913. Follow him on Twitter: @stevecarprj.