Jessies' Corner: Magdaleno sports new look as Nonito Donaire fight looms
October 17, 2016 - 3:12 pm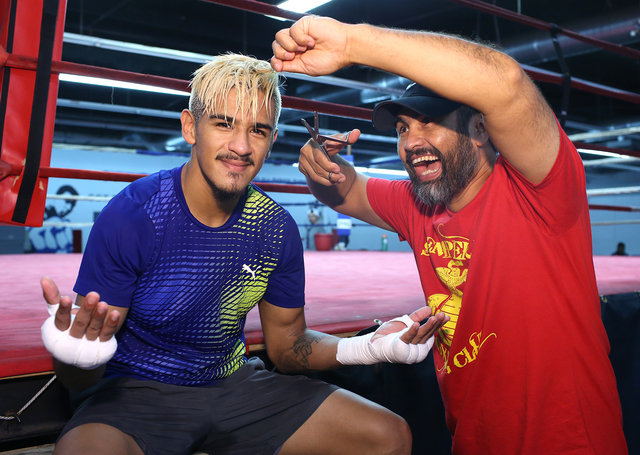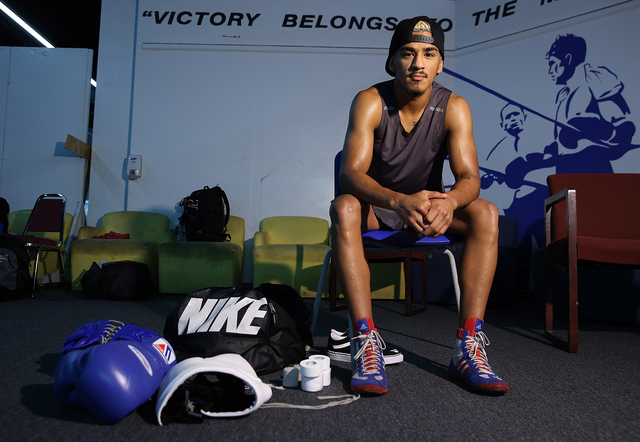 Editor's note:It's not often that two Las Vegans are fighting for world titles on the same pay-per-view card in their hometown. But that's exactly what's going to happen when Jessie Vargas and Jessie Magdaleno enter the ring Nov. 5 at the Thomas & Mack Center. Here's the second of four inside looks into the training camps of Vargas and Magdaleno. Make sure to check out the weekly "Jessies' Corner" every Tuesday or Wednesday until Nov. 1.
Jessie Magdaleno has been oozing with confidence since his fight with WBO junior featherweight titlist Nonito Donaire was made official.
Magdaleno decided to dye his hair blond last week to express that confidence, and give him a boost during sparring.
Most fighters tend to tone down the sparring sessions with less than three weeks to go before a big fight, but Magdaleno is just getting started.
Magdaleno spars three times a week and doesn't plan on changing that schedule until fight week when he meets Donaire at the Thomas & Mack Center on Nov. 5.
"For this fight, we don't tone it down," Magdaleno said. "We're going to continue to work hard and give it everything we have until fight day comes, and when that day comes, we'll go another level. It's a big fight and we're not taking it lightly."
Magdaleno said he has faced up to six sparring partners during this training camp. The list includes Jonatan Romero, the former IBF junior featherweight champion from Colombia, and Manny Robles Jr., the son of Manny Sr., who trains Magdaleno.
"I don't know if it's common to spar that often, but Manny puts me in there," Magdaleno said, "and man, it's a blast. Every single one of them makes me work and makes me think in there."
Magdaleno, 24, has thrown verbal jabs at the 33-year-old Donaire by calling his him old and washed up. But the Las Vegan still respects his Filipino opponent, and is well-aware of Donaire's strong left hook.
"The only challenge I see from him, and everyone knows this, is his left hook," Magdaleno said. "He has a very strong left hook. He has either knocked people out with it or stunned them with it.
"That's why we brought in guys with strong left hooks. We'll be ready."
Magdaleno speaks with conviction when the subject is about his first title shot. Frank Espinoza, Magdaleno's manager, sees the confidence and desire from his young fighter on a daily basis.
"I've seen a change in Jessie, a big change," Espinoza said. "I've seen a change in Jessie where he's hungrier. He's working hard. He really wants this and is putting in the work with Manny Robles."
Magdaleno has been training in Carson, California, while his fiance and 2-year-old son are back in Las Vegas. Magdaleno said talking to his son on FaceTime keeps him calm.
LEARNING FROM MOUNT CHARLESTON
Jessie Vargas still has a hard time accepting his loss to Timothy Bradley. He's moved on, but he has vowed not to make the same mistakes again from that training camp.
Vargas' father, Jose, reflected on what went wrong. The older Vargas said having a full camp at Mount Charleston four weeks before the Bradley fight was the biggest mistake.
"There were errors," Jose Vargas said in Spanish. "Errors from us, and maybe some parts were my fault, but more on Jessie. There are always people that want to get close and try to tell you things that maybe aren't right.
"They told him they'll have him ready in four weeks training in a gym next to Mount Charleston. But we've never had that experience of training in high altitude."
Jessie Vargas' trainer for the Bradley fight was Erik Morales, the legendary Mexican fighter. The two sides broke apart after the loss.
Vargas now only goes up to Mount Charleston to run 10 weeks before a fight. He said things are going smoothly with trainer Dewey Cooper as they prepare to face Manny Pacquiao on Nov. 5.
"He always knows how to communicate with me," Vargas said about Cooper. "He makes me feel comfortable. If something isn't right, he makes sure to change it."
Contact Gilbert Manzano at gmanzano@reviewjournal.com or 702-383-0492. Follow on Twitter: @gmanzano24
RELATED
Jessies' Corner: Vargas, Magdaleno settle in with new trainers