Jessies' Corner: Vargas, Magdaleno settle in with new trainers
October 11, 2016 - 11:54 pm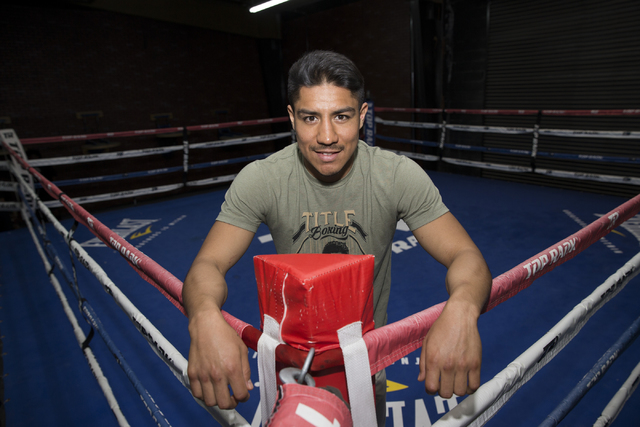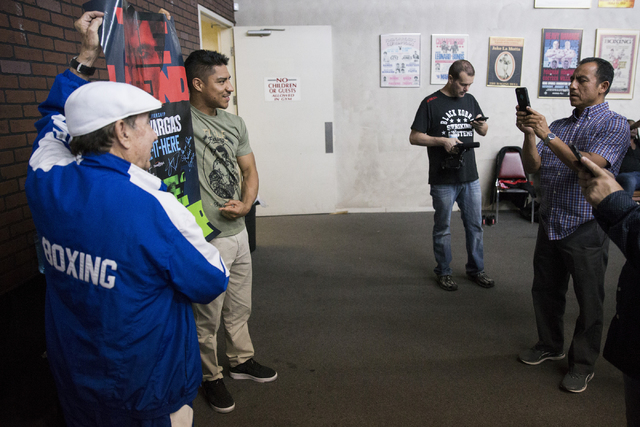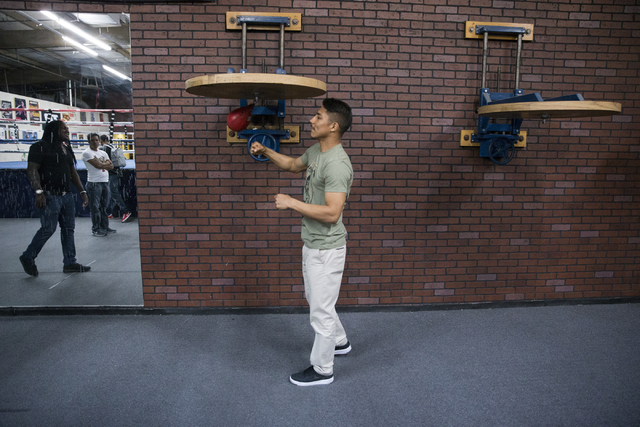 Editor's note: It's not often that two Las Vegans are fighting for world titles on the same pay-per-view card in their hometown. But that's exactly what's going to happen when Jessie Vargas and Jessie Magdaleno enter the ring Nov. 5 at the Thomas & Mack Center. Here's the first of four inside looks into the training camps of Vargas and Magdaleno. Make sure to check out the weekly "Jessies' Corner" every Tuesday or Wednesday until Nov. 1.
Jessie Vargas was coming off a crushing loss to Timothy Bradley last year when he and his father, Jose, sat down to discuss their potential new trainer.
It's a discussion the Vargas family has had many times over the years. Jessie Vargas has been with six trainers during his professional boxing career. The list includes standout boxing names such as Roy Jones Jr., Roger Mayweather and Erik Morales.
This time, the Vargas family wanted a different name. Someone outside the box. Someone familiar. The name Dewey Cooper sounded right.
Vargas found Cooper, a former Muay Thai champion and cruiserweight contender, on Facebook. The two exchanged messages and decided to give it a trial run.
"We tried it a couple days, and after the first day, I was pretty much convinced," Vargas said. "But we still gave it two, three days. That's when I told him, 'I want you to train me, and I'd be happy to have you as my head coach.'"
The instant connection between Vargas and Cooper led to the duo winning a world title after their first fight together. In the best performance of his career, Vargas knocked out Sadam Ali to win the vacant WBO welterweight belt in March.
Now the real work starts. Vargas and Cooper go up against the legendary team of Manny Pacquiao and Freddie Roach. On Nov. 5, Vargas will put up his belt against Pacquiao, who has won eight division titles with Roach as his trainer.
Vargas, 27, and Cooper, 41, are a new team in the ring, but they've known each other for many years. Cooper and Vargas trained in the same gym under the tutelage of Jeff and Roger Mayweather. Cooper, then a rising kickboxing champion, worked with Jeff Mayweather while a young Vargas was getting ready for his amateur career training with Roger Mayweather.
"I remember him as a kid," Cooper said. "I was fascinated with his sparring skills. This is not some trainer meeting some fighter. We have a long history together, so I knew what Jessie was capable of."
Cooper trains many mixed martial artists and boxers with his nephew, David Hayes, in Las Vegas. Hayes is the strength and conditioning coach for Vargas' camp.
Hayes, 29, moved from Houston to Las Vegas in 2002 and was instantly hooked with the "Black Kobra" fighting philosophy Cooper preaches.
Hayes works on speed and conditioning drills with Vargas at Mount Charleston and on the track. Hayes was blown away by Vargas' speed, and he's seen fast athletes. Hayes played high school football with Vince Young, the former standout NFL quarterback, in Houston and later with Brandon Marshall, the linebacker for the Broncos, at Cimarron-Memorial High.
"Jessie is a warrior," Hayes said. "He flies up Mount Charleston. We need to tell him when to stop."
Cooper and Hayes joined Vargas' team that already featured his father and godfather, Rafael Garcia, the legendary cut man who spent many years with Floyd Mayweather Jr.
CALIFORNIA LIVING
Jessie Magdaleno also is going through a trainer change. He left longtime trainer Joel Diaz to work with Manny Robles in Carson, California.
Their first fight together will be against Nonito Donaire for the WBO junior featherweight belt in the co-main event to Vargas-Pacquiao.
It's rare when a boxer leaves a trainer right before getting a title shot, but Magdaleno said he needed the change.
Magdaleno's older brother, Diego, still trains with Diaz. Jessie was at Diego's fight on Friday when he defeated Art Hovhannisyan in Los Angeles.
The younger Magdaleno said his brother supported the change in trainer.
"I don't socialize with Joel (Diaz); I just go to support my brother," Jessie Magdaleno said. "My brother knows I need to look out for what's best for me. I don't tell anyone how to run their career."
Magdaleno, 24, said training camp No. 1 with Robles and his son, Manny Jr., is going smoothly. He also gets to work with Oscar Valdez, the WBO featherweight champion also fighting on the Nov. 5 card.
When Magdaleno isn't at the gym, he's running by the beach or at Griffith Park.
"It's a great change," Magdaleno said. "I got everything I want out here, I got the beach, I got great people around me."
Contact Gilbert Manzano at gmanzano@reviewjournal.com or 702-383-0492. Follow @gmanzano24 on Twitter.