Judah-Torres fight canceled after issues with licensing application
March 12, 2016 - 12:28 am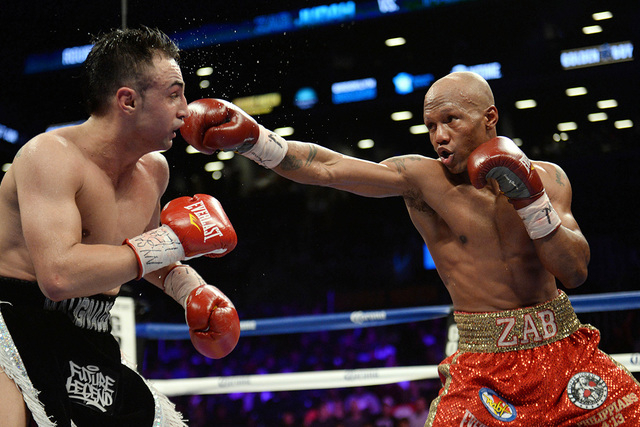 The Nevada Athletic Commission pulled the plug on today's boxing card at the Downtown Las Vegas Events Center after it discovered Thursday that Zab Judah and promoter Roy Englebrecht misrepresented information on Judah's licensing application.
The former world champion was scheduled to face Josh Torres in a 10-round bout at a catch weight of 143 pounds that was to be televised by the CBS Sports Network. But NAC executive director Bob Bennett learned late Thursday that Judah, through Englebrecht, had marked on his form that there were no current financial liens against him when Judah owes child support.
"Per NRS 467.117, we temporarily suspended Mr. Judah and Mr. Englebrecht late Thursday after it was confirmed they had provided a false licensing document," Bennett said Friday. "I met with (NAC) chairman (Anthony) Marnell, and we're not going to compromise our integrity or the integrity of the sport for people who provide false information."
Judah and Englebrecht will be asked to appear at a disciplinary hearing March 23.
It is the latest setback in Judah's attempt to restart his career. He last fought two years ago and has had three instances in which he was scheduled to fight, but it never came off. He left his promoter to join Englebrecht, a veteran of more than 35 years as a boxing promoter in Southern California.
Neither Judah nor Englebrecht returned calls seeking comment.
The fight was sold out, and the NAC tried to help D Las Vegas owner Derek Stevens save the card by finding a substitute promoter. But after checking with the Nevada Attorney General, the law requires three working days advance notice be made publicly.
Stevens said in a statement: "I received multiple calls from the Nevada Athletic Commission regarding eligibility concerns. After our discussions, it became apparent the fight card could not move forward.
"Although I am disappointed with the situation, I appreciate the phone calls and look forward to working with the commission on future boxing events."
All ticket purchases made in cash will be refunded at point of purchase. Credit card transactions will be automatically credited back to the purchaser's account.
Bennett said a lot of innocent people were hurt by Judah's and Englebrecht's actions.
"The other fighters don't get to fight," Bennett said. "The fans who bought tickets don't get to see the fights. Mr. Stevens put a lot of time and effort to have his facility ready, as did our office to handle all the paperwork. We all lost out."
Contact reporter Steve Carp at scarp@reviewjournal.com or 702-387-2913. Follow him on Twitter: @stevecarprj