Khan vows not to look past Alexander
December 12, 2014 - 11:21 pm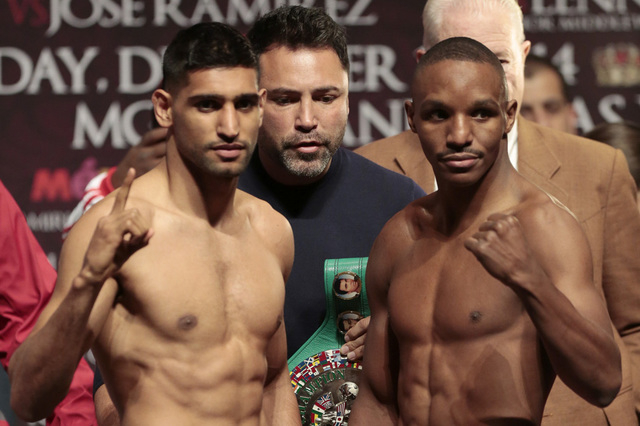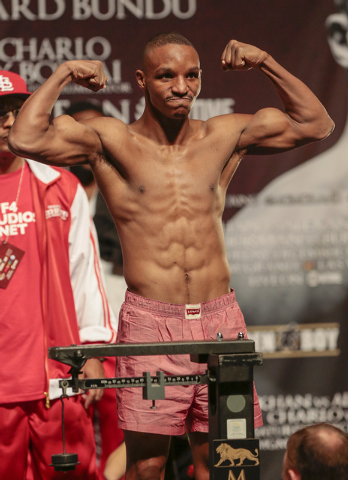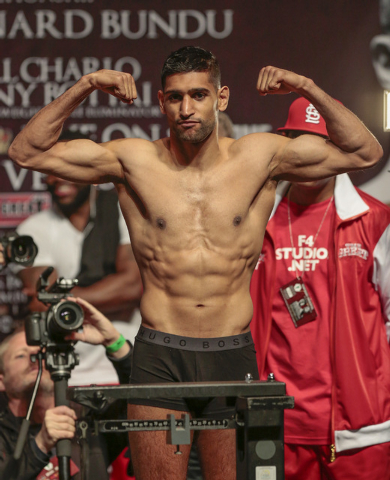 It would be easy for Amir Khan to try to deny his feelings and let his critics have their way with him for being hypocritical.
But the fact is Khan has wanted a fight with Floyd Mayweather Jr. for some time now. The 28-year-old former world junior welterweight champion from Bolton, England, is as honest as he can be about his future, even though his present requires he deal with veteran welterweight Devon Alexander tonight at the MGM Grand Garden.
The 12-round, nontitle bout will be fought at 147 pounds and televised on Showtime.
"I'm not looking past Devon Alexander," Khan said. "But it's no secret I want to face Floyd."
For that to happen, Khan (29-3, 19 knockouts) knows he can't afford a loss to Alexander (26-2, 14 KOs).
"I know it's a dangerous fight for me," Khan said. "I've made the mistake in the past of looking past someone, and I'm not going to do that again."
Khan, who made the move from 140 pounds to welterweight this year and looked impressive in dominating Luis Collazo for 12 rounds May 3 on the undercard of the first Mayweather-Marcos Maidana fight, said Alexander is a different type of fighter than Collazo.
"Devon brings a lot to the table," Khan said. "He brings hand speed. He brings movement. He likes to be aggressive, so we're going to have to be ready for whatever he does, and we're going to have an answer for it."
Khan's trainer, Virgil Hunter, said the more time he spends with his fighter, the more improvement he sees. This is their fourth straight fight together.
"We've worked on things that we felt would enhance his ability and also make him more aware of what's going on in the ring," Hunter said. "I would like to think he has graduated tremendously to another level, but there are other levels to obtain. He has a high bar set, and I don't think he's reached that bar yet."
Hunter has worked a lot on Khan's defense, getting him to hold his hands higher and improving his footwork so he can elude punches. He also has him in better shape and on a healthier diet so he has more stamina in the late rounds.
"When we go to the gym, it's very quiet, very isolated," Khan said. "It's not like (Freddie Roach's) Wild Card, where the gym's full of people and you've got everyone watching you. With Virgil, there's maybe five or six people there, and you can focus on what you need to do.
"Virgil has made me a better fighter, no question. He has made me a fighter who understands what boxing's all about and not to make any mistakes. I'm not going back to my old self again."
As for claims that Khan has a suspect chin, he said that reputation was earned because of his recklessness inside the ring and leaving himself open to getting tagged with a big shot.
"That fighter doesn't exist anymore," Khan said. "Since I started with Virgil a couple years ago, my defense is much better."
Still, Alexander thinks he can exploit that weakness.
"In my opinion, if you have a shaky chin and you're not born to be able to take a punch, you're always going to have troubles," Alexander said. "But this is boxing. You've got to be able to take a shot because you're going to get hit."
Both fighters weighed in at 147 pounds Friday. Khan remains a 2-1 betting favorite at the MGM Resorts sports books, and he thinks if he doesn't stray from Hunter's game plan, his chances of getting that Mayweather fight in the spring improve substantially.
"I want the boxing fans and the world to demand a fight between me and Floyd," Khan said. "I don't just want it to happen. I want people demanding it. That's why I not only want to win, but I want to win with style and with fashion."
Contact reporter Steve Carp at scarp@reviewjournal.com or 702-387-2913. Follow him on Twitter: @stevecarprj.
KHAN VS. ALEXANDER
WHAT: Welterweight nontitle fight, 12 rounds
WHEN: 6 p.m. today
WHERE: MGM Grand Garden
RECORDS: Khan 29-3, 19 KOs; Alexander 26-2, 14 KOs
WEIGHTS: Khan 147 pounds; Alexander 147
PURSES: Khan $950,000; Alexander $650,000
OFFICIALS: Referee — Robert Byrd. Judges — Jerry Roth, Glenn Feldman, John McKaie
TV: Showtime (240)
LINE: Khan minus-210; Alexander plus-175
TICKETS: $50, $100, $200 and $300