Knockout Night at the D packs a pretty punch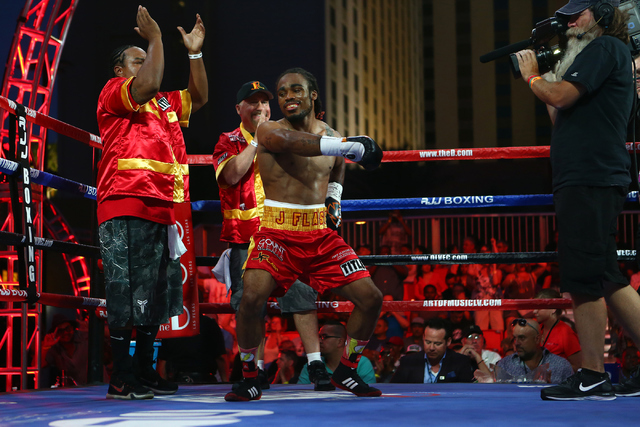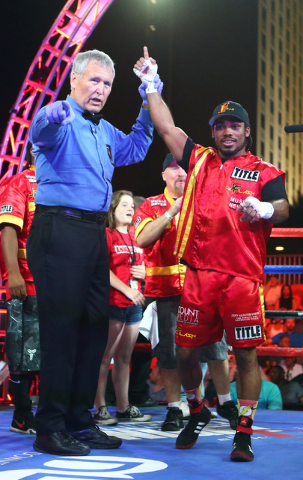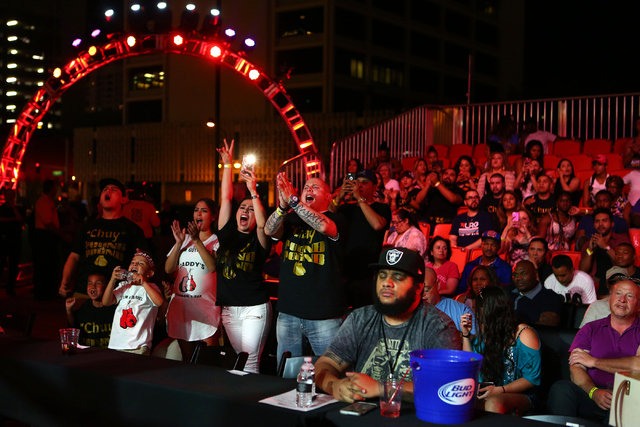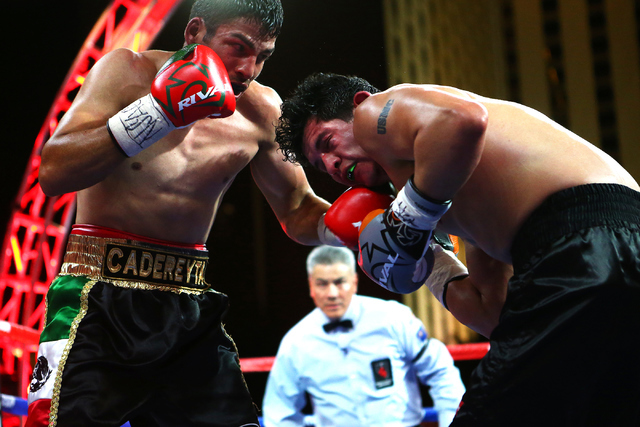 It's fair to say boxing has lost some of its luster.
What once made the sport special were the Cinderella and redemption stories. The memorable ring wars created by two competitors fighting for honor, not for greed or protecting a perfect record.
Don't let the megabouts fool you. There are still boxing events that follow the old-school blueprint to producing an exciting card.
The Knockout Night at the D boxing series at the Downtown Las Vegas Events Center is the perfect example.
Casino mogul Derek Stevens, Neon Star Media and Roy Jones Jr. Boxing Promotions joined forces to create Knockout Night at the D and have produced three compelling cards.
The first installment of the series debuted in April, with the following cards in May and June selling out the 1,200-seat outdoor venue on the corner of Carson Avenue and Third Street.
Knockout Night at the D, which is expected to return for two shows in September pending approval from the Nevada Athletic Commission, has had plenty of drama in its first few bouts.
"There were some unbelievable fights," said John Anderson, the senior vice president of Neon Star Media. "I think we're different. We're fun, and it's outdoors. I think we have something special here."
The series has gotten off to a triumphant start, but it wasn't easy to create.
STEVENS' VISION
Stevens invited a reporter to speak with him behind the Fremont Street Experience's 3rd Street Stage next to The D Las Vegas, a hotel and casino owned by Stevens.
The successful downtown Las Vegas casino operator had just finished his first news conference to promote Knockout Night at the D in late February. Stevens explained his vision for the risky venture. Startup companies and events tend not to survive in downtown with tourists mainly staying on the Strip, but if there was a businessman who could pull it off, it was Stevens.
Stevens, who grew up a boxing enthusiast in Detroit, recalled attending the Riddick Bowe-Evander Holyfield heavyweight championship bout at Caesars Palace's iconic outdoor venue on a chilly November night in 1993. That fight is best known as the night "Fan Man" came crashing down into the ring.
"There was a special moment in my life," Stevens said. "I went to Bowe-Holyfield, and you could sense the electricity in the air. 'Fan Man' had nothing to do with it. The magnetic connection people had with one another, the amount of money that came to Las Vegas, the way people dressed, all of that made it a special night, and it's a moment as a kid I'll never forget.
"I just looked up, and we were out in the back of the Caesars Palace, and you see the open air in a beautiful Las Vegas night, and I just always wondered, 'Why did this not continue?'"
The 47-year-old hoped to emulate that experience at his own outdoor venue, the Downtown Las Vegas Events Center.
It was hard to bet against Stevens after the grand news conference. Las Vegas mayor Carolyn Goodman, boxing analyst Al Bernstein and World Wrestling Entertainment commentator Jim Ross were in attendance to promote the first card, scheduled for March 12.
Most important, Stevens had a prominent name in the main event to kick off the first show of Knockout Night at the D. Former welterweight champion Zab Judah was scheduled to make his return to the ring against Josh Torres.
CARD CANCELED
Judah's comeback fight was postponed, and it came at the expense of the inaugural card.
The Nevada commission nixed the card the day before the March 12 event after it discovered that Judah and promoter Roy Englebrecht misrepresented information on Judah's licensing application. Judah owed back child support and had indicated on his application that he had no liens against him. The form was filled out by Englebrecht without Judah's knowledge.
Englebrecht was suspended 18 months by the NAC and ordered to pay back all the fighters. Judah also remains suspended and could get an update on his punishment at the commission's meeting Tuesday.
This left Stevens and Neon Star Media scrambling for a new promoter. That's when Keith Veltre and boxing legend Jones Jr., the founders of RJJ promotions, came into the picture.
"There was no hesitation from me," said Jones, who operates a local gym, the RJJ Fight Academy. "I already knew Derek (Stevens) from previous fights, I was glad that he wanted us there for this series, and he wanted to put on fights, and that was a beautiful opportunity for us."
Jones and Veltre don't have a stable of established fighters, but have a keen eye for creating compelling matchups.
"After the Zab Judah incident, we just rolled up our sleeves and kinda went to work," Anderson said. "We wanted to do the right move, and the best move we made was hiring RJJ.
"Keith (Veltre) understood downtown, how to promote it and how to move it. Keith and I have a great relationship because we both live here (Las Vegas)."
While Veltre and Jones worked on putting the fights together, Neon Star Media pursued a TV contract for the series.
Anderson, Mike Garrow and Alan Walker operate Neon Star Media, a marketing company for creating boxing series.
Garrow pitched Knockout Night at the D to CBS Sports Network and came out with an eight-fight deal. The televised fights haven't disappointed.
MEMORABLE MATCHUPS
Veltre and Jones' first priority was bringing in local fighters, even if they weren't promoted by RJJ Boxing.
Recruiting Devin Haney was an easy choice. The 17-year-old Las Vegan is drawing comparisons to Floyd Mayweather Jr. and has a knack for putting on a show.
Boxing spectators filled the DLVEC in May to find out if Haney was the real deal.
Haney turned them into believers after recording a fourth-round technical knockout against Jairo Vargas.
That wasn't even the main event. In a stunning upset, Andrew Hernandez defeated Arif Magomedov by unanimous decision. Magomedov was considered a top contender in the middleweight division.
Also from that May card, John Vera, from the RJJ Fight Academy, knocked out Joey Ruelas in the sixth round of a thrilling brawl. Stevens said that was his favorite fight from the three cards.
The show last weekend sold out thanks to the hyped main event between Demond Brock and Las Vegas native Jesus "Chuy" Gutierrez. Fans got 10 back-and-forth rounds, with Brock coming out on top.
"I knew Demond and Chuy would be a great fight because of their styles," Jones said. "I knew there was no way we wouldn't get a good fight, and that's exactly what we got. I want fans to come and see good fights, to make them come back for more."
Each fighter has his own unique story. Brock changed his life around after serving 15 years in prison for armed robbery.
Veteran fighters looking for glory is a common theme. Others are young competitors hoping to make a name for themselves.
Local boxer Jeremy Nichols has stood out with his flashy prefight antics and killer speed in the ring.
Nichols, who goes by "J-Flash," has competed on all three cards and is undefeated downtown.
Max Ornelas, also from Las Vegas and part of RJJ Fight Academy, made his professional debut at age 17 last week. Ornelas delivered a vicious body shot to his opponent, Robert Ledesma, to record a first-round knockout.
WBO welterweight champion and Las Vegas native Jessie Vargas has attended the fights as a fan and left impressed.
"Boxing is usually on the Strip, and people are not coming to downtown," Vargas said. "Some of the biggest fights used to be in downtown, and Derek (Stevens) is trying to bring that back. The boxing shows have been great. Great vibe with great fights."
Vargas, 27, moved to Las Vegas when he was 5 and was once trained by Jones. His story relates to some of the fighters competing at Knockout Night at the D.
"Jessie Vargas is the perfect model of what this series is about," Anderson said.
"We want Cinderella stories, we want exciting fights. We're not afraid to give guys a second chance. It's Las Vegas. We're not afraid to take a chance."
Contact Gilbert Manzano at gmanzano@reviewjournal.com or 702-383-0492. Follow him on Twitter: @gmanzano24