Laila Ali joins her father, Muhammad Ali, in Nevada Boxing HOF
Updated August 17, 2018 - 7:00 pm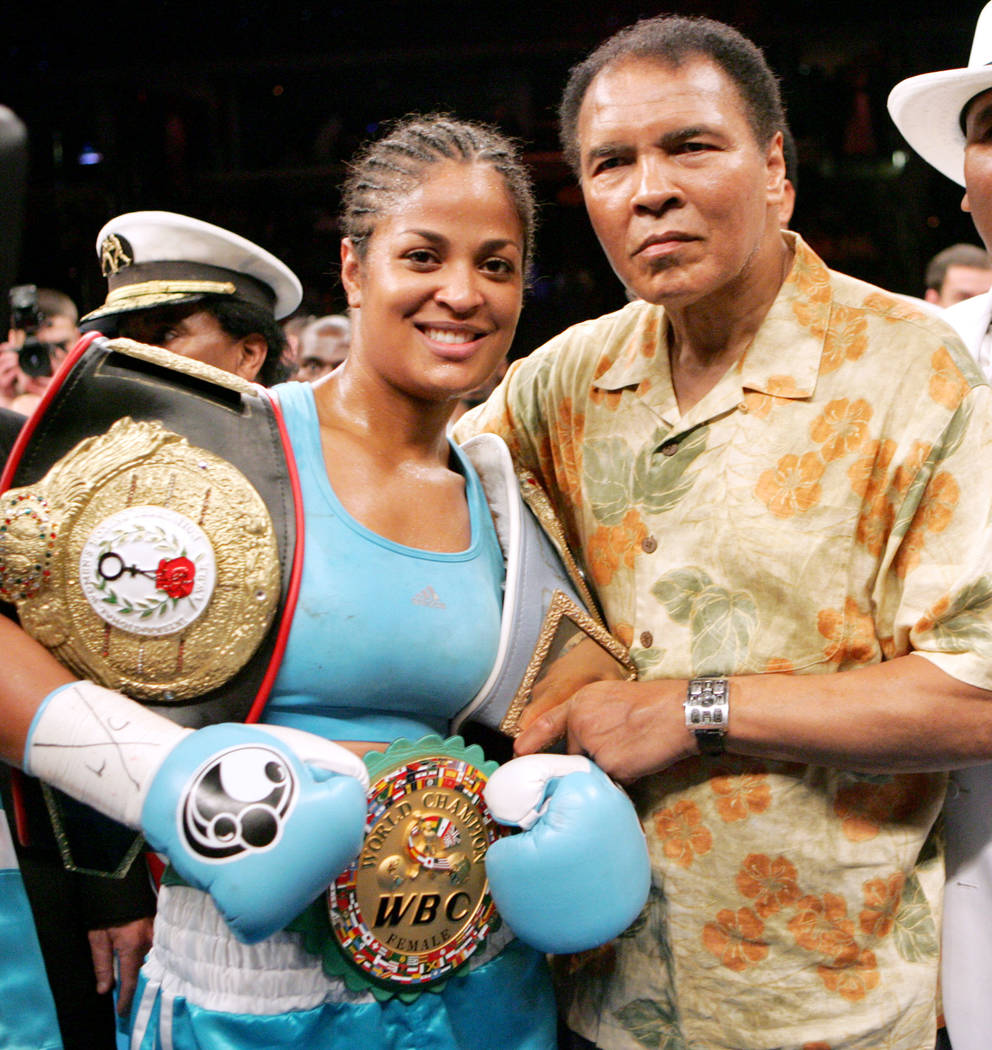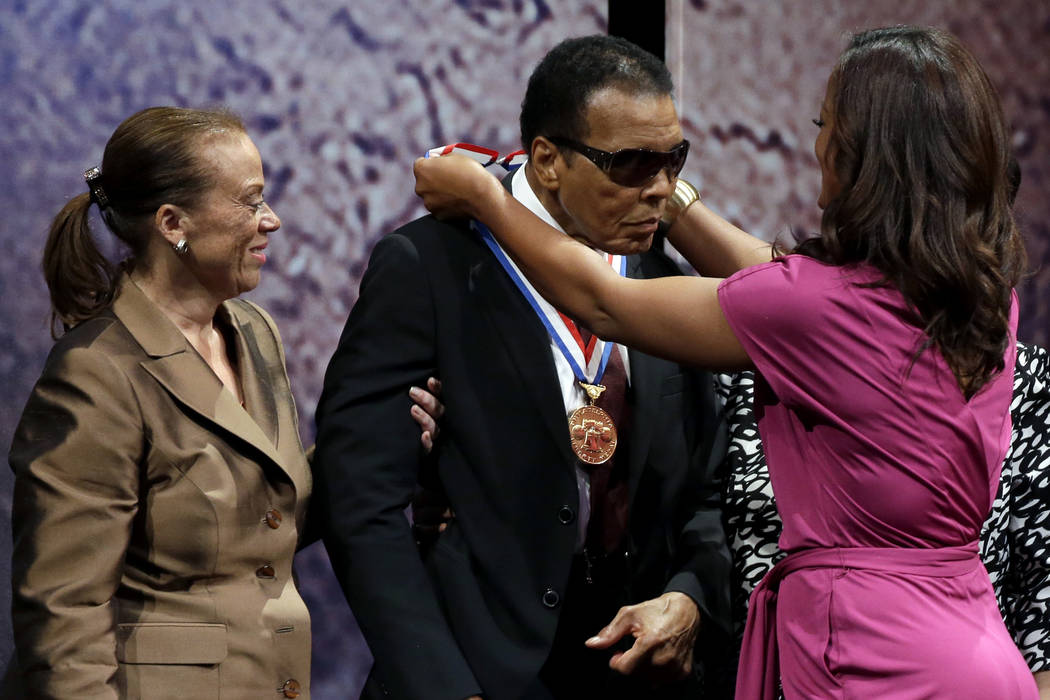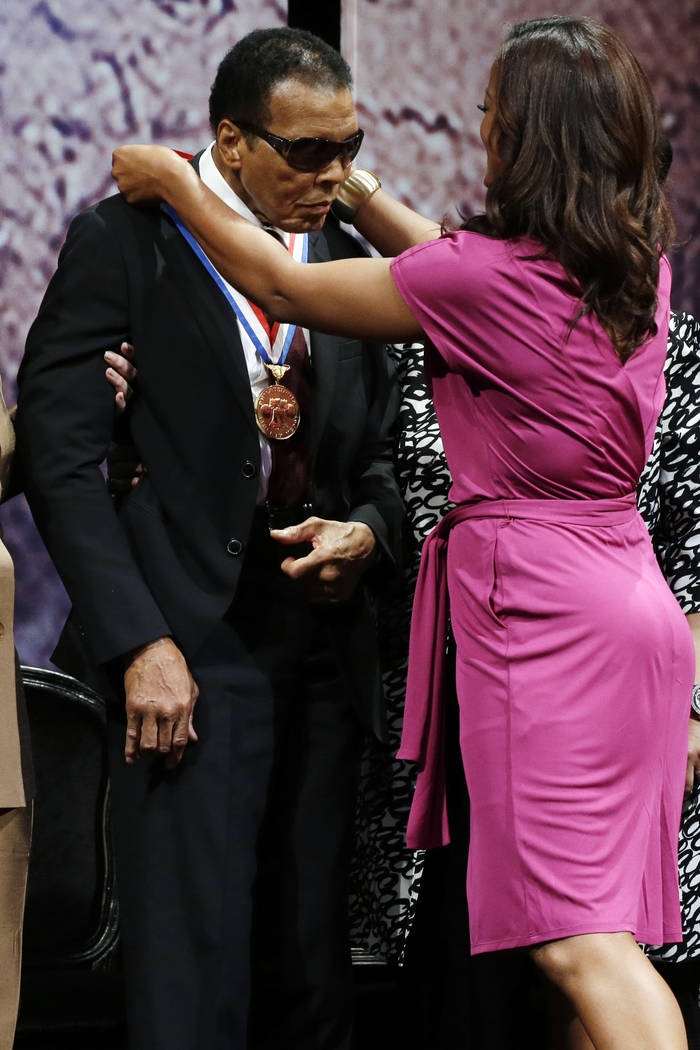 Laila Ali made the decision not to have her boxing debut televised in 1999.
Ali, 21 at the time, was feeling an insurmountable amount of pressure and didn't want to add to it. But being the daughter of Muhammad Ali, there was no escaping the spotlight.
Eighty media outlets traveled to Verona, New York, to watch Laila Ali fight April Fowler. No one knew what to expect from the daughter of arguably the best heavyweight boxer of all time. Laila Ali didn't have amateur fights.
Three years before her first fight, Ali spontaneously decided she wanted to box after watching one of Christy Martin's fights. Her father was against it. But Laila Ali put less focus on her nail salon and dedicated herself to training.
With Muhammad Ali sitting ringside at the Turning Stone Casino, it was time for Laila Ali to show her father and the world this was more than just a stunt.
Ali landed a left-right combination to drop Fowler in the first round. Ali stood over Fowler and yelled at her to get up. She didn't.
It was a deja vu moment for "The Greatest." Laila Ali ended up being one of the greatest herself in women's boxing history.
Laila Ali, who thrived under the pressure with her killer mentality and knockout power, will be enshrined in the same Hall of Fame that her father belongs to.
Ali, 40, headlines the 14-member Nevada Boxing Hall of Fame class that will be honored Saturday at Caesars Palace. Muhammad Ali is a 2015 Nevada Boxing Hallof Fame inductee.
"It was never to be like my father or outshine my father or live up to my father," Ali said. "I didn't even think about him in the gym. I was just thinking about me and my desire to be a world champion and stay undefeated.
"Boxing is my first love, and I am Muhammad Ali's daughter. I had the same confidence my dad had in the ring, so I'm really honored to be inducted in the same Hall of Fame."
Ali will be inducted with Chris Byrd, Todd duBoef, Kevin Kelley, Don Minor, Shane Mosley, former Nevada Sen. Harry Reid, Jerry Roth and Earnie Shavers.
Alexis Arguello, Henry Armstrong, Jack "Doc" Kearns, Bill Miller and Aaron Pryor will be inducted posthumously.
Ali finished her eight-year career with a 24-0 record with 21 knockouts. She won her first of many super middleweight world titles against Suzette Taylor at the Aladdin in Las Vegas in 2002.
Ali became the first woman to headline a pay-per-view bout in 2001 when she defeated Jacqui Frazier-Lyde, the daughter of Muhammad Ali's No. 1 rival, Joe Frazier.
For four years, Ali called Las Vegas home when she was training under Roger Mayweather and Floyd Mayweather Sr.
She accomplished many feats in boxing, but said she could have done a lot more if she didn't retire early.
"I ran out of people to fight," said Ali, who went on to appear in many TV shows, including "Dancing with the Stars." "There were some girls I never got the opportunity to fight because they wouldn't get in the ring with me, and there was nothing I could do about it. I didn't feel fully fulfilled."
More boxing: Follow all of our boxing coverage online at reviewjournal.com/boxing and @RJ_Sports on Twitter.
Contact Gilbert Manzano at gmanzano@reviewjournal.com. Follow @GManzano24 on Twitter.
Nevada Boxing Hall of Fame
Induction gala
— 7 p.m. Saturday, Augustus Ballroom, Caesars Palace; tickets: NVBHOF.com
WBC Green Belt amateur boxing
— 11 a.m.-3 p.m. Saturday, Augustus Ballroom