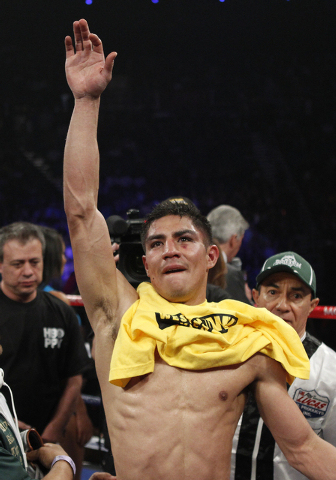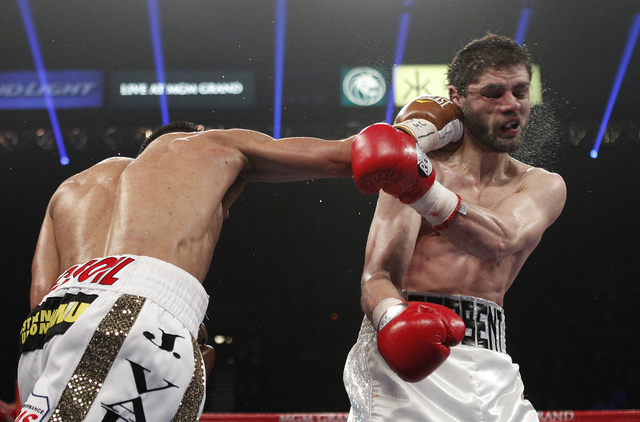 Jessie Vargas thought he had done enough to become a world champion Saturday night at the MGM Grand Garden.
The judges agreed
The 24-year-old Las Vegan landed enough solid punches to win a 12-round unanimous decision over Khabib Allakhverdiev and become the World Boxing Association regular junior welterweight champion.
Judges Jerry Roth of Las Vegas and Alan Krebs of Washington each had Vargas winning 115-113, and Robert Hoyle of Las Vegas scored it 117-111 for Vargas, who remained undefeated while handing Allakhverdiev his first loss.
"I felt I was in control, and I was able to be more aggressive as the fight went on," said Vargas, who dropped down from 147 pounds to 140 for the opportunity to fight for a world title. "I knew he would come to fight, but I had a stronger will not to lose than he did."
Vargas (24-0) used an effective uppercut when he needed it. He said he would have thrown it more often but didn't want to risk getting countered by Allakhverdiev (19-1).
"He's a tough fighter," Vargas said. "He hit me with some good shots. I'm not going to lie to you. But I trained really hard for this fight, so I was in great shape. It was my first time going 12 rounds, and I felt fine."
Allakhverdiev disagreed with the decision.
"I want a rematch," he said. "And I want it right away. I won the fight."
Allakhverdiev suffered a cut over his left eye in the eighth round from an accidental head butt, and it appeared to affect him. His corner couldn't keep the cut under control, and Vargas landed some shots that caused swelling to Allakhverdiev's right eye in the late rounds.
Vargas said his trainer, Ismael Salas, told him to pick up the pace toward the middle of the fight, and Vargas said he thinks that was ultimately the difference.
"He was trying to follow me around the ring, but he couldn't figure me out," Vargas said. "I probably could have come out quicker."
All three judges gave Vargas the first three rounds. That plus his midfight performance gave him enough of a cushion when the scorecards were read.
"This is a team victory," Vargas said. "We've worked so hard for this. It's been my dream since I was 8 years old, and here we are.
"Now when I go visit the kids at the gym and show them the belt, I can tell them that with hard work and believing in yourself, that anything's possible."
Vargas' manager, Cameron Dunkin, was emotional afterward.
"Nobody deserves it more than Jessie," Dunkin said. "He's such a great kid. He works his butt off every day. He really wants to be a champion, and now he is."
In the WBA interim super featherweight title fight, Bryan Vasquez defeated Jose Felix Jr. by unanimous decision, winning the vacant belt and handing Felix his first loss.
Levi Martinez scored the fight 117-110, and Dick Houck and Patricia Morse-Jarman both had it 114-113.
Vasquez (33-1) had control early and was the better puncher overall. Felix (26-1) couldn't land any big punches, as Vasquez countered smartly and landed jabs to the face and hooks to the body.
Contact reporter Steve Carp at scarp@reviewjournal.com or 702-387-2913. Follow him on Twitter: @stevecarprj.