Las Vegas' first boxing champion, Ishe Smith, ready for final chapters
September 16, 2016 - 12:32 am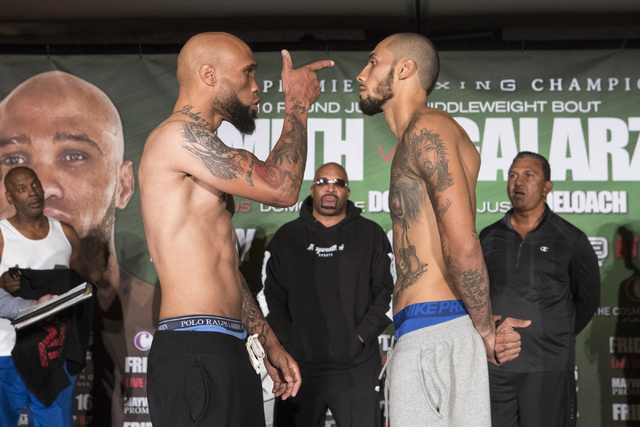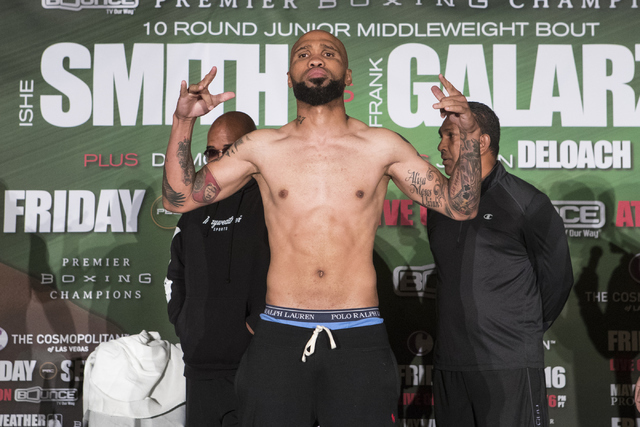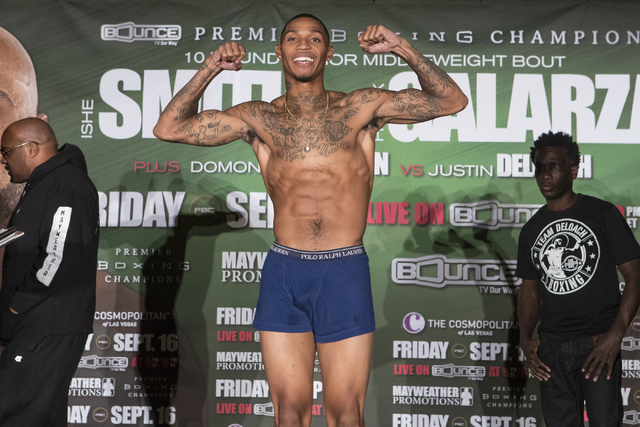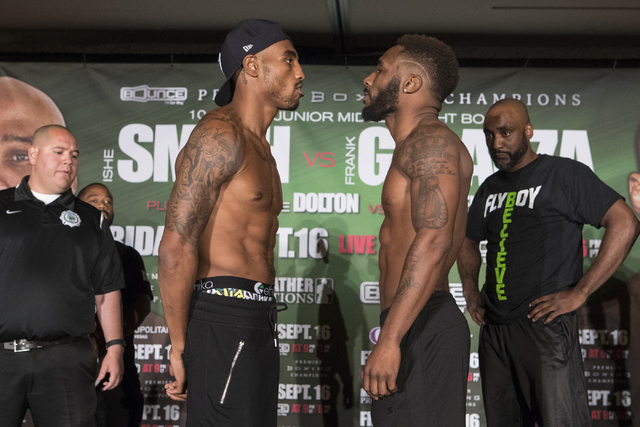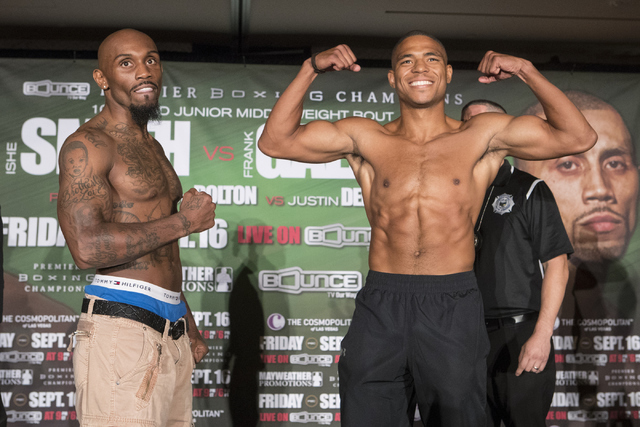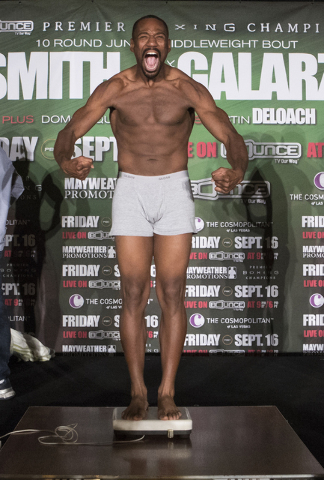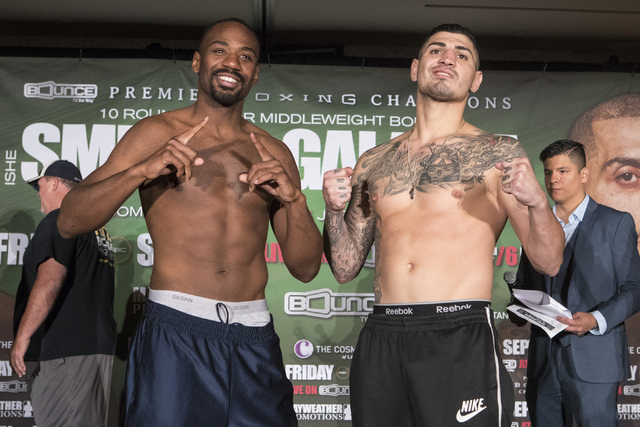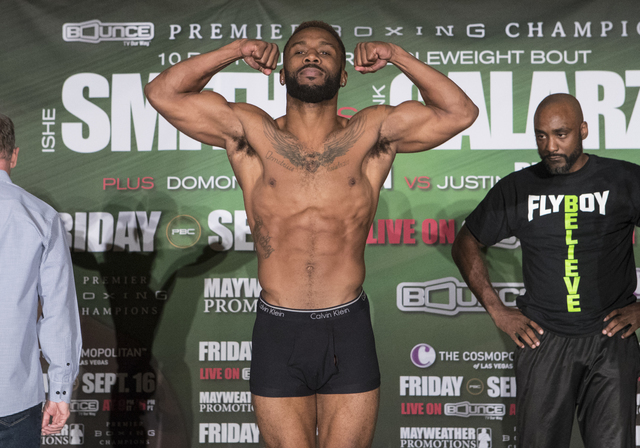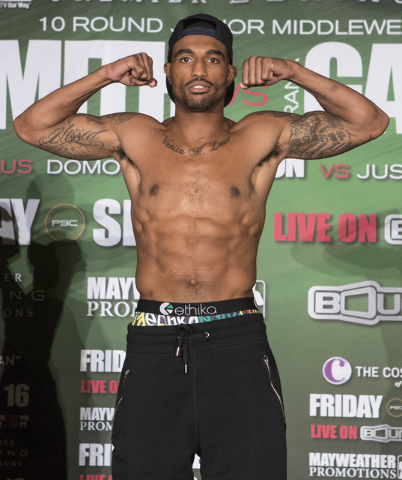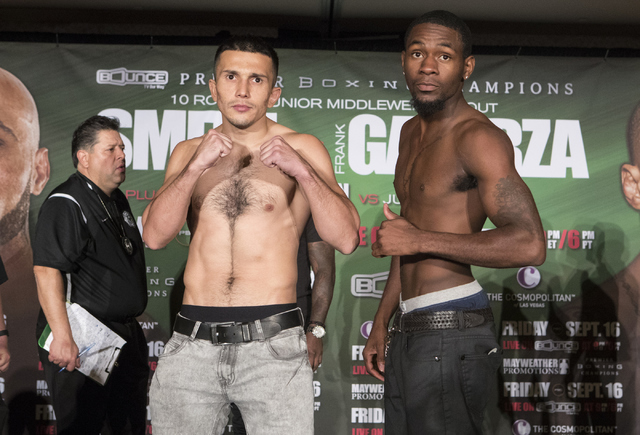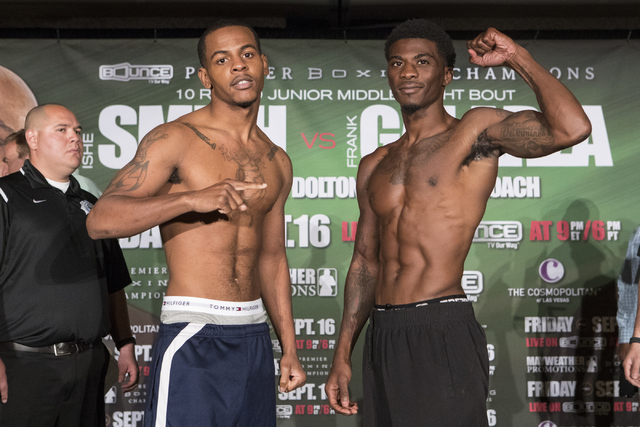 Ishe Smith got a tattoo of the IBF championship belt he won in 2013 with the words "Las Vegas' First" to remind him how much he has accomplished in 16 years of professional boxing.
Smith is proud to be the first and only Las Vegas-born champion, but he didn't need the extra ink on his right bicep. Smith's six children define how far he's come as a boxer and father.
The Durango High School graduate sat in a back room at Mayweather Boxing Club last week content with life after finally putting behind a divorce and custody battle.
"It's been an interesting eight months," Smith said. "I needed this time off in between fights. I've grown in the last eight months, if it's even still possible to grow at age 38 wisdom wise. I have six beautiful kids who I love spending time with."
Smith is now the primary legal guardian to all of his children, and the happy family plans on attending their father's first fight on the Strip. Smith returns to the ring Friday to face Frank Galarza (17-1-2, 11 knockouts) in the main event of a Mayweather Promotions card at The Chelsea inside The Cosmopolitan of Las Vegas.
Smith (28-8, 12 KOs), a junior middleweight, knows the end is near on his boxing career, but he's not fighting just for money. The Las Vegan has been responsible with his money and has been able to send his kids to the best schools in the city. Smith's oldest daughter, Alissa, will graduate from Bishop Gorman in the spring.
"My daughter being able to graduate from Gorman is an achievement in itself," Smith said. "All my money goes to them, as it should. Back in the day, I never thought I'd be able to afford that kind of tuition."
Smith went from fighting at The Orleans monthly for $1,000 checks. He earned fame on the boxing reality series "The Contender" in 2005, spent years in middle-of-the-road fights before landing a title shot in 2013. Smith has been on Floyd Mayweather Jr. undercards, but that competitive itch is still there.
Don't think Smith is delusional for continuing his career. He has the health records and evidence in the ring to prove he still belongs with the best in the 154-pound division.
"I see my doctor often," Smith said. "I'll never let this game get the best of me. I went to the Nevada Boxing Hall of Fame and some of my idols, people I adored watching, but seeing them in the state that they are today, and that this game more than likely caused that, it's a scary feeling.
"I want to be able to talk to my kids for a long time and to be able to comprehend what they're saying."
Smith uses his 2015 close majority decision loss to Vanes Martirosyan, a top contender in the junior middleweight division, as a measuring stick.
"It was a back-and-forth fight," said Smith, who never has been knocked out. "Yes, he gave me my first career knockdown, but I recovered. If I can stay close with him, I know I can still compete."
Smith has the home-ring advantage against Galarza, a 31-year-old New Yorker. Smith is 15-2 in Las Vegas fights.
Oh, and having the future Hall of Famer Mayweather by his side also helps.
"(Mayweather) came in and watched me spar, and I didn't know he was that good of an analyzer, and he told me my mistakes," Smith said. "How to be smart and how to preserve myself and how you want to maximize your years. That was some of the greatest advice I've had this whole camp."
The card is scheduled to begin at 3 p.m., with the Bounce TV telecast at 6.
In the co-main event, Domonique Dolton and Justin DeLoach will meet.
Lionell Thompson, a light heavyweight on the undercard, can relate to Smith's early struggles in his career.
Thompson left Buffalo, New York, last year for Las Vegas with enough money to get a room at a Budget Suites, hoping a promoter, preferably Mayweather, would sign him.
Things didn't work out, and Thompson was ready to leave for New York until he got a sparring gig with Top Rank. The Bob Arum-led company sent Thompson to Japan to spar against Ryota Murata.
Thompson made $5,000 for the gig and was able to stay in Las Vegas longer. He finally got his break.
"Floyd finally saw me and said, 'I'm going to sign you,'" said Thompson, who fights Donovan George. "I couldn't thank Jesus enough. It was hard, but it's finally paying off."
Contact Gilbert Manzano at gmanzano@reviewjournal.com or 702-383-0492. Follow@gmanzano24 on Twitter.
PBC card
WHAT: Mayweather Promotions/Premier Boxing Champions card
WHEN: 3 p.m. Friday
WHERE: The Chelsea at The Cosmopolitan of Las Vegas. First bell at 3 p.m.
MAIN EVENT: Ishe Smith vs. Frank Galarza, junior middleweight
TV: Bounce TV at 6 p.m.
TICKETS: Start at $29 and can be purchased through ticketmaster.com or the Cosmopolitan box office.