Las Vegas watching from afar as 'Canelo' Alvarez takes back Mexican holiday
September 16, 2016 - 10:57 pm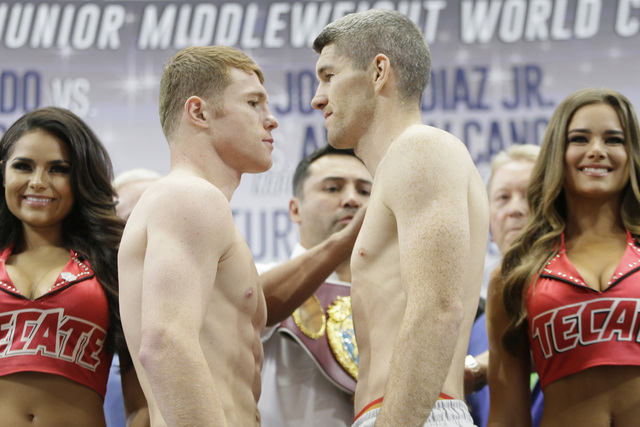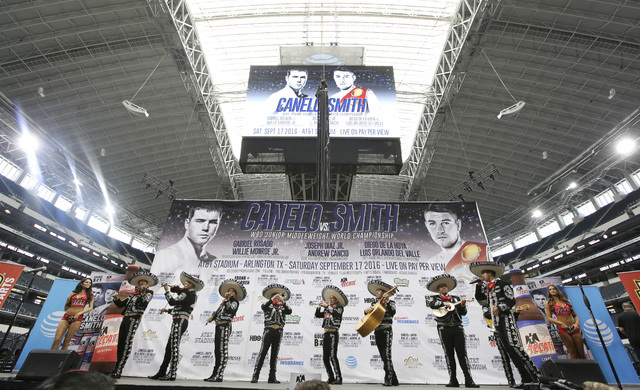 It's been a boxing tradition to have a blockbuster bout on Mexican Independence Weekend, dating to the glory days of Julio Cesar Chavez.
Headlining a September show since has been passed around among Mexican greats such as Oscar De La Hoya, Marco Antonio Barrera, Erik Morales and Juan Manuel Marquez, with the majority of the fights in Las Vegas.
Floyd Mayweather Jr. took over the prestigious date the past seven years. The Las Vegan kept the tradition alive and generated a ton of money doing so, but he's not of Mexican descent.
This September, the honor of fighting on Mexican Independence Weekend will return to a boxer sporting the green, white and red colors. Mexican superstar Saul "Canelo" Alvarez will face England's Liam Smith on Saturday at AT&T Stadium in Arlington, Texas, for the WBO junior middleweight title.
It's great that a Mexican boxer is headlining the matchup this weekend, but there's one thing missing — the fight isn't in Las Vegas.
"Mexican Independence Day has always been a huge weekend in boxing," said De La Hoya, who promotes Alvarez. "Boxing's biggest giants have all fought on the historic weekend, and to have a talented Mexican boxer like Canelo Alvarez take it back for the Latino community is amazing, and a huge win for us Latinos."
But it's not a huge win for fight fans in Las Vegas. The home of the Dallas Cowboys is expected to welcome 40,000-plus fans Saturday as Las Vegans are left contemplating whether to buy the pay-per-view bout on HBO for $70.
This will be the first time since 2010, and only the second time since 2002, that the marquee fight of Mexican Independence Weekend won't be in Las Vegas.
Mayweather defeated Andre Berto, Marcos Maidana and Alvarez the past three Septembers at the MGM Grand Garden.
In 2012, there were two major fights to choose from. Alvarez knocked out Josesito Lopez at the MGM Grand, while Julio Cesar Chavez Jr. and Sergio Martinez duked it out at the Thomas & Mack Center. There was a time when many boxing pundits thought Chavez Jr., the son of the Mexican legend, would eventually take over the holiday. Chavez Jr. hasn't panned out because of personal issues.
Mayweather defeated Victor Ortiz (2011) and Marquez (2009) in September, also at the MGM Grand Garden.
Marquez recorded a memorable knockout of Joel Casamayor at the MGM Grand in 2008. Barrera was the headliner in 2005 and 2006 with wins over Robbie Peden and Rocky Juarez at the MGM Grand.
De La Hoya lost to Bernard Hopkins (2004) and Shane Mosley (2003) at the MGM Grand. The "Golden Boy" knocked out Fernando Vargas at the Mandalay Bay Events Center in 2002. Other memorable De La Hoya September Las Vegas bouts were against Felix Trinidad in 1999 and Hector Camacho in 1997.
Chavez Sr. battled Meldrick Taylor, David Kamau and De La Hoya in Las Vegas during the Mexican holiday in the 1990s.
SMITH STAYING CONFIDENT
Not many are giving Smith (23-0-1, 13 knockouts) a shot against Alvarez (47-1-1, 33 KOs). Most of the talk surrounding the bout this week has been about Gennady Golovkin.
The plan is for Alvarez to move up to middleweight in December to begin tuneups for Golovkin. Smith doesn't care about those plans.
"I am going to show everyone that I can fight at a high magnitude, and hopefully I'll gain some more fans once I beat Canelo," Smith said. "Looking back at his last fight, I think Canelo's attitude was thinking that he was going to grab the knockout sooner or later, and he wasn't willing to box. I won't let that be the case this fight because I've got the ability to outbox him and put him in his place."
BETTING LINE
Alvarez is a minus-1,600 favorite and Smith is a plus-900 underdog at William Hill. The over/under is 7½ rounds, with the over minus-150 and the under plus-130.
Contact Gilbert Manzano at gmanzano@reviewjournal.com or 702-383-0492. Follow @gmanzano24 on Twitter.