Lawsuit alleges Mayweather bodyguard assaulted bouncer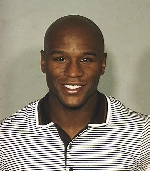 Floyd Mayweather Jr. someday might have to fight Manny Pacquiao, if only so he can pay his legal fees.
In yet another incident involving the Las Vegas champion boxer, Mayweather and his companies are being sued by a bouncer at the Strip nightclub Drai's after he was assaulted, the lawsuit said, by the boxer's bodyguard Jan. 2.
In a lawsuit filed last week in Clark County District Court, Clay Gerling alleged that an unknown bodyguard for Mayweather "maliciously assaulted and battered plaintiff, by grabbing the plaintiff, and choking him."
The lawsuit alleged the assault happened after Gerling asked for identification from Mayweather and others in his entourage before entering the club at Las Vegas Boulevard and Flamingo Road.
Gerling is asking for more than $10,000, the complaint showed.
The latest complaint adds to the ever-growing number of legal troubles the former Olympian is facing in his hometown.
The boxer last week was charged in Las Vegas Justice Court with two misdemeanor harassment counts after an October confrontation with Southern Highlands security guards over parking issues.
Mayweather faces a misdemeanor battery charge in connection with a Nov. 15 incident involving another guard, Shayne Smith.
The Metropolitan Police Department said in a report that Smith cited two Mayweather vehicles for parking violations.
A confrontation ensued, and the boxer was verbally abusive and jabbed his finger into Smith's cheek, resulting in redness and discoloration on the left side of Smith's face, police said. A bench trial in that case is set for Sept. 1.
Then in January, the Estates at Southern Highlands Golf Club Community asked a district judge to order the 33-year-old to abide by the community vehicular and parking rules and to stop threatening and harassing security guards, a complaint filed May 3 said.
The association sought compensation of more than $10,000 from Mayweather, who lives in a $9.5 million, 12,000-square-foot mansion.
According to court records, that case was voluntarily dismissed on March 31.
Mayweather also faces a July 29 preliminary hearing on felony charges, including coercion, grand larceny and robbery, in connection with a Sept. 9 incident with his three children and their mother, Josie Harris. Mayweather is free on $31,000 bail in that case.
Pacquiao, considered by many the world's best pound-for-pound fighter, is suing Mayweather over accusations that Pacquiao was using performance-enhancing drugs. The 2009 lawsuit followed talks for a fight between the two that fell apart over Mayweather's demands that both fighters submit to random blood and urine tests before the bout.
Contact reporter Francis McCabe at fmccabe@reviewjournal.com or 702-380-1039.