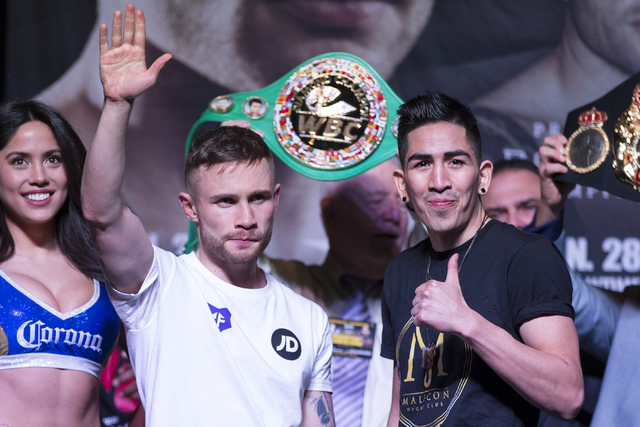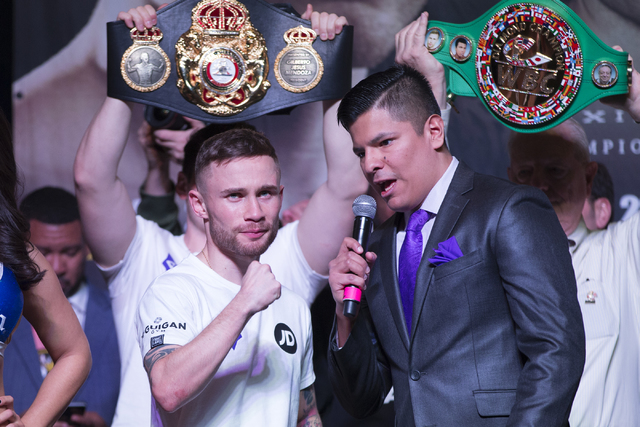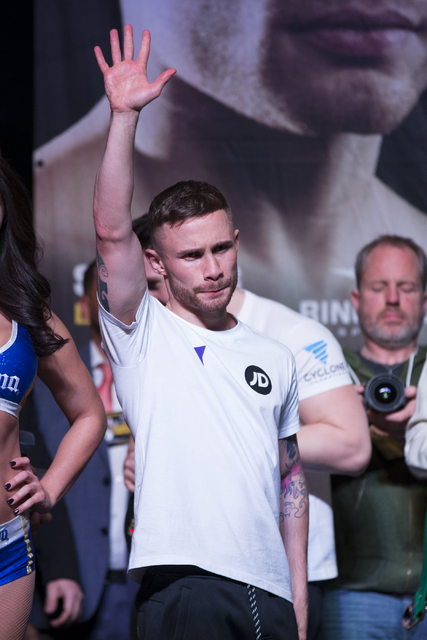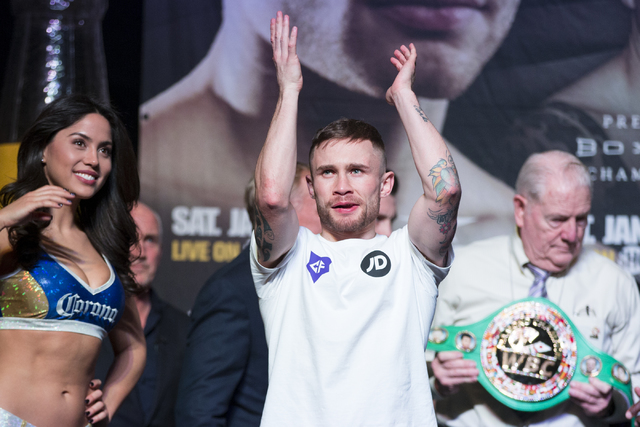 Leo Santa Cruz couldn't bring himself to watch his memorable 2016 bout against Carl Frampton, but it had to be done.
The former featherweight champion finally relived his first career defeat two weeks ago to prepare for his Saturday rematch against Frampton at the MGM Grand.
Santa Cruz cringed at every mistake he noticed and regretted not listening to his father/trainer, Jose, every time he shouted from the ring corner to box and defend.
"I wanted to give the fans an exciting fight, and it cost me," said Santa Cruz, who lost the WBA belt to Frampton. "This time I need to do what is best for me and not focus too much on pleasing the fans. I watched the fight, and I have learned from my mistakes."
Santa Cruz has put all his chips into this rematch and said he would consider retiring from boxing if Frampton beats him a second time.
"Fighters have a lot of pride, and we want to show that we are the best, and if Carl Frampton beats me twice, then why am I even here?" Santa Cruz said. "If I'm not the best, there's no point in being here, but I'll let the fans decide. If they want me around, I'll keep boxing."
Jose Santa Cruz didn't take his son seriously when asked about him possibly pondering retirement.
"That's not true, he's just pushing himself to be better," the older Santa Cruz said. "He's still very young."
Leo Santa Cruz wasn't his usual stellar self when he met Frampton six months ago in Brooklyn, New York. His father was battling bone cancer in his spine during the first training camp.
Jose Santa Cruz said his cancer is now in remission, but he still needs to take pills for his chemotherapy.
"I wasn't around much during the first training camp," Santa Cruz said. "I think that affected Leo mentally. He wasn't himself. This time, I was around for everything. I still get a few headaches from the pills, but I've been by his side the whole way. We're focused on being defensive."
The 28-year-old Santa Cruz (32-1-1, 18 knockouts) charged at Frampton (23-0, 14 KOs) early in the first bout. He quickly found out that Frampton's power was a serious threat when the Northern Irishman stunned Santa Cruz with a counter left hook in the second round.
Jose Santa Cruz pleaded with his son to retreat and use his length advantage with the jab, but his son's Mexican warrior pride kicked in. The younger Santa Cruz gave the fans their money's worth in a Fight of the Year worthy slugfest, but he ended up with a majority decision loss.
"He didn't defend and use his size," Jose Santa Cruz said. "He gave the fans a show, but that made the fight close. The champion should always get the edge in a close fight like that, but that didn't happen. We have to clearly win this time, and we can do that by being defensive."
Leo Santa Cruz was bothered by the home crowd advantage Frampton had in New York with many Irish and British fans making the trip. Santa Cruz pushed for a rematch closer to his home in Los Angeles and was granted a Las Vegas fight.
Santa Cruz now has the perfect scenario for him to reclaim the WBA belt with his father in good health and fighting on the West Coast.
But the Irish and British fans are out in full force in Las Vegas to support Frampton and chanted throughout Friday's weigh-in. Santa Cruz and Frampton made their title fight official after each stepped on the scale at 125 pounds.
"I know Frampton's fans will be there and loud," Leo Santa Cruz said. "Maybe now it will be a little closer to 50-50. I wanted this rematch, and I need to come through."
Contact Gilbert Manzano at gmanzano@reviewjournal.com or 702-383-0492. Follow @gmanzano24 on Twitter.
PREMIER BOXING CHAMPIONS CARD
When: Saturday, MGM Grand Garden Arena
Main event: Carl Frampton vs. Leo Santa Cruz II, WBA featherweight championship
Co-main event: Dejan Zlaticanin vs. Mikey Garcia, WBC lightweight title
TV: Showtime, 7 p.m.
Tickets: axs.com