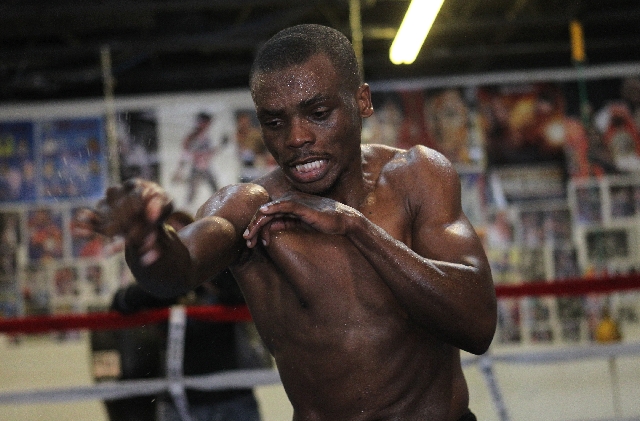 Normally, Sharif Bogere's ring entrance is the highlight of the evening. Tonight, his walk from the ring will be the defining point in the 24-year-old Ugandan's career.
Bogere (23-0, 15 knockouts) gets to fulfill his dream of being a world champion provided he can take Richard Abril's WBA lightweight title at the Hard Rock Hotel. For Bogere, who has lived in Las Vegas since 2008, it's all about the 12-round main event, which will be televised by Showtime.
"I've been waiting a long time for this opportunity," Bogere said. "(Tonight) 'The Lion' is going to roar."
Bogere's elaborate ring walk has him in a cage wearing a lion's mane while being carried by "tribesmen" as a female singer belts out an African song. It is great theater, and few in boxing can match it.
But once the bell sounds, it will be about Bogere being able to use his skills to wrest the belt from Abril, who was awarded the title by the WBA in February after it had been vacant for months. Can he use his speed and strength to dominate the 30-year-old Abril, who is a veteran boxer and has fought better opponents during his career, including Brandon Rios last April 14?
"I'm much different than Rios," Bogere said. "I'm faster, and I'm quicker. Rios looks for the knockout. I'm going to outbox him, and if I get the chance to knock him out, I will."
Both fighters made the 135-pound limit at Friday's weigh-in at the Hard Rock Hotel, with Bogere weighing 134 pounds and Abril 134½. Kenny Adams, the veteran trainer who has worked with Bogere throughout most of his career, said his fighter is ready to go.
"I've looked at the tapes of this guy and I said, 'Well, here's a guy who likes to run a lot and wrestle a lot,' " Adams said of Abril (17-3-1, 8 KOs). "I don't know if he should be on the track team or the wrestling team — he likes to do both.
"But we're prepared for anything he does. We've gone back to my Airborne days, guerrilla warfare, where you search and destroy. Once you search and destroy, you kill him, and once you kill him, the Lion reigns supreme."
Adams, who has been with Bogere since 2009, said Bogere has developed a rhythm with his footwork to where he can effectively move around the ring and display his generalship.
"It took awhile, but he's got it now," Adams said. "We had to get the cha-cha music going, and he moves really well."
Bogere said it was an adjustment for him to satisfy the demanding Adams.
"At first, I didn't understand what he was trying to do, and I resisted him a little," Bogere said. "But I gave the man 100 percent, and working one-on-one with him, now I understand what he was trying to do. He's taught me so much, and he's made me a complete fighter.
"He's helped me grow as a man, too. We're like family. It's like having a second father."
Bogere said he will not squander the opportunity to realize his dream.
"I've worked so hard," he said. "I came to this country with nothing. I had nothing growing up in Uganda. But I always believed God had a plan for me and God answers your prayers. If you keep your life in a straight line, he will take care of you."
The co-feature pits featherweights Gary Russell Jr. (21-0, 13 KOs) and Vyacheslav Gusev (20-2, 5 KOs) in a 10-round bout. The first bell for the card, promoted by Golden Boy Promotions, is scheduled for 5 p.m. The Showtime telecast begins at 7, but will be shown on a delayed basis in Las Vegas at 10.
Contact reporter Steve Carp at scarp@reviewjournal.com or 702-387-2913. Follow him on Twitter: @stevecarprj.