Magdaleno title would reward trainer Barry's loyalty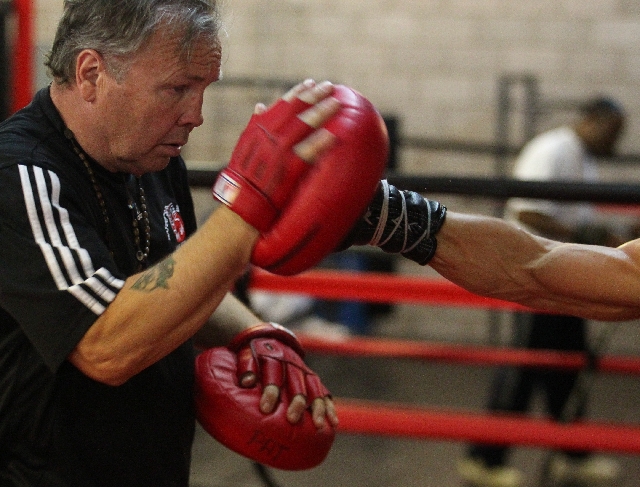 No boxing trainer in his right mind would turn down an opportunity to develop a world champion. But that wasn't Pat Barry's primary reason for getting into the business 32 years ago.
"I was trying to get kids off the streets and into the gym," said Barry, a retired Las Vegas police detective who runs Barry's Boxing on South Highland Drive. "I wasn't thinking about world champions."
Then he saw Diego Magdaleno 17 years ago. And as he worked with the kid and saw him develop, Barry thought he might have something — assuming someone didn't take Magdaleno from him first.
Magdaleno, now 26, is in Macau for a title fight Saturday against WBO super featherweight champion Roman "Rocky" Martinez. A win by Magdaleno (23-0, nine knockouts) would not only change his life but likely Barry's as well.
"It would definitely bring more recognition and publicity to the gym," Barry said. "We've got about 500 kids who train regularly, and he's such a role model to them. Having a world champion in the gym will motivate those kids to work harder, and maybe we'll one day get more (world) champions.
"For me personally, it would be a supernatural feeling. We've been together so long. It would be like a family celebration."
Barry recalled the first time he saw Magdaleno in boxing gloves. It left a lasting impression.
"He was at the old Golden Gloves Gym working with Kelcie Banks, and Diego was probably 8 years old," Barry said. "Hal Miller, who ran the Golden Gloves at the time, said to me, 'Pat, I want you to watch this kid. He's going to be something special.' So I watched, and he was right. Diego was special. He was a little small for his age, but he had that seriousness about him; he was dedicated to being good.
"So when he was 9 and his parents brought us over to the old gym on Decatur (Boulevard) and I started working with him, we just connected. He loved boxing, and when you told him something the first time, he did it. He's still that way."
Magdaleno said he felt comfortable with Barry working his corner. As his amateur success grew into a professional career, he never entertained leaving him or Augie Sanchez, a former Las Vegas pro fighter who also works with Magdaleno and his younger brother Jessie, who many in boxing believe one day will be a world champion. Jessie Magdaleno, who competes as a super bantamweight, is 14-0 with 10 KOs.
"I trust them," Jessie Magdaleno said of Barry and Sanchez, who will be in Diego Magdaleno's corner against Martinez (26-1-2, 16 KOs) on Saturday at Cotai Arena. "They've taught me a lot, and they've always had my best interests. You couldn't ask for anyone better."
But loyalty is a two-way street, and Barry never abandoned Magdaleno during his formative years as a fighter. That loyalty has been paid back.
"A lot of people say loyalty has gone by the wayside, but we're proof it still exists," Barry said. "There's been people who've come to him with offers to move him along faster. But, to be honest, I never worried that Diego would go with someone else. We've been loyal to Diego, and he's been loyal to us."
Barry said he's confident Magdaleno will leave the ring Saturday with his lifelong goal of being a world champion realized.
"He trained better than he has for any fight he's had," Barry said. "Everything he did in camp was more precise, more intensity. We're going in putting our best foot forward. We just hope Diego puts his best fist forward."
■ NOTES — The fight will be televised in Las Vegas on tape delay by HBO2 (Cable 201) at 2 p.m. Saturday. … The card also will feature WBA and WBO junior flyweight champion Brian Viloria (32-3, 19 KOs) defending his titles against Juan Francisco Estrada (22-2, 17 KOs). In the main event, Chinese Olympian Zou Shiming will make his professional debut in a four-round flyweight bout against Mexico's Eleazar Valenzuela (2-1-2, one KO).
Contact reporter Steve Carp at scarp@reviewjournal.com or 702-387-2913. Follow him on Twitter: @stevecarprj.