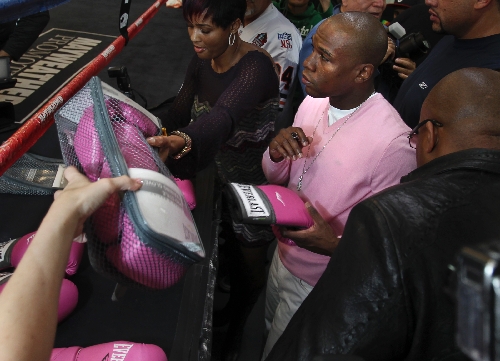 Floyd Mayweather Jr. thinks Manny Pacquiao really does want to fight him. But Mayweather isn't so certain that Pacquiao's promoter, Bob Arum, wants the fight.
"Pacquiao says he wants to fight? Fine, let's do it May 5," Mayweather said Wednesday at his gym off Spring Mountain Road after a ceremony during which he donated $100,000 to the Southern Nevada chapter of the Susan G. Komen Center for the Cure, which works to fight breast cancer. "Bob Arum's the one standing in the way of this fight.
"It's been excuses after excuses after excuses by Bob Arum. It wasn't me. All I've ever asked is to be treated fairly."
Mayweather, the WBC welterweight champion who is 42-0 with 26 knockouts, is scheduled to serve 90 days in jail after pleading guilty in December to domestic violence charges from a September 2010 incident with his former girlfriend, Josie Harris, the mother of three of Mayweather's four children. Las Vegas Justice of the Peace Melissa Saragosa pushed back his reporting date to the Clark County Detention Center from Jan. 6 to June 1, paving the way for Mayweather to fight May 5.
Looking relaxed in a pink sweater and white slacks, Mayweather said that with Pacquiao agreeing to random drug testing and his willingness to fight in Las Vegas with a 50-50 split of the purse, there are no more excuses.
"This is the fight of the century; this is the fight people want," he said. "So let's make it happen."
Mayweather, 34, has had the 16,000-seat MGM Grand Garden reserved for May 5 since mid-November. But Arum claims that's too soon and the venue is too small to promote a fight the magnitude of Mayweather-Pacquiao. The promoter has suggested the fight be staged in late May or early June in a specially constructed 40,000-seat stadium on the old Frontier property adjacent to the Las Vegas Strip.
Mayweather wasn't buying it.
"May 5 is plenty of time to promote this fight," he said. "This fight is already sold. People will come out to see it. You don't need to build a special arena. You can have this fight in a parking lot."
As for fighting later in May or possibly early June, Mayweather's co-manager, Leonard Ellerbe, said that isn't possible.
"We're legally obligated to May 5," Ellerbe said. "The judge was more than fair to have Floyd's reporting date pushed back. We're not going to disrespect the judge.
"We're fighting on May 5. We're not coming off that date, period. End of discussion."
Ellerbe said that if Pacquiao, the WBO welterweight champ who is 54-3-2 with 38 knockouts, doesn't agree to the fight, Mayweather would meet someone else. Two likely possibilities are undefeated Saul "Canelo" Alvarez, the WBC junior middleweight champion, and veteran Miguel Cotto, the WBA 154-pound champ.
Pacquiao, 33, is also looking to fight Cotto, who lost to Pacquiao in 2009. Fights with junior welterweights Timothy Bradley and Lamont Peterson were also discussed last week when Arum and Pacquiao met in the Philippines.
"He wants to fight Mayweather," Arum said. "That's Plan A. Those are my marching orders — make the Mayweather fight. But you can't do it on May 5. There's not enough time."
Ellerbe said he's tired of Arum's posturing.
"This isn't about the promoters and the managers, it's about giving the fans the fight they want to see," Ellerbe said. "All the parties should put their egos aside and make this fight happen.
"Floyd's guarantee is in place. Everything is agreed upon. We're ready to go. The ball's in Bob's court. He's the one blocking the fight. Everyone knows that."
Contact reporter Steve Carp at scarp@reviewjournal.com or 702-387-2913. Follow him on Twitter: @stevecarprj.