Mayweather 'real close' to next bout
December 23, 2012 - 2:00 am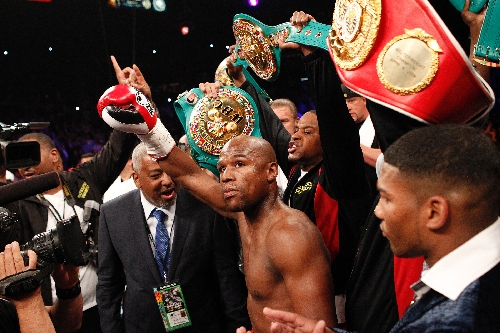 Floyd Mayweather Jr. recently has been speaking publicly, and that usually means he's getting ready to return to the ring.
His Aug. 3 release from the Clark County Detention Center, where he served two months after pleading guilty to domestic battery, long has been placed in his rearview mirror. The 35-year-old Mayweather is expected to announce in early January he will be back in action May 4 at the MGM Grand Garden, most likely against either Robert Guerrero (31-1-1, 18 knockouts) or Saul "Canelo" Alvarez (41-0-1, 30 KOs).
Leonard Ellerbe, Mayweather's co-manager, said negotiations are wrapping up and an announcement is forthcoming. But Ellerbe wouldn't tip his hand as to who Mayweather's opponent will be.
"We're real close," Ellerbe said. "We should have something to say after the first of the year."
Mayweather (43-0, 26 KOs) last fought May 5, beating Miguel Cotto (37-4, 30 KOs) by unanimous decision at the Grand Garden. He'll be 36 when he returns to the ring. And he might have unexpected help in his corner – Mayweather recently said he might bring in his father, Floyd Sr., to train him for his next fight instead of his uncle Roger, who has trained Mayweather for the majority of his career.
Mayweather said he was concerned for his uncle's health (Roger Mayweather has diabetes) and that he wants his uncle to focus on eating right and getting healthy.
That was news to Roger Mayweather, who was quoted last week by The SportsXchange saying his diabetes is under control and he plans to work his nephew's corner come May 4.
Ellerbe said he wasn't aware of any changes in the Mayweather camp. He said Floyd ultimately will make the final decision on who prepares him for his return to the ring.
■ DIEGO BACK IN GYM – Diego Magdaleno's left wrist and hand have healed to the point where he is back in the gym training. The undefeated NABF super featherweight champion from Las Vegas was injured during sparring in November for a Dec. 7 fight against Adailon De Jesus and has been undergoing physical therapy since being forced to pull out.
The 26-year-old Magdaleno (23-0, nine KOs) still is barred from contact but is staying in shape at Barry's Boxing. He will closely will follow the Jan. 19 fight between WBO super featherweight champion Rocky Martinez (40-12-1, 20 KOs) and Juan Carlos Burgos (30-1, 20 KOs) at The Theater at Madison Square Garden.
"We're hoping Diego gets to fight the winner," his trainer, Pat Barry, said.
Barry said he expects Magdaleno to be cleared for contact in the next couple of weeks. But with no fight immediately on the horizon, there's no need to rush.
"The good thing is we can take our time and make sure Diego's 100 percent healthy," Barry said.
■ DUO SUSPENDED – The Nevada Athletic Commission placed Joshua Meyers and Andrew Hernandez on temporary suspension after both tested positive for elevated levels of testosterone following their Nov. 10 bouts at Wynn Las Vegas.
Meyers (0-1) and Hernandez (5-0-1, one KO) are expected to appear on the NAC's Jan. 8 agenda to answer the complaint.
Also, former WBC middleweight champion Julio Cesar Chavez Jr. is expected to be on the Jan. 8 agenda to explain his positive test for marijuana before his Sept. 15 loss to Sergio Gabriel Martinez (50-2-2, 28 KOs) at the Thomas & Mack Center.
The 26-year-old Chavez (46-1-1, 32 KOs) has been under temporary suspension since then, and has not yet appeared to answer the complaint in his case.
Contact reporter Steve Carp at scarp@reviewjournal.com or 702-387-2913. Follow him on Twitter: @stevecarprj.