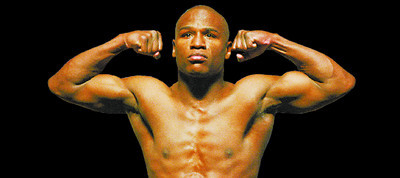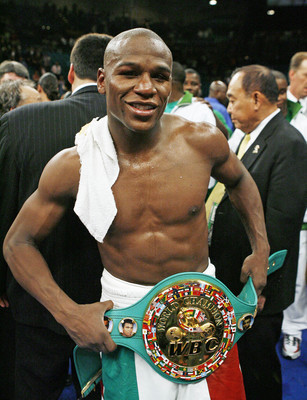 It's all about Manny Pacquiao and Ricky Hatton this week as the junior welterweight stars prepare to square off in the ring Saturday at the MGM Grand Garden.
Lurking not far away is the specter of Floyd Mayweather Jr. The former welterweight champion and unofficial pound-for-pound king has been retired since he knocked out Hatton on Dec. 8, 2007. However, Mayweather appears ready to come out of retirement, and both Hatton and Pacquiao wouldn't mind fighting him this year.
"I would love another crack at him," Hatton said. "I'm a much better fighter since I fought Floyd. It would be a different outcome."
Pacquiao, the current pound-for-pound champion, said if his promoter, Top Rank chairman Bob Arum, sets up a megafight with Mayweather, he would be all for it.
"Sure I'd fight (Mayweather) if he decided to fight again," Pacquiao said. "But I leave that up to my promoter."
His trainer, Freddie Roach, said if the weight was right, he would have no problem putting his man in the ring against Mayweather, who retired at 39-0 with 25 knockouts.
"It would have to be a catch weight, probably 143, 144 (pounds)," Roach said. "I don't think it would be at 147. But Manny's not afraid of anyone."
Mayweather's father, Floyd Sr., is convinced his son will fight again. And if there's a rematch against Hatton, the elder Mayweather would have a tough decision to make; he currently trains Hatton.
"I love my son. I taught him how to fight," Floyd Sr. said. "But this is business. A man has to eat. A man has to take care of his family. He doesn't take care of me, so I have to do what I have to do to take care of myself."
There has been mounting speculation Mayweather Jr. will return July 18 to fight Juan Manuel Marquez. An MGM official, speaking on the condition of anonymity, confirmed the Grand Garden is being held open for that date, one week after the UFC 100 mixed martial arts show at the same venue. The fight could be announced as early as Saturday, hours before Pacquiao and Hatton enter the ring.
However, Leonard Ellerbe, Mayweather Jr.'s friend and senior adviser, said he can't confirm anything at this point. Neither would Richard Schaefer, the chief executive officer of Golden Boy Promotions, which handles Marquez.
"I'm not going to speculate on what will or won't happen," Schaefer said Thursday. "I have not heard from Floyd Mayweather Jr. that he's back, and that's the truth."
Schaefer said his focus is on Hatton-Pacquiao, not a proposed Mayweather-Marquez matchup.
"It would be unfair to Ricky Hatton and Manny Pacquiao to talk about another fight," Schaefer said.
Arum, who promoted Mayweather when he turned pro after the 1996 Olympics, said as long as those who are representing Mayweather are honorable, he would have no problem making a deal for a Pacquiao-Mayweather fight.
"I have no dislike whatsoever for Floyd Mayweather. I have no like whatsoever for Floyd Mayweather," Arum said. "My only concern is he has to have someone on his negotiating team I can trust. I don't need any sleazebags. I don't need any Machiavellis."
Mayweather is rumored to be in financial trouble, and there are reports he has been talking to Don King about representing him in a possible return. Arum said he would have no trouble with King, his longtime rival, or Schaefer, his current promoting contemporary, in striking a deal to have Mayweather fight Pacquiao.
"If Schaefer came to me with a contract, we can get a deal done in a day," Arum said. "There's no bull with Richard. If Don King were on the other side representing Mayweather, I'd have no problem with that. I understand Don. There'd be a little more posturing, but we would get it done."
• NOTES — Today's weigh-in at the Grand Garden begins at 2:30 p.m. with the main-event fighters expected on the scale around 3. Admission is free. … Pacquiao is a minus-280 favorite at MGM Mirage sports books, down from minus-270 Wednesday. The take back on Hatton is plus-240. … Pacquiao met and posed for pictures with President Clinton on Wednesday at the Four Seasons, where Clinton was giving a speech.
Contact reporter Steve Carp at scarp@reviewjournal.com or 702-387-2913.