Mayweather says Arum halting fight vs. Pacquiao
December 14, 2014 - 12:20 am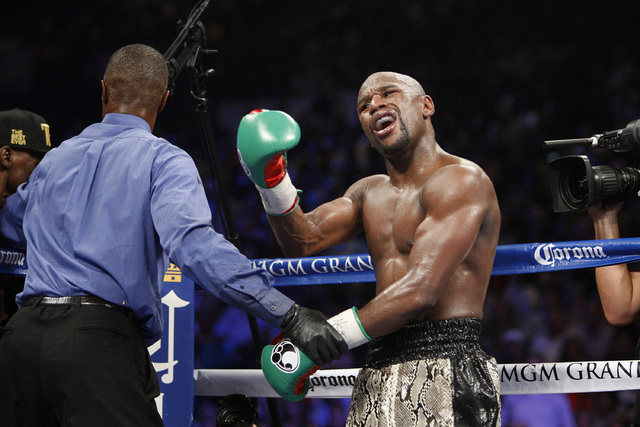 For the past few weeks, Floyd Mayweather Jr. has kept quiet as Manny Pacquiao and his team have campaigned for a fight between the two.
But Mayweather ended his silence Friday. In an interview with Showtime from San Antonio, Mayweather said he wants the fight and blasted Top Rank chairman Bob Arum, who promotes Pacquiao, claiming Arum is the reason the bout hasn't happened despite more than five years of discussions.
"Floyd Mayweather is not ducking or dodging any opponent," Mayweather said to Showtime's Steve Farhood. "Manny Pacquiao, Bob Arum, you guys have been ducking us for years. Before, we tried to make the fight happen, and you guys didn't want to take random blood and urine testing. So that's why the fight didn't happen. Then I offered you $40 million, and you didn't want to make the fight happen. Then you lost twice, and now you're coming back begging for the same money. That's not going to happen. He's not at my level.
"We want to fight. Let's make it happen. May 2. Floyd Mayweather vs. Manny Pacquiao. Let's do it."
On Saturday, the Wynn Race and Sports Book posted odds on a potential Mayweather-Pacquiao fight with a May 2 date, with Mayweather a minus-260 favorite and Pacquiao at plus-220. The fight must take place before Dec. 31, 2015, for bets to be honored.
Arum said Saturday he wasn't buying Mayweather's bluster.
"I've been conducting my talks with (CBS chairman) Les Moonves and will continue down that path," Arum said. "I'm not going to be deterred by any outside voices. (Mayweather) should be talking to Moonves."
Arum also took issue with Mayweather claiming May 2 — Cinco de Mayo weekend — for himself. Canelo Alvarez is looking to fight on that date and has told Golden Boy Promotions president Oscar De La Hoya to secure the MGM Grand Garden for him.
"Cinco de Mayo is a Mexican holiday, and it is important to Mexicans and Mexican-Americans," Arum said. "It is a date when a Mexican fighter such as Canelo Alvarez should be showcased. The last I was aware, Manny Pacquiao, Floyd Mayweather and Miguel Cotto aren't Mexican.
"It's appropriate that date feature a Mexican fighter. Anything otherwise is disrespectful to the Mexican people. And any hotel that goes along with that is committing financial suicide."
Mayweather reiterated that Pacquiao should not expect a payday equivalent to his should they fight.
"He's in a very, very tight situation with his loss to (Juan Manuel) Marquez and his loss to (Timothy) Bradley," Mayweather said. "His pay-per-view numbers are extremely low, so he's desperate."
Mayweather was not asked about his knowledge of the murder-suicide of rapper Earl Warren Hayes and his wife in Los Angeles on Monday. Police spoke to Mayweather after media reports that he might have spoken to Hayes before Hayes shot Stephanie Elyse Moseley and then himself in their apartment.
■ WBC CONVENTION — The World Boxing Council returns to Las Vegas this week for its annual convention.
The WBC, the oldest of the sport's sanctioning bodies, will hold its 52nd meeting today through Friday at The Mirage.
There will be seminars for referees, judges and physicians, and a meeting of the rankings committee, which determines who gets mandatory opportunities to fight for a title. Many equipment manufacturers also display their wares in what has become a mini trade show.
The champions dinner will be Monday, and many of the sport's stars, past and present, are expected to attend. Among them are Mayweather, Gennady Golovkin, Mike Tyson, Evander Holyfield, Sugar Ray Leonard, Marvin Hagler, Oscar De La Hoya, Julio Cesar Chavez Sr., Erik Morales, Pernell Whitaker and Joe Calzaghe.
For more information, go to www.wbcboxing.com.
■ HOLIDAY SHOW — The North Las Vegas Center Ring Boxing Club will hold its annual holiday fight show Saturday at the Silver Nugget. Twenty bouts are scheduled, and the first bell is scheduled for 6 p.m.
Contact reporter Steve Carp at scarp@reviewjournal.com or 702-387-2913. Follow him on Twitter: @stevecarprj.