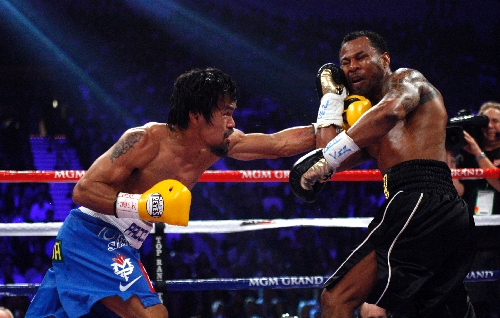 Manny Pacquiao didn't need a cutman Saturday. He needed a masseuse.
Pacquiao dominated former five-time champion Shane Mosley to retain his WBO welterweight title with a 12-round unanimous decision at the MGM Grand Garden.
"He just felt my power early," Pacquiao said. "But I didn't expect this result."
It was such a lopsided performance, Pacquiao's cutman, Miguel Diaz, could have sat in the stands among the sellout crowd of 16,412.
Duane Ford scored the fight 120-107, Dave Moretti scored it 120-108 and Glenn Trowbridge scored it 119-108.
Pacquiao (53-3-2) struggled with leg cramps during training camp and his left leg cramped up again during the fourth round. The pound-for-pound king said he had trouble getting any leverage, but he still outpunched Mosley (46-7-1).
"I couldn't feel my leg," Pacquiao said. "I tried to have the corner work on it between rounds, but it didn't help."
Mosley had a health issue of his own. He developed a blister on the bottom of his right foot in the sixth round and was unable to move the way he wanted to. Things got so bad that trainer Naazim Richardson considered stopping the fight after the sixth.
But both fighters battled through their issues. Pacquiao was simply too quick for Mosley.
"He's as fast as anyone I've ever fought," Mosley said. "Manny is a warrior. He has both speed and power."
Pacquiao fought despite being involved in a minor car accident Saturday afternoon on his way back to his hotel after attending church. One of the cars in his motorcade accidentally hit Pacquiao's car from behind.
Pacquiao was not injured and was examined by Dr. Al Capanna of the Nevada Athletic Commission in his dressing room at the MGM Grand before entering the ring. Executive director Keith Kizer said there were no issues and Pacquiao, a 9-1 betting favorite, was cleared to fight.
He was brilliant in every phase, beating Mosley to the punch consistently while maintaining his distance defensively and moving nimbly back and forth and side to side to keep Mosley from unleashing his power.
Pacquiao nailed Mosley with a straight left hand with 1:17 to go in the third round and sent him to the canvas.
Mosley got up but spent the rest of the round backpedaling as Pacquiao continued his pursuit.
By the fifth round, Mosley was dropping his hands while trying to fight moving backward. Pacquiao remained patient and continued to land punches, showing superior hand speed.
Pacquiao refused to get careless, instead waiting for his opening and striking at the right time. Mosley was unable to solve Pacquiao, whom Richardson likened to a Rubik's Cube before the fight.
Mosley's best moment came with 1:02 left in the 10th, but it was tainted. Referee Kenny Bayless ruled a knockdown, but Mosley clearly shoved Pacquiao to the canvas.
Pacquiao was obviously upset by the call and hammered Mosley for the rest of the round and throughout the 11th.
"It was a courageous performance by Manny, given the circumstances," Pacquiao trainer Freddie Roach said. "He was fighting on one leg for most of the fight, but he still dominated Mosley."
Contact reporter Steve Carp at scarp@reviewjournal.com or at 702-387-2913. Follow him on Twitter: @stevecarprj.