Pavlik holds bottle at bay, tries to quench thirst for ring rebirth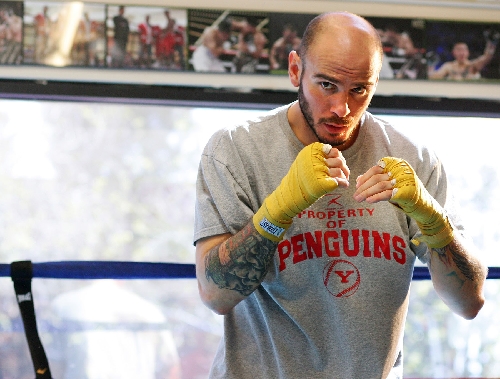 Somewhere along the line, perhaps at the bottom of a bottle, Kelly Pavlik lost his love for boxing.
The former middleweight champion, 30, appears to have reconnected with the sport that made him rich but also enabled a pattern of alcohol abuse that caused him to seek treatment at two California rehabilitation clinics two years ago.
Pavlik, now a super middleweight, is in Las Vegas to headline tonight's Top Rank fight card at the Hard Rock Hotel. He faces Scott Sigmon in the 10-round main event on ESPN2's "Friday Night Fights."
"It was more frustration than anything," Pavlik said Thursday after he and Sigmon each weighed in at 167 pounds. "Looking back, I think taking a break was the best thing that happened to me. I've got the hunger back."
Pavlik (38-2, 33 knockouts) has left his hometown of Youngstown, Ohio, to live and train in Oxnard, Calif., and is training under Robert Garcia after spending most of his career with Jack Loew.
With Garcia in his corner in his most recent fight March 31 in San Antonio, Pavlik stopped Aaron Jaco in the second round.
He made $10,000 that night, and he'll get $30,000 to fight Sigmon (22-3, 12 KOs). At those paltry sums, clearly Pavlik's return isn't just about money. He's trying to return to the top and give people something to remember him by other than his two defeats and alcoholism.
"I know I have a lot to prove to a lot of people," Pavlik said. "I really don't worry about the money side of it. I know if I win, I can get back to where I was, and the money will be there."
Pavlik's losses to Bernard Hopkins in 2008 and Sergio Martinez in 2010 sometimes overshadow his 38 wins, including beating Jermain Taylor in 2007 and 2008 and Marco Antonio Rubio in 2009. As he set out on a path he hopes will take him to a 168-pound title shot, Pavlik knows that unless he retains his passion for his craft, this venture will be in vain.
"It is what it is," he said. "I know I have to work my way back. I think I'm in a good place. I feel good. Robert's been great to work with. I've made a great connection with him."
Pavlik's manager, Cameron Dunkin, said his fighter is doing well.
"His attitude is completely different," Dunkin said. "He's a much happier person, and he's excited about boxing again."
It would have been easy for Top Rank to cut ties with Pavlik when he entered rehab in 2010. Chairman Bob Arum said that wouldn't have been the right thing to do.
"It's the same reason we stayed with (Antonio) Margarito," Arum said. "They're not pieces of material. They're human beings.
"We put a lot of money into Kelly Pavlik. We want him to succeed. I'm not sure if it's ultimately going to work, but the early indications are he has turned his life around."
Dunkin said the changes that Pavlik has made all are positive.
"I think moving to California, training with Robert is the best thing that ever happened to him," Dunkin said. "No disrespect to Jack. But Kelly needed a change. He needed a new voice."
Tonight's undercard includes Las Vegas super bantamweight Jesse Magdaleno and former Notre Dame light heavyweight Mike Lee. The first bell is 5 p.m., and the ESPN2 telecast begins at 7.
Contact reporter Steve Carp at scarp@reviewjournal.com or 702-387-2913. Follow him on Twitter: @stevecarprj.