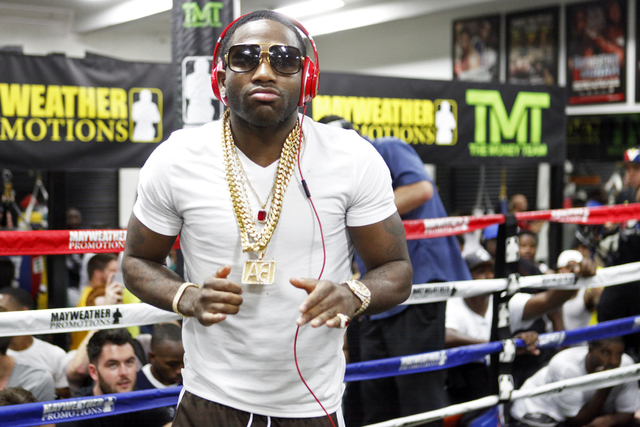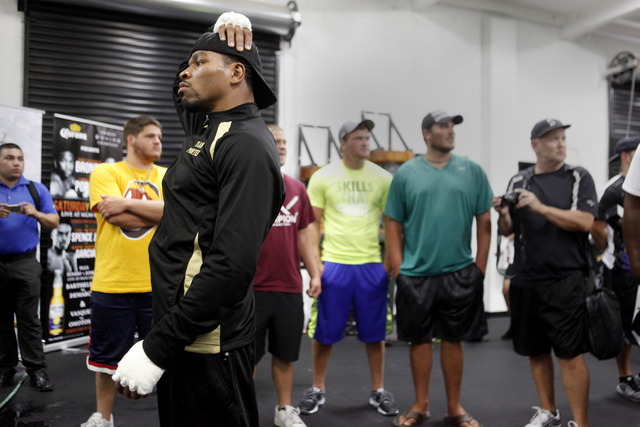 Father's Day is Sunday, and unlike most sons, Shawn Porter isn't giving his father, Ken, a tie or power tools or socks as a present.
Porter has something much more special in mind — a victory tonight over Adrien Broner in their Premier Boxing Champions main event on NBC at the MGM Grand Garden.
"Me and my dad have always been close," Porter, a former International Boxing Federation welterweight champion, said of his father, who also serves as his head trainer. "I wouldn't be in boxing if it weren't for him, so this would be the best Father's Day present I can give him."
The 12-round fight will be fought at a catch-weight of 144 pounds. Broner, a former world champion in three weight divisions, insisted on not fighting at 147 pounds.
That was fine with Porter, who weighed in at 144 points Friday to Broner's 143½.
"He probably thought I'd have trouble making the weight," said Porter, a minus-140 betting favorite. "But like a lot of things Adrien says, he was wrong."
Porter (25-1-1, 17 knockouts) lost his title in August to Kell Brook of England by unanimous decision in Carson, Calif., a fight in which he let Brook dictate the pace. It was the polar opposite from his sensational performance four months earlier when he battered Paul Malignaggi for four rounds before the fight was stopped in what was his first title defense.
"Sometimes you can learn a lot from a loss," Porter said. "It was an off-night for me, and I'm not making any excuses. I didn't listen to my corner like I should have, and it cost me my title. That's not going to happen again."
Porter, 27, rebounded from the loss to Brook with a fifth-round knockout of Erick Bone on March 15 on a PBC card in Ontario, Calif. He looked like his old self — aggressive, in command and using his boxing skills and power to overwhelm his opponent.
But Porter knows Broner (30-1, 22 KOs) is a much better fighter than Bone.
"To be honest, we didn't do anything special to prepare for this fight," Porter said. "We know he's quick, but we're prepared for that. I'm just as quick and just as fast as him."
Ken Porter said Broner, nicknamed "The Problem," will have a problem tonight.
"His problem is we're just as fast as he is, and we have the power to go with the speed," Ken Porter said.
The fight is being billed as "The Battle of Ohio." Porter originally is from Akron but lives in Las Vegas, and Broner is from Cincinnati. They've known each other since their days as amateurs but have not crossed paths for a while.
And Porter is well aware of Broner's talkative ways.
"Oh, yeah, we know all about how Adrien likes to talk," Porter said. "But that never bothered me. It hasn't been an Ohio thing since we were kids. Back then, it was Cleveland vs. Cincinnati. But now, I represent all of Northeast Ohio, not just Akron and Cleveland."
And Porter, who will make $1 million tonight, said he's OK with the fight not being for a title.
"This fight doesn't need to be about a belt," he said. "We both have reputations to uphold. That's my motivation for this fight."
If Porter needed additional motivation, it was provided Thursday by Broner, whose purse for the fight is $1.35 million.
During the final news conference at the MGM, Broner, 25, orally attacked father and son, and neither Porter appreciated it. After hitting the scales Friday and posing for photographers, Porter offered his hand to Broner to wish him good luck, but Broner snubbed him and left the stage.
"He can say and do whatever he wants," Porter said. "I'm not here to talk. I'm here to fight, and I'm going to dictate the pace and be the commander in the ring. I'm going to box, punch and put it all together."
In tonight's co-feature, welterweight Errol Spence Jr. (16-0, 13 KOs) faces Phil Lo Greco (26-1, 14 KOs ) in a 10-round bout. The first bell for the seven-bout card is scheduled for 2:15 p.m., with the NBC telecast at 5:30.
Contact reporter Steve Carp at scarp@reviewjournal.com or 702-387-2913. Follow him on Twitter: @stevecarprj.