Sergey Kovalev motivated to sell first PPV fight against Andre Ward
September 14, 2016 - 12:15 am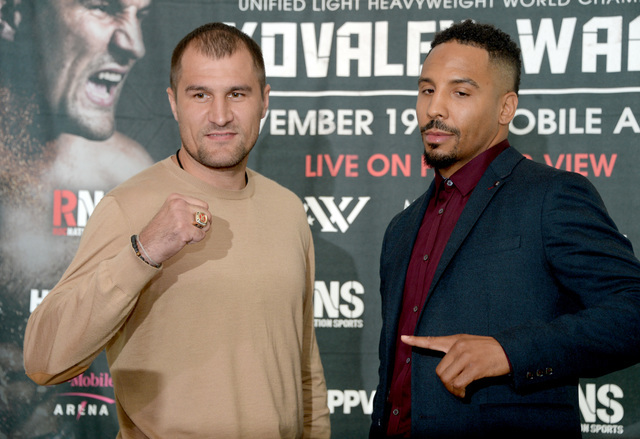 LOS ANGELES — Sergey Kovalev sat in a hotel restaurant near the Los Angeles International Airport chatting with his manager, Egis Klimas.
The boxing star from Russia had spent his Saturday afternoon speaking with reporters individually, but he had one more interview before taking off to watch his friend Gennady Golovkin fight Kell Brook.
Kovalev stood up to greet the reporter, but the knockout artist known as "Krusher" wasn't smiling. It was more like a let's-get-this-over-with hello.
A few seconds of awkward silence ensued, with Klimas looking on in case he needed to translate, or possibly to stop the interview if the "Krusher" got fed up.
Then suddenly Kovalev cracked a smile and the chatter was nonstop. There was no need for Klimas — Kovalev's English was just fine.
"He's not shy," Klimas said with a chuckle after the reporter admitted he assumed Kovalev would be reserved since English isn't his first language. "Sergey can talk forever."
The unified three-belt light heavyweight champion can be intimidating — just ask the 26 opponents he has knocked out — but Kovalev is an outgoing character who likes to joke around when the time is right.
Kovalev, 33, decided to set aside a few weeks to speak to reporters before isolating himself in California or Florida to train for the biggest fight of his career. Kovalev (30-0-1, 26 knockouts) is scheduled to face Andre Ward (30-0, 15 KOs) on Nov. 19 at T-Mobile Arena on HBO pay per view in a matchup of two consensus top-five pound-for-pound fighters.
This high-caliber matchup sells itself, but this is Kovalev's first pay-per-view bout, and he wants everything to go right.
"It's different because this fight makes me responsible in front of my boxing fans and a lot of people around me because this fight is on pay per view," Kovalev said. "It is really big pressure for me and big motivation. I want to make this an exciting fight for everybody."
If a bout between Saul "Canelo" Alvarez and Golovkin ever gets made, it probably doesn't need much promoting. It might even challenge the numbers Floyd Mayweather Jr. and Manny Pacquiao put up in 2015.
The Kovalev-Ward matchup on paper is arguably better than the two aforementioned blockbuster fights, but they don't command large fan bases. The hardcore boxing fans know this is the perfect match. The casual fans aren't aware, and Kovalev, the salesman, wants to inform them.
"I'm sure that a lot of fans are interested to see this fight," Kovalev said. "Everything depends on them to be interested, and I hope, I'm almost sure that this fight sells by itself because two undefeated fighters, two top fighters are fighting for history. I'm very interested to see what will happen on Nov. 19."
Ticket sales are off to a good start with reportedly 9,000 sold in the first week. Tickets can be purchased on axs.com or at the T-Mobile Arena box office.
Kovalev said he would like to get into some trash talking with Ward, but isn't that comfortable with his English yet. But the reality is, Kovalev has too much respect for Ward, the former super middleweight kingpin from Oakland, California.
English isn't a problem when it comes to throwing oral jabs at WBC titlist Adonis Stevenson, who has avoided a unification bout with Kovalev. Stevenson has been criticized for hand-picking inferior opponents.
"Come on, forget about Chickenson," Kovalev said about Stevenson. "He fought Chad Dawson, robbed his belt, and he picked up the belt and put it on the shelf for no real fighters to see.
"I don't want to speak of this piece of (explicit) Stevenson because I have my next goal, my next huge step, no, hugest step in my boxing career. I don't think about any bull (explicit) right now. I'm focused on Andre Ward."
One thing Kovalev won't do to sell the showdown with Ward is turn it into a U.S. versus Russia rivalry match from the 1980s or Rocky Balboa against Ivan Drago.
"This fight is about friendship," Kovalev said. "The best fighting the best. It just happens to be that an American and a Russian are the best. We respect each other."
Kovalev left Russia for the United States seven years ago to chase his boxing dreams. He went from fighting in small venues in Greensboro, North Carolina, to small gigs at the Playboy Mansion, to defeating the legendary Bernard Hopkins. And now he's preparing for the biggest fight of 2016 in the fighting capital of the world.
"I spent four years fighting before my first title fight," Kovalev said. "I just believed that some day it will happen that we'll get this far and make money and be famous and win titles (to make up) for all my past fights where I fought for no money or purses. Dreams do come true in America."
Kovalev has a few weeks of selling left, and to spend time with his wife, Natalia, and son, Aleksandr, who turns 2 next month. Then it's off to the woods to unleash the "Krusher."
Contact Gilbert Manzano at gmanzano@reviewjournal.com or 702-383-0492. Follow @gmanzano24 on Twitter.