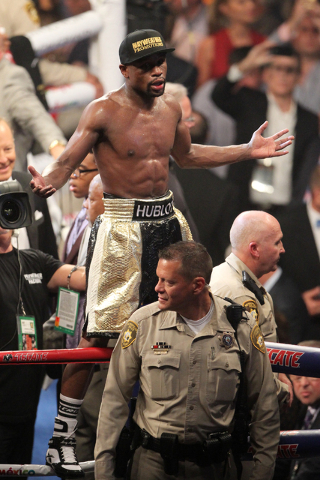 This used to be Floyd Mayweather Jr.'s week.
Cinco de Mayo weekend is looming, and that meant an appearance by boxing's best performer. The first weekend in May was for "Money," and it would result in another win to keep his perfect record intact.
Mayweather, though, retired in September after defeating Andre Berto to boost his record to 49-0. And so while most in the boxing industry thought Mayweather would be the main attraction for the first card in the $375 million, 20,000-seat T-Mobile Arena, that honor will go to Canelo Alvarez and Amir Khan, who will meet in the main event Saturday for Alvarez's World Boxing Council middleweight title.
But has boxing seen the last of Mayweather in the ring?
Stephen Espinoza, the executive vice president and general manager of Showtime Sports, sat with the 39-year-old Mayweather on Saturday at the fight card that Mayweather's company promoted in Washington, D.C. Espinoza said Mayweather didn't seem eager to get back into the ring.
"He was relaxed, enjoying the fights with his daughter and cheering on his guys," Espinoza said. "From what I can ascertain, Floyd's enjoying traveling around the world, experiencing different things and running Mayweather Promotions.
"I'd say right now the odds are against him coming out of retirement. I know there's a lot of skepticism. But he's done it all. His 19 years is two lifetimes for most fighters. But who knows? He left the door open a crack. We will continue to talk, but if he doesn't come back, I wouldn't begrudge him at all."
In an interview on Showtime during its telecast of the Badou Jack-Lucian Bute title fight, Mayweather said the subject has come up recently with the network.
"Every day, everyone is asking, 'Floyd, are you coming back?'" Mayweather told Jim Gray. "All I want to do is continue to build my company, Mayweather Promotions, and help these fighters become world champions like Badou Jack."
Leonard Ellerbe, the CEO of Mayweather Promotions, did not return a text message seeking comment.
It was a year ago Monday that Mayweather and Manny Pacquiao produced boxing's biggest night, setting records for live gate ($72.2 million) and pay-per-view buys (4.4 million) and sales ($440 million), which generated close to $600 million in total revenue. Mayweather, who received 60 percent of all revenue, made about $350 million.
Pacquiao, who lost a unanimous decision to Mayweather that May 2 night at the MGM Grand Garden, also is retired. He left the sport after his unanimous decision victory against Timothy Bradley on April 9 at the Grand Garden.
But Pacquiao also has left the door open to returning. The two-term congressman said a loss in his attempt to be elected to the Philippine Senate would allow him to continue to fight.
Mayweather, who told Gray it would take a nine-figure purse and title fight to get back into the ring, no doubt would be selective in his opponent. He discounted a matchup with middleweight champ Gennady Golovkin, suggesting GGG fight Andre Ward instead. He didn't seem interested in facing World Boxing Association welterweight champ Keith Thurman, either. But Danny Garcia, who has the World Boxing Council title at 147 pounds, might be a possibility.
"Danny Garcia, another name. Undefeated prospect — undefeated champion in two different weight classes," Mayweather said. "Very exciting fighter. You just never know."
Pacquiao's name never came up in the interview. But a year ago, they did big business together, and the Alvarez-Khan fight will not come close to challenging the numbers Mayweather-Pacquiao produced. As of Monday, around 14,000 seats have been sold, and T-Mobile will be scaled back from 20,000 to 18,000.
"Like I said, I'm happy being on this side," said Mayweather the promoter. "But you never know."
Contact Steve Carp at scarp@reviewjournal.com or 702-387-2913. Follow on Twitter: @stevecarprj
RELATED
Floyd Mayweather Jr. hints he might fight again
Mayweather Jr. sticks by decision to leave ring for good