Stiverne, Wilder finally get to trade jabs
December 18, 2014 - 10:57 pm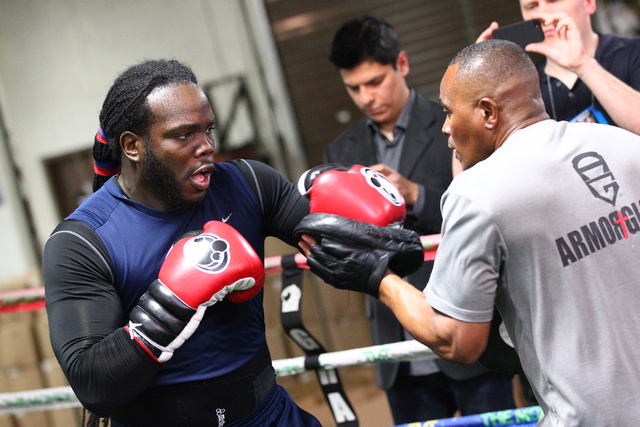 It took months to finalize the Jan. 17 title fight between Bermane Stiverne, the World Boxing Council heavyweight champion, and undefeated Deontay Wilder, but it won't take long to sell the fight to the public, primarily because there's less than a month to do so.
The outspoken Wilder and the reserved Stiverne were a stark contrast when they talked with reporters on a conference call Thursday to discuss their fight at the MGM Grand Garden. But while Stiverne is low-key, he's promoted by Don King, who never has been at a loss for words and can more than hold his own against Wilder.
"I don't want people to discredit me," said Wilder, who is 32-0 with 32 knockouts, with none of his fights lasting longer than four rounds. "I'm a winner. I'm a success. I just want the credit I deserve."
Don't expect any from the Stiverne camp.
"This was well-choreographed," Stiverne's manager, Camille Estephan, said of Wilder's career and the alleged lack of quality opponents. "Bermane will be much different than anyone Wilder has faced so far."
Stiverne (24-1-1, 21 KOs) said he'll let his performance in the ring speak for itself.
"I'm not a promoter or an entertainer like my opponent is," he said. "I'm just going to stay quiet and keep working."
Stiverne, 36, said he has enjoyed the respect that has come with winning the title May 10, when he stopped Chris Arreola in Los Angeles to win the belt vacated by Vitali Klitschko.
"It's been nothing but a blessing and love," Stiverne said. "All it does is make me want to work harder to make sure no one takes this away from me."
The fight, which will be televised on Showtime, took months to finalize amid several starts and stops. Twice it was put out to purse bid only to be canceled before the sides finally were able to broker a deal on their own.
"It was definitely tough," Estephan said. "There were a lot of people involved, and there were a lot of politics. But in the end, we had all the confidence in the world that this would get done."
King said this is the kind of fight American boxing fans used to see regularly in the heavyweight division before the Klitschko brothers began dominating it half a world away in Europe, where Wladimir and Vitali fought, predominantly in Germany. The last American fighter to hold a share of the heavyweight title was Shannon Briggs, who was the World Boxing Organization champ in 2006.
"This is America's return to glory," King said. "It's a fight that brings boxing back to its glory days."
Of course, that's King spinning things as only he can. Tickets go on sale today, so there's a short window to promote the fight.
That gave Wilder, 29, a chance to crank up the rhetoric.
"Nothing's ever been given to me," he said. "I've had to work for everything I've ever gotten. But it's my time to make history. It's been too long since an American held the heavyweight title.
"The things I do, I make the eye don't believe. It's almost like a magic trick. But the truth will be revealed on Jan. 17. I'm glad (Stiverne) is in good health because I don't want to hear any excuses when I take his belt from him. Someone's going to lose his job that night. I'm going to put his whole team out of commission."
Contact reporter Steve Carp at scarp@reviewjournal.com or 702-387-2913. Follow him on Twitter: @stevecarprj.