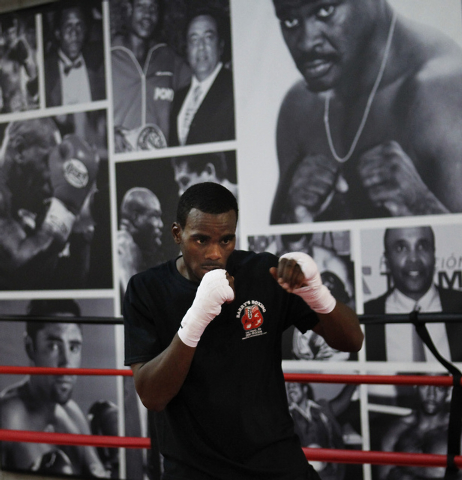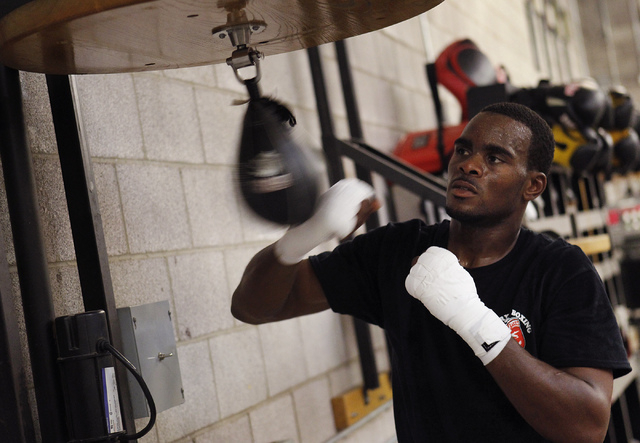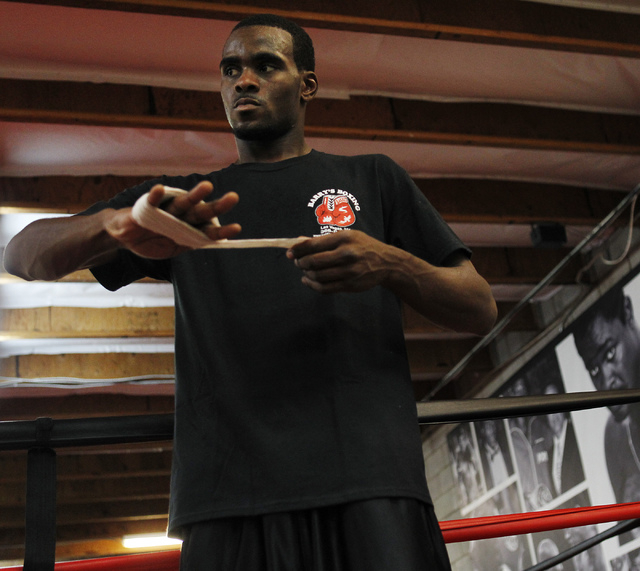 As a sanitation engineer, Jamey Swanson knows a little about cleaning up.
This week, the Las Vegan will be looking to clean up in the 165-pound division and win a national Golden Gloves title at the Tournament of Champions at the LVH. More than 300 fighters in 10 weight divisions will compete today through Saturday in hopes of taking home a gold medal and helping launch their professional careers.
For the 28-year-old Swanson, one of four local fighters competing this week, it's not about defending his home turf.
"You want to win, no matter where you're fighting," Swanson said. "I don't feel any added pressure because it's in my hometown. Once I get in the ring, it doesn't matter who's out there in the audience. It's only me in the ring."
Swanson will be fighting in his third Golden Gloves Tournament of Champions. To reach the top of the podium Saturday, he knows he has to stay busy and attack.
"I'm a volume puncher, and I intend to be busy," he said. "But I want to work behind the jab, too, and not just throw for the sake of throwing. I need to stay on my toes, keep thinking, keep moving and stay sharp."
Swanson, a graduate of Cimarron-Memorial High School and former Marine, has worked for Republic Services of Southern Nevada for 10 years. To help train for the Golden Gloves, he opted to not drive the garbage truck, preferring to lift the heavy trash cans on his route and empty the contents into the truck.
"It's hard work, especially when it's hot out," he said. "But it's a great way for me to stay in shape. I think the guys on my crew appreciate that I'm willing to not rotate and I'm always picking up the cans. But they're helping me out by letting me do it. It's making me stronger."
In the gym, Swanson has been working with trainer Pat Barry on sharpening his footwork, making sure he sits down on his punches and keeps his hands up so his opponents can't effectively counter-punch.
Win or lose this week, the Golden Gloves will be Swanson's final amateur event. He plans to turn professional with Barry and Augie Sanchez training him as a super middleweight.
"It's time," he said. "I've been doing this since I was 16, and I need to see how far I can go with boxing. I want to take it to the next level."
Swanson said his age won't be a detriment this week or when he turns pro.
"I feel like I'm 20, 21," he said. "I think in this tournament, my experience really helps me. I've seen everything in the amateurs, and I think I have an edge over my opponents."
Swanson said he took up boxing as a way to keep him off the streets.
"To be honest, I didn't know if I'd be any good at boxing," he said. "But I started seeing little differences, and I stayed with it. I'm glad I didn't give up on boxing, because I love it, and it's been great for me.
"I thought I did pretty good last year making it to the semis. But I know I can do better, and this is my last chance, so I'm going for it."
Also representing Las Vegas in the tournament are Isaac Martinez (123 pounds), Quontez McRath (152) and Hasim Rahman Jr. (201). Las Vegas is hosting the nationals for the first time since 2003.
Swanson, Martinez and Rahman will fight on today's opening card, which begins at 6 p.m.
"We're all talented, and we all work hard," Swanson said. "I'm sure all the guys will be pumped up."
Contact reporter Steve Carp at scarp@reviewjournal.com or 702-387-2913. Follow him on Twitter: @stevecarprj.